SkinKraft
Brightening Coffee Face Scrub For Textured & Aging Skin
100gm
9 reviews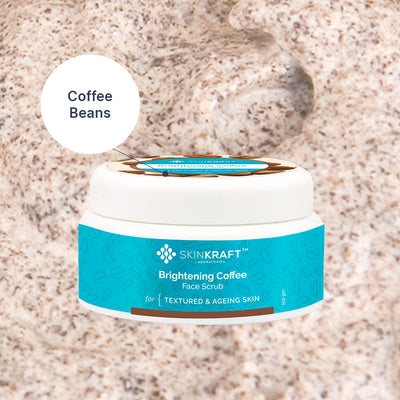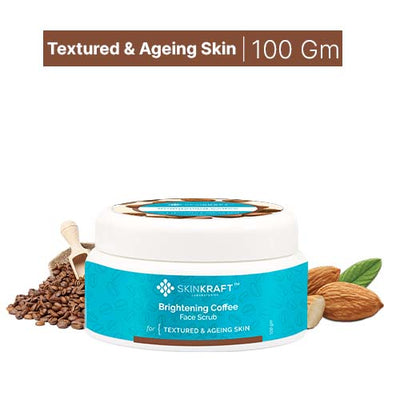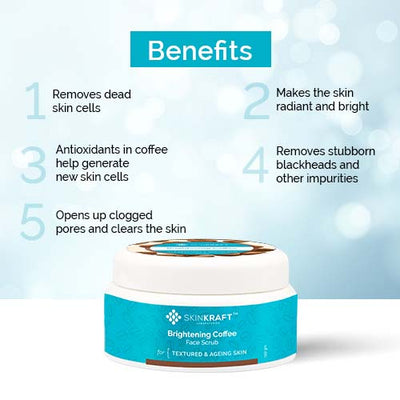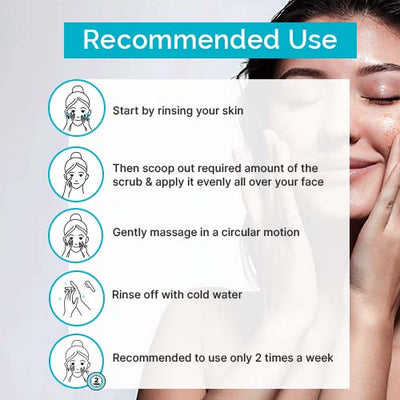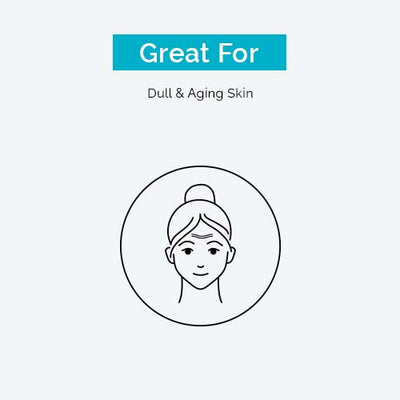 Brightening Coffee Face Scrub For Textured & Aging Skin
100gm
Free Of Parabens, Sulfates
Dermatologist Approved
pH Balancing
100% Safe & Effective
Free Shipping Offer Unlocked!
100% Satisfaction Guarantee! Eligible For A Refund If The Product Doesn't Meet Expectations.
Product Description
The Brightening Coffee Face Scrub contains natural ingredients that help scrub away dead skin cells, clears clogged pores, and eliminates stubborn blackheads to reveal a smooth, clear, glowing skin.
What's inside ?
Here's What Your Face Scrub Is Made Of
Shea Butter
Helps skin retain moisture, which makes skin soft and smooth.
Coffee
Helps decrease the appearance of sunspots, redness, and fine lines.
Almond Oil
Helps smoothen chapped skin by removing dead skin from the face.
Recommended Use
Start by rinsing your skin
Then scoop out required amount of the scrub & apply it evenly all over your face
Gently massage in a circular motion
Rinse off with cold water
Recommended to use only 2 times a week
Customer Testimonials
This is a great face scrub at the price point. It deeply cleanses the face without making it tight or dry. I've been using this for over a month and I highly recommend it to everyone.
Surekha T, Surat
Thanks for this skinkraft! I just love how well this face scrub works for me. Because every single time I use it, my skin feels soft, smooth and glowing. I'm going to buy this one again for sure!
Nikki Nahata, Kochi
I rarely use face scrubs, but this one is different! Each time I use it, I get compliments on my soft and glowing skin! That's why I started using it regularly and I highly suggest everyone else to try it too!
Jolly Shorey, Goa
FAQs
How often should I use this face scrub?
It is recommended to use this face scrub only 1-2 times a week.
Is the Brightening Coffee Face Scrub cruelty-free?
Yes, the Brightening Coffee Face Scrub is cruelty-free.
Can I use the Brightening Coffee Face Scrub if I have oily skin?
The Brightening Coffee Face Scrub is suitable for all skin types. However, it is great for oily skin as it helps to unclog pores and remove excess oil.
Can this face scrub be used by men?
Yes, this face scrub can be used by men and women.
How long will one jar of this face scrub last?
A 100 gm jar of this face scrub will last approximately 1-2 months with regular use.
Here's What Our Customers Say About Us
I really love the smell of coffee so this has to be my favorite scrub! It's so mild yet helpful i love it!
I've found my new favorite scrub! It's so perfect for my tanned skin. Really brings a glow whenever I use it.
It's a good scrub for weekly use. Really cleans my face well and makes it soft and smooth.
When i used this for the first time i was so happy with how amazing my skin was feeling! Its a really amazing product!
A good scrub by skinkraft. It really helps bring a glow to my face which i really enjoy
I'm really happy with how this scrub has made my skin so soft and smooth
My face does not feel since I started using this scrub. It's perfect for my skin!
Very gentle but good scrub. I only use it 2 times a week and I'm happy with my results.
It's very mild on the skin but really helps in keeping the face clean and glowing. Do try it out.