SkinKraft
Hydration & Renewing Body Lotion For All Skin Types
200ml
10 reviews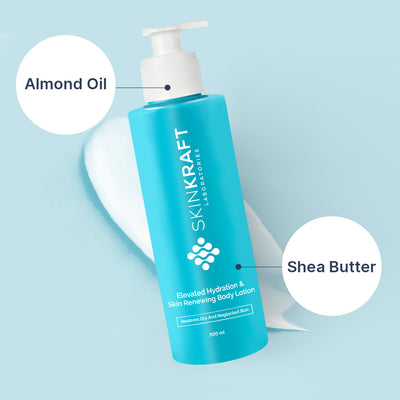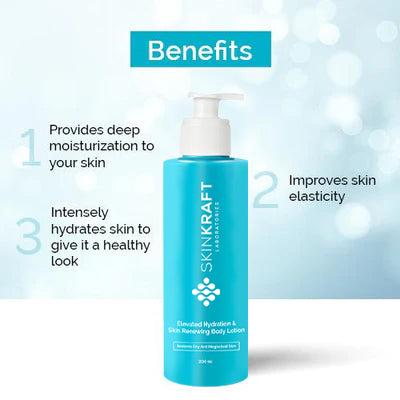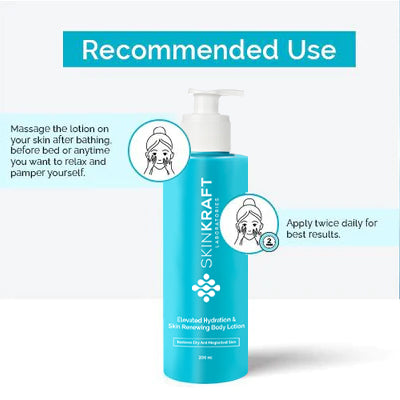 Hydration & Renewing Body Lotion For All Skin Types
200ml
Free Of Parabens, Sulfates
Dermatologist Approved
pH Balancing
100% Safe & Effective
Free Shipping Offer Unlocked!
100% Satisfaction Guarantee! Eligible For A Refund If The Product Doesn't Meet Expectations.
Product Description
This body lotion is infused with powerful ingredients that deeply moisturize and improve skin elasticity without feeling greasy. It balances the skin's natural pH level and helps restore hydration in dull, damaged, and dry skin.
What's inside ?
Here's What Your Body Lotion Is Made Of
Almond Oil
Helps reduce the appearance of scars and blemishes, while also moisturizing the skin.
Grape Seed Oil
Helps minimize the appearance of fines lines, wrinkles, and dark patches for a clear, even-toned skin
Shea Butter
Contains fatty acids and vitamins that deeply hydrate the skin for a soft and smooth look.
Recommended Use
Massage the lotion on your skin after bathing, before bed or anytime you want to relax and pamper yourself.
Apply twice daily for best results.
Customer Testimonials
This lotion has transformed my dry and flaky skin! It's so moisturizing and absorbs quickly plus my skin feels soft all day long. I highly recommend this lotion by skinkraft!
Samaa Raza, Hyderabad
I've been using this lotion for a few weeks now, and I just love it!! It's totally worth every rupee because my skin is looking super smooth and glowing now! I'm definitely going to get this again!!
Rekha Sundari, Agra
This skinkraft body lotion is perfect for me! It is really gentle and nourishing for my skin. It has become one of my favorite skinkraft products now! 10/10 highly recommend it!.
Shanno K, Delhi
FAQs
How often should I use this body lotion?
You can use it daily, or as often as needed to keep your skin hydrated and refreshed.
Is this lotion suitable for all skin types?
Yes, this lotion is suitable for all skin types.
Does this lotion leave a greasy residue?
No, this lotion is formulated to absorb quickly and leaves no greasy residue.
Is this lotion cruelty-free?
Yes, this lotion is cruelty-free and not tested on animals.
Does this body lotion contain parabens?
No, this body lotion is free from parabens and 24 other toxic ingredients.
Here's What Our Customers Say About Us
Keeps the skin very smooth and soft. No dryness since I started using this product.
Very good product. Does not make the skin sticky.
Very nourishing and hydrating. Very good lotion.
Makes skin very soft and smooth. Also smells very good.
My favourite lotion ever!
One of the best lotion available in the market.
Skin feels so amazing after using this lotion. I use it 2 times a day and my skin has not felt dry and rough in a long while.
Long lasting, not heavy on the skin.. a very good product.
A very good product at this price.
The texture of the lotion only feels very rich. Skin feels very smooth every time I use this. In love with this lotion. On my 2nd bottle.