SkinKraft
Age Interlude Night Cream For Aging Skin
30ml
10 reviews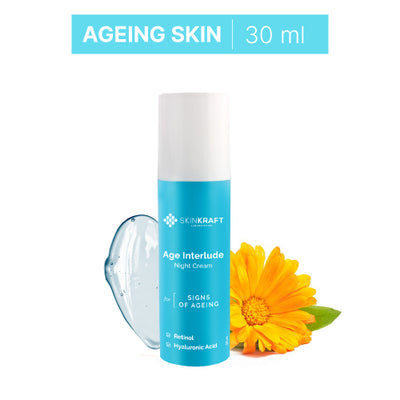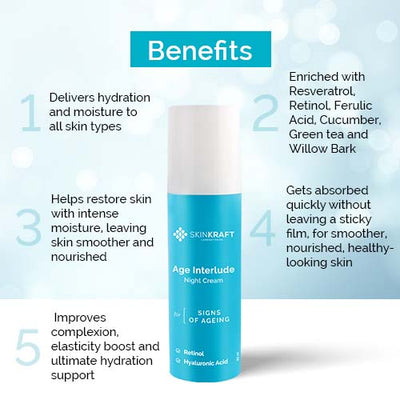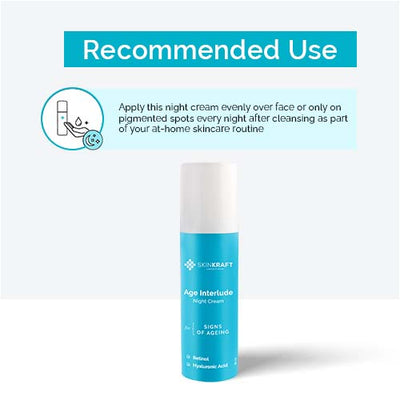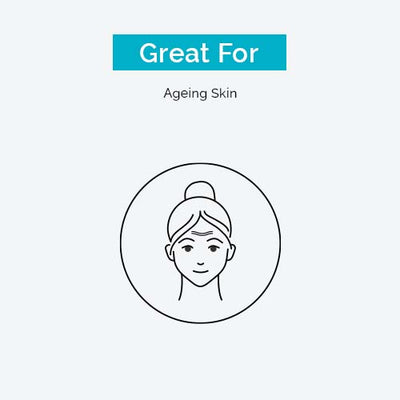 Age Interlude Night Cream For Aging Skin
30ml
Free Of Parabens, Sulfates
Dermatologist Approved
pH Balancing
100% Safe & Effective
Free Shipping Offer Unlocked!
100% Satisfaction Guarantee! Eligible For A Refund If The Product Doesn't Meet Expectations.
Product Description
Age Interlude Night Cream helps restore skin with intense moisture, leaving it smoother and well-nourished. It gets absorbed quickly without feeling greasy, for smoother, healthy-looking skin. The cream helps boost elasticity and provides ultimate hydration support.
What's inside ?
Here's What Your Serum Is Made Of
Retinol
Encourages skin cell turnover and stimulates collagen production to reduce the appearance of fine lines and wrinkles.
Calendula
Helps reduce inflammation and redness for a healthier glow.
Recommended Use
Apply this night cream evenly over face or only on pigmented spots every night after cleansing as part of your at-home skincare routine
Customer Testimonials
This night cream was my best skincare find! It gets absorbed so easily and does not irritate my skin at night. Perfect for daily use. I highly suggest everyone to try it
Sonal Chadha, Chandigarh
I'd say go for this cream if you want firmer skin! I've been using it for a few months now and I can really see a difference. I'm definitely going to buy this again!
Chanchal Jah, Delhi
Got this based on my sister's recommendation. And I'm really impressed with how well it suited my skin! After using it for a few weeks, I can really say that my skin looks smoother and younger now!! Thanks skinkraft!
Chitraa Kapoor, Pune
FAQs
How do I use Age Interlude Night Cream?
Apply the cream evenly over your face or only on pigmented spots every night after cleansing.
How long will one bottle of Age Interlude Night Cream last?
One bottle of Age Interlude Night Cream should last approximately 4-6 weeks with daily use.
Is Age Interlude Night Cream cruelty-free?
Yes, Correxion Night Cream is cruelty-free.
Can this product be used by men?
Yes, this product is suitable for both men and women.
Can I apply Age Interlude Night Cream around my eyes?
Yes, you can apply the cream around your eyes, but be careful not to get it into your eyes.
Here's What Our Customers Say About Us
Been using this for almost 3 months now. It has become a habit at this point and I like the way it makes my skin feel so ill continue with it
Only night time cream that actually worked for my skin. Will get this one again
This cream is just wow!! I use this one everyday and I have really seen by skin feel much smoother than before
Good product at a decent price. Will continue to use this one
It makes my skin really soft everytime i use it. Great product
Great
I love this skinkraft product.
This is my 2nd bottle, I love this. Works great for my sensitive skin.
Just wow! Super impressed by this. Even my kids have noticed the difference in my face. Go for it.
I am 30 and have started noticing some fine lines around my eyes. Got this as my first anti-ageing night cream, it works well for me
I have used many anti-ageing night creams in the last year. I usually avoid using them because I hate the greasy, sticky feeling while going to bed. This one is perfect for me because it is very lightweight and feels like nothing on the skin. It also works great.