SkinKraft
Aloe Body Lotion For Normal To Dry Skin
300ml
9 reviews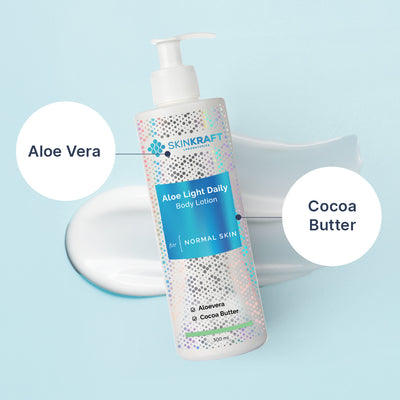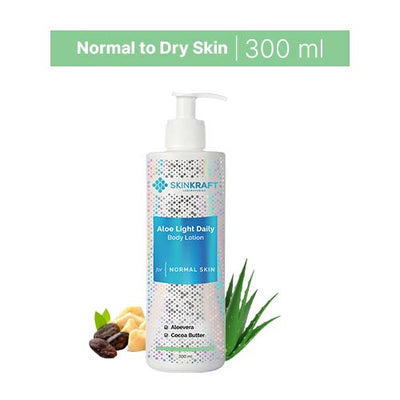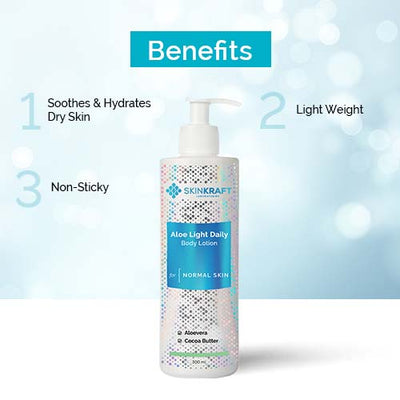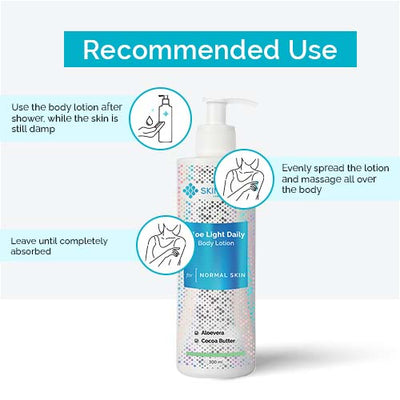 Aloe Body Lotion For Normal To Dry Skin
300ml
Free Of Parabens, Sulfates
Dermatologist Approved
pH Balancing
100% Safe & Effective
Free Shipping Offer Unlocked!
100% Satisfaction Guarantee! Eligible For A Refund If The Product Doesn't Meet Expectations.
Product Description
The Aloe Light Daily Body Lotion nourishes and hydrates dry skin, leaving it smooth and soft. It contains almond oil that helps to fade scars and reduce the appearance of stretch marks. This lightweight formula absorbs quickly, leaving skin well moisturized all day long
What's inside ?
Here's What Your Body Lotion Is Made Of
Aloe Vera
Effectively moisturizes dry skin and helps fade blemishes and dark spots.
Cocoa Butter
Locks in moisture and protects the skin from dryness.
Vitamin E
Promotes cell regeneration and provides soft, bouncy skin.
Recommended Use
Use the body lotion after shower, while the skin is still damp
Evenly spread the lotion and massage all over the body
Leave until completely absorbed
Customer Testimonials
This body lotion by skinkraft is perfect for winters, when my skin feels very dry and flaky. skin feels soft and smooth after using this and it gets absorbed quickly too. I'd say go for this lotion!
Sravya K, Mumbai
I like this body lotion a lot. It really suits my skin well as my skin feels super soft after using it. This is a complete 10/10 product for me!
Nanda Mathur, Hyderabad
Awesome product from skinkraft brand! I just love this body lotion! I use it daily and the best part is that it never feels sticky or oily on my skin like others. Perfect for daily use.
Azam S, Bhopal
FAQs
Can this body lotion be used by both men and women?
Yes, it is suitable for both men and women.
Is this body lotion tested on animals?
No, it is a cruelty-free product.
Is this body lotion non-greasy?
Yes, this body lotion is non-greasy and gets easily absorbed into the skin.
Does this body lotion contain parabens?
No, this body lotion is free from parabens and 24 other toxic ingredients.
Does this lotion have a strong fragrance?
No, this lotion has a light and refreshing fragrance that is not overpowering.
Here's What Our Customers Say About Us
Such a nice body lotion. My skin feels smooth and hydrated.
Very hydrating body lotion!!
My skin used to quickly dry up even after using good body lotions. But it didn't happen after using this one. Skin felt smooth and soft for quite some time. Totally worth buying it again.
Nice body lotion for my skin.
Nice body lotion. Relaxes my skin and makes it very smooth to touch.
My dry skin feels moisturized and bouncy now. No dryness or roughness on the skin
Didn't realize my skin felt tight because of the soaps I use. After using the lotion, my skin felt really smooth and relaxing. Happy with how my skin looks now.
Skin feels very smooth after using this lotion. Must-buy.
This body lotion has faded some scars and made my skin very smooth and hydrated.