SkinKraft
Normal-Oily Skin Barrier Repair Serum for Women
45ml
13 reviews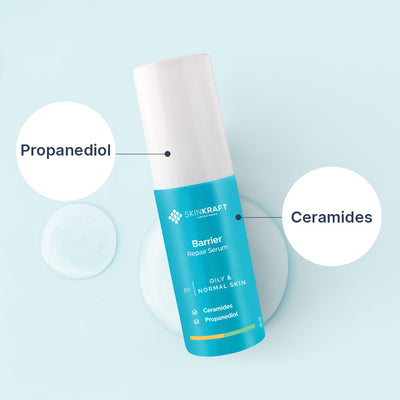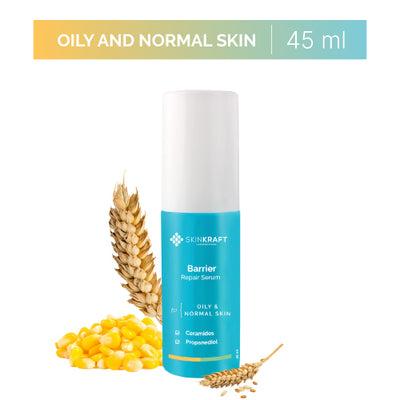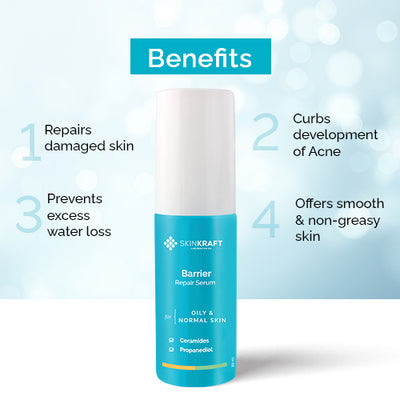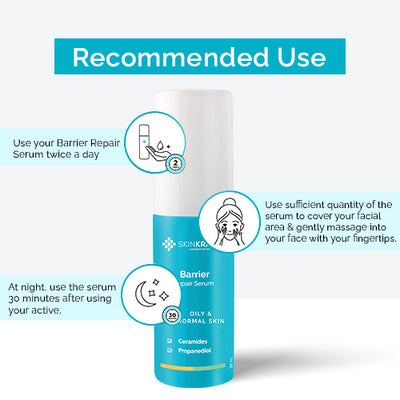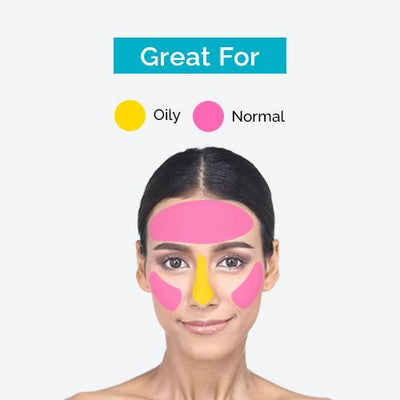 Normal-Oily Skin Barrier Repair Serum for Women
45ml
Free Of Parabens, Sulfates
Dermatologist Approved
pH Balancing
100% Safe & Effective
Free Shipping Offer Unlocked!
100% Satisfaction Guarantee! Eligible For A Refund If The Product Doesn't Meet Expectations.
Product Description
The Barrier Repair Serum repairs the skin's natural barrier, restoring lost hydration and preventing moisture loss. Its powerful ingredients work together to leave skin feeling smooth, non-greasy, and protected against acne and other damaging factors.
What's inside ?
Here's What Your Moisturizer Is Made Of
Ceramide EOP
Helps reduce skin damage by repairing a weakened skin barrier
Ceramide AP
Helps improves skin hydration and elasticity
Ceramide NP
HPrevents water loss and protects skin from environmental stressors.
Recommended Use
Use your Barrier Repair Serum twice a day
Use sufficient quantity of the serum to cover your facial area and gently massage into your face with your fingertips.
At night, use the serum 30 minutes after using your active.
Customer Testimonials
Skinkraft's moisturizer has been a game-changer for me. I just love using it every day as it keeps my skin hydrated all day long without feeling greasy or heavy.
Nanda Komal, Agra
I love how gentle and lightweight this moisturizer is. It's perfect for my sensitive skin. I use it daily and I'm going to buy it again once I finish my bottle!
Sujata Aggarwal, Mumbai
I've tried a lot of moisturizers over the years, but this one is really one of the best I've used. It makes my skin feel so soft and smooth. I'd say go for this!
Laxshita Jai, Delhi
FAQs
Is Barrier Repair Serum suitable for all skin types?
Yes, Barrier Repair Serum is suitable for all skin types, including dry, sensitive, and acne-prone skin.
Can I use Barrier Repair Serum with other skincare products?
Yes, you can use this serum with your choice of SkinKraft cleanser, active, and sunscreen for a complete skincare routine.
When should I use Barrier Repair Serum?
You can use Barrier Repair Serum both in the morning and at night. For best results, use it daily as part of your skincare routine.
Can Barrier Repair Serum help reduce acne?
Barrier Repair Serum can help reduce the development of acne by restoring the skin's natural barrier and preventing water loss.
Is Barrier Repair Serum cruelty-free?
Yes, Barrier Repair Serum is cruelty-free, meaning it was not tested on animals.
Here's What Our Customers Say About Us
Good moisturizer for combination skin. Makes the skin smooth and does not irritate my skin."
A good moisturizer to apply during day time. Skin feels hydrated till evening."
Finally something that keeps my skin soft throughout the day!"
This is my favorite moisturizer! It really makes my skin feel soft and smooth"
I'm loving how it keeps my skin moisturized and does not feel sticky after applying. Good product."
I use this day and night and I really like that it makes my skin soft to the touch "
Awesome moisturizer at a great price. Really keeps skin hydrated."