SkinKraft
Dry Skin Gentle Cleanser
60ml
10 reviews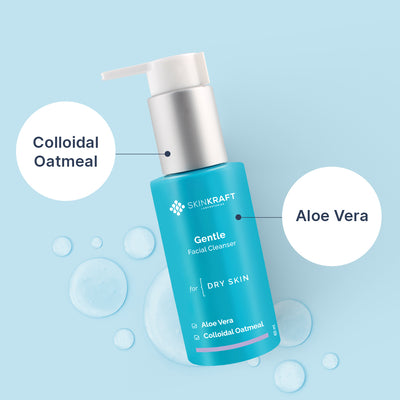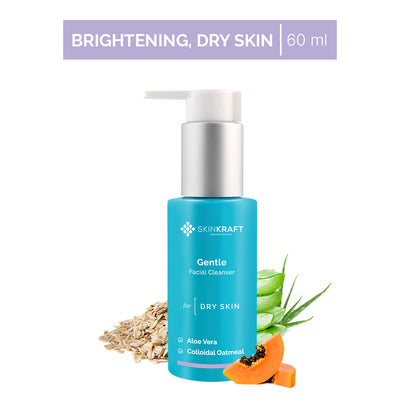 Dry Skin Gentle Cleanser
60ml
Free Of Parabens, Sulfates
Dermatologist Approved
pH Balancing
100% Safe & Effective
Free Shipping Offer Unlocked!
100% Satisfaction Guarantee! Eligible For A Refund If The Product Doesn't Meet Expectations.
Product Description
The Gentle Facial Cleanser is a pH-balancing cleanser designed to cleanse and nourish dry, irritated skin. Its mild formulation helps hydrate the skin while gently exfoliating to remove dead skin cells, revealing smooth, even-toned skin.
What's inside ?
Here's What Your Gentle Facial Cleanser Is Made Of
Aloe Vera
Helps effectively hydrate skin that is dry or sensitive skin. It also has antibacterial properties that help control and reduce acne-causing bacteria.
Colloidal Oatmeal
Soothes and calms irritated skin. Helps remove dirt and oil without stripping the skin of its natural moisture.
Papaya Fruit Extract
Rich in enzymes and antioxidants, Papaya Fruit Extract gently exfoliates and nourishes skin, leaving it looking radiant and glowing
Recommended Use
Take 1-2 pumps of the cleanser into your palm & work it into a lather
Gently massage onto your face in circular motions
Wash it off with lukewarm water
Customer Testimonials
This cleanser is super mild on the face. The best part is it never causes any dryness or tight feeling on my face after use. It really makes my skin feel soft and smooth!
Himani Jah, Indore
Good for dull and dry skin. I liked how it worked on my dry skin during winters. Will definitely recommend this to those who have dry skin.
Sanober, Hyderabad
Good product. Perfect for daily use as it is not very harsh on skin. Worked really well for my skin dryness.
Kathy T, Delhi
FAQs
Can the cleanser be used for dry skin?
Yes, this cleanser is ideal for dry skin.
Can this cleanser be used for tan?
Yes, this cleanser works well to provide an even skin tone.
What is the pH balance of the product?
5.5-6 same as the skin's pH level, so this cleanser does not make the skin tight or dry.
Does it remove makeup?
No, the cleanser does not remove makeup.
Does it contain Paraben?
The cleanser is free of 24 toxic ingredients like Parabns, SLS, Formaldehyde etc.,
Here's What Our Customers Say About Us
Effective and affordable cleanser!
Nothing suits my dry skin this well like SkinKraft does. Amazing cleanser.
Skin feels and looks so smooth and radiant! Perfect cleanser for my skin.
Skin feels and looks so smooth and soft these days! Perfect cleanser for my dry skin.
My skin absolutely loves this cleanser. Cannot imagine my skin care without it.
My dry skin absolutely loves this cleanser.
No more dry patches after cleansing. The cleanser is so gentle on my dry skin, just love it!
The natural ingredients in this Cleanser deeply cleanses my skin and leaving it supple, smooth and glowing.
No dryness, dry patches or irritation! Just love the cleanser!
No dryness, no dry patches and no irritation. Skin looks so hydrated.