SkinKraft
Glow Activate Body Scrub For Textured & Aging Skin
200gm
9 reviews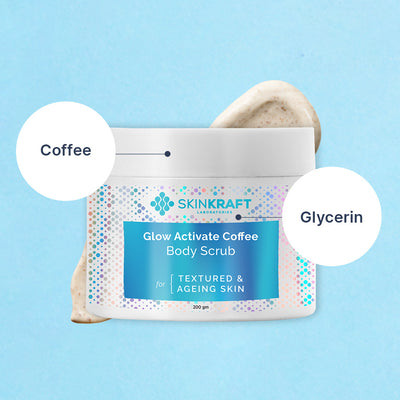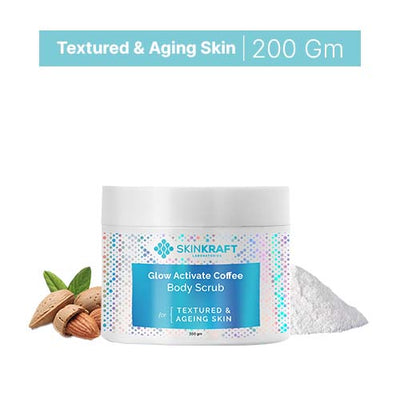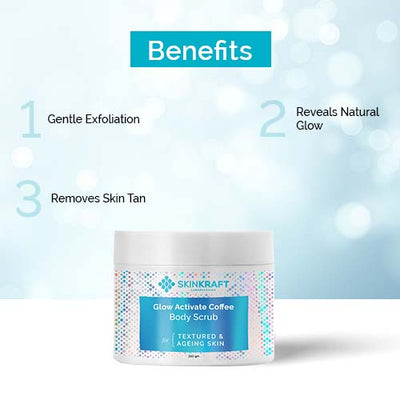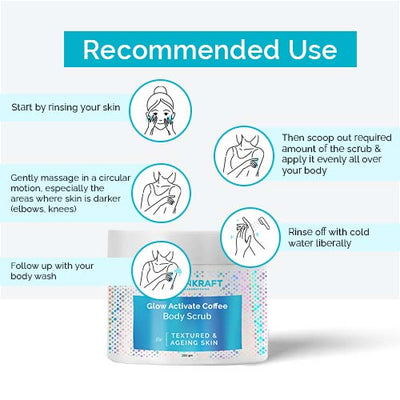 Glow Activate Body Scrub For Textured & Aging Skin
200gm
Free Of Parabens, Sulfates
Dermatologist Approved
pH Balancing
100% Safe & Effective
Free Shipping Offer Unlocked!
100% Satisfaction Guarantee! Eligible For A Refund If The Product Doesn't Meet Expectations.
Product Description
The Glow Activate Coffee Body Scrub is a gentle formula that deeply cleanses and exfoliates the skin, leaving it looking radiant and smooth. Infused with natural ingredients this scrub is perfect for providing even-toned, glowing skin.
What's inside ?
Here's What Your Body Scrub Is Made Of
Coffee
Provides gentle exfoliation to remove dead skin cells and impurities.
Almond Oil
Deeply nourishes and moisturizes the skin.
Niacinamide
Helps provide clear, glowing, and even-toned skin.
Recommended Use
Start by rinsing your skin
Then scoop out required amount of the scrub & apply it evenly all over your body
Gently massage in a circular motion, especially the areas where skin is darker (elbows, knees)
Rinse off with cold water liberally
Follow up with your body wash
Customer Testimonials
This is an amazing body scrub from skinkraft! I've been using it for a few weeks now and it has really helped me get rid of the dark patches on my neck and legs! Thanks for this skinkraft!!
Sakshi Sen, Mumbai
An awesome body scrub at this price point. It really gave me a smooth and soft skin. I recommend everyone with dry and flaky skin to try this! It really works
Lavanya G, Patna
My skin feels really soft and plump ever since I started using this scrub. I'm definitely going to buy this one again!
Diana Joseph, Hyderabad
FAQs
How often should I use this body scrub?
It is recommended to use the Glow Activate Coffee Body Scrub 1-2 times a week for best results.
Will this body scrub leave my skin feeling dry?
No, this body scrub is formulated with moisturizing ingredients such as almond oil and glycerin to keep the skin hydrated and soft.
Is this body scrub tested on animals?
No, it is a cruelty-free product.
Does this body scrub contain parabens?
No, this body lotion is free from parabens and 24 other toxic ingredients.
Does this scrub have a strong fragrance?
No, this scrub has a light and refreshing fragrance that is not overpowering.
Here's What Our Customers Say About Us
It's a nice scrub. Recommended it to my mother also.
Coffee - my favorite ingredient is used in this scrub. It smells heavenly and I love how clean it makes my skin apart from making it smooth and glowing.
No roughness, irritation or dryness of skin after using this scrub. Which is a big plus point for my skin type.
Can't get enough of this scrub. It is so good. My skin tone has brightened, and skin looks very clean after using.
Great scrub. Worth every single rupee!!
My skin feels very smooth and clear. It does not look dull anymore!
My skin does not feel dry or irritated after use.
I like the smell of this scrub. It smells like coffee! Very gentle on my skin.