SkinKraft
Hydra Endure Butter Body Lotion For Dry Skin
200ml
9 reviews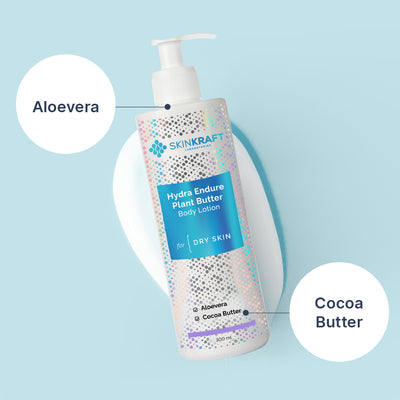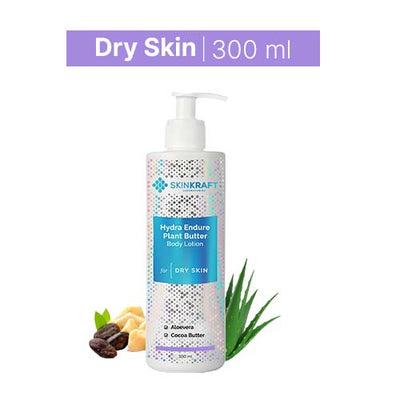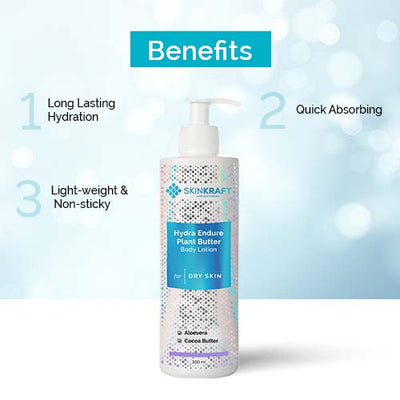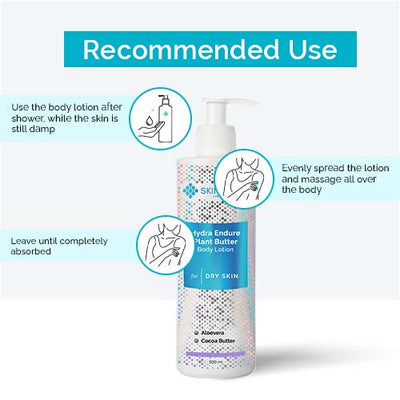 Hydra Endure Butter Body Lotion For Dry Skin
200ml
Free Of Parabens, Sulfates
Dermatologist Approved
pH Balancing
100% Safe & Effective
Free Shipping Offer Unlocked!
100% Satisfaction Guarantee! Eligible For A Refund If The Product Doesn't Meet Expectations.
Product Description
Hydra Endure Plant Butter Body Lotion provides long-lasting hydration and moisturization to the skin. It contains natural ingredients that soothe and reduce redness, leaving your skin soft and smooth all day long.
What's inside ?
Here's What Your Body Lotion Is Made Of
Sodium Lactate
Provides hydration and helps maintain the skin's natural pH balance
Cocoa Butter
Rich in fatty acids, cocoa butter provides intense hydration and nourishment to the skin
Sunflower Oil
Contains Vitamin E which helps protect the skin from damage caused by dust and other pollutants.
Recommended Use
Use the body lotion after shower, while the skin is still damp
Evenly spread the lotion and massage all over the body
Leave until completely absorbed
Customer Testimonials
This body lotion is amazing! I just love that it keeps my skin feeling hydrated and soft all day long. Thanks for this skinkraft!
Soumya Das, Chennai
It's better than any other moisturizer I've ever used. The only thing that worked for my super dry skin during the winters.
Prachi Gupta, Patna
This body lotion is really gentle on my skin. It leaves my skin feeling soft and smooth throughout the day, which is why it's my favorite! Highly recommend it!
Poonam Kohli, Hyderabad
FAQs
Can this body lotion be used on all skin types?
Yes, this body lotion is most suitable for dry skin types.
How often should I use this body lotion?
You can use this body lotion daily, preferably after every shower.
Is this body lotion non-greasy?
Yes, this body lotion is non-greasy and gets easily absorbed into the skin.
Does this body lotion contain parabens?
No, this body lotion is free from parabens and 24 other toxic ingredients.
Can this body lotion be used by both men and women?
Yes, it is suitable for both men and women.
Here's What Our Customers Say About Us
Great product. Buying it again. Keeps my skin hydrated for a longer time.
Have been using this lotion for a good amount of time. But never did it feel greasy, sticky or made my skin rough. It always made skin soft, bouncy and smooth.
No greasiness. Very fast absorption. Smooth and moisturized skin. Impressed with the results.
Awesome body lotion for people like me having dry skin.
Within a few minutes of applying this body lotion, it gets absorbed into my skin quite fast. Doesn't feel sticky. Loving this product overall.
My dry skin feels very hydrated and smooth after I started using this SkinKraft body lotion. I had skin redness issues with other products earlier but fortunately not with this one. Great lotion!!
I like how sunflower oil is used in this lotion. It works well for my dry skin. Also, this body lotion doesn't feel sticky or greasy on my skin after use.
My skin feels very hydrated and for a longer time. Very nice body lotion.
Nice body lotion. Made my skin so soft and plump.