SkinKraft
Oil Free Moisturizer For Oily Skin
45ml
12 reviews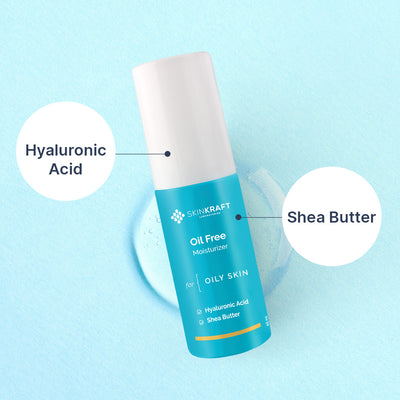 Oil Free Moisturizer For Oily Skin
45ml
Free Of Parabens, Sulfates
Dermatologist Approved
pH Balancing
100% Safe & Effective
Free Shipping Offer Unlocked!
100% Satisfaction Guarantee! Eligible For A Refund If The Product Doesn't Meet Expectations.
Product Description
Get softer, healthier skin with the Oil Free Moisturizer. This lightweight formula is specially created to provide intense hydration without leaving a greasy or shiny finish on the skin.
What's inside ?
Here's What Your Moisturizer Is Made Of
Hyaluronic Acid
Helps the skin retain moisture, keeping it plump and hydrated.
Ceramides
Helps restore and strengthen the skin's natural barrier to lock in moisture and keep out impurities.
Shea Butter
Helps deeply moisturize the skin without leaving a greasy residue.
Recommended Use
Use a sufficient quantity of the moisturizer on your face
Gently massage it on your face in circular motions using your fingertips
At night, use it 30 minutes after your Active
Customer Testimonials
I love how well this skinkraft moisturizer suited my oily skin. I use it every day and I've noticed that my skin has become much softer and smoother than before! Thanks skinkraft!
Vineeta Chawla, Delhi
The perfect moisturizer for my skin! I just love it so much! It absorbs well into my skin and never makes it look greasy. Just go for this if you have oily skin like mine.
Suraiyya Fatima, Bhopal
I've been using this product for about a month now and I can certainly see that my skin has become really soft since I started using this. I'm definitely going to order this one again!
Usha Sharma, Agra
FAQs
How often should I use this moisturizer?
Use twice daily, morning and night, for best results.
Will this moisturizer clog my pores?
No, this lightweight formula is designed to moisturize without clogging pores.
How much product should I use?
Use a pea-sized amount and apply evenly over your face.
How long will one bottle last?
One bottle of this moisturizer should last approximately 3-4 weeks with regular use.
Can this moisturizer be used with other skincare products?
Yes, it is recommended to use this moisturizer with your choice of SkinKraft cleanser and active serum.
Here's What Our Customers Say About Us
Suuuper product, i love it
Trust me, I am impressed with this SkinKraft product. My oily skin used to react when using other generic products from the market. But SkinKraft's customized products are made exclusively for my oily skin. Never gonna buy any other products for my skin.
My skin looks so glowing and hydrated. It's the first product that hasn't made my skin really oily. SkinKraft's moisturizer is the best for my skin!
SkinKraft, you have turned me into your regular customer. Loving my oil-free, clear and bright skin!!
One of the best products in the market for oily skin. Love how it doesn't make my skin oily.
No more extra oil on my face. I don't have to be conscious of the oil on my face anymore. Amazing product
The moisturizer is perfect for my oily skin. Just perfect!
Even after 4 hours my skin doesn't feel oily! It's so lightweight that it seeps into my skin.
This is the best moisturizer I have used for my oily skin!