SkinKraft
Switch-On Glow Body Scrub For Dull & Dry Skin
200gm
9 reviews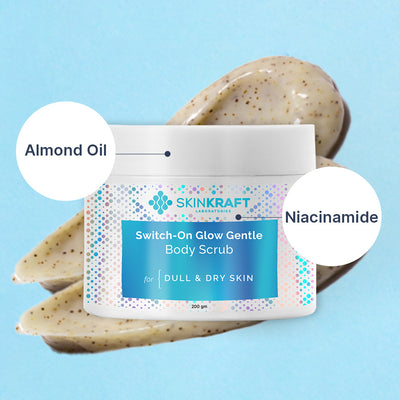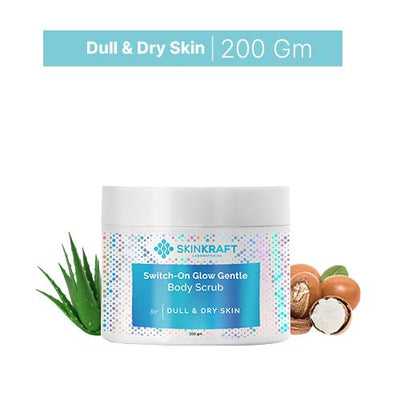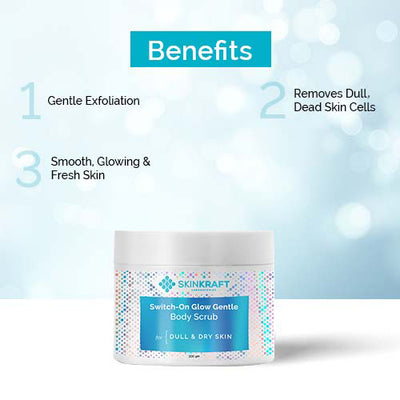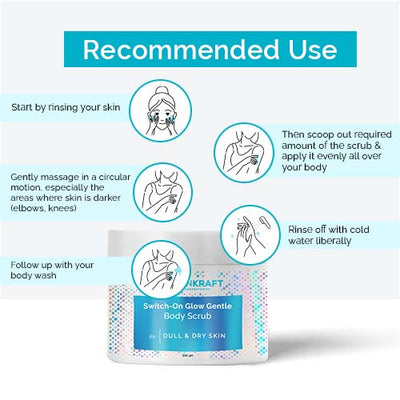 Switch-On Glow Body Scrub For Dull & Dry Skin
200gm
Free Of Parabens, Sulfates
Dermatologist Approved
pH Balancing
100% Safe & Effective
Free Shipping Offer Unlocked!
100% Satisfaction Guarantee! Eligible For A Refund If The Product Doesn't Meet Expectations.
Product Description
The Switch-On Glow Gentle Body Scrub is formulated to provide gentle yet effective exfoliation. It removes dead skin cells and impurities while deeply cleansing the pores to provide even-toned, glowing skin.
What's inside ?
Here's What Your Body Scrub Is Made Of
Almond Oil
Helps reduce the appearance of scars and blemishes, while also moisturizing and softening the skin.
Niacinamide
Improves the skin's texture and tone and helps reduce the appearance of fine lines and wrinkles.
Glycerin
A natural humectant that attracts moisture to the skin, leaving it soft and hydrated.
Recommended Use
Start by rinsing your skin
Then scoop out required amount of the scrub & apply it evenly all over your body
Gently massage in a circular motion, especially the areas where skin is darker (elbows, knees)
Rinse off with cold water liberally
Follow up with your body wash
Customer Testimonials
I love this product for my body! It really makes my skin feel so soft and smooth each time I use it! I'd highly suggest everyone to try this scrub!
Shaanu Begum, Bhopal
This scrub is a hidden gem by skinkraft!! I ordered it just to give it a try and I'm so glad I found it! It exfoliates my skin perfectly and removes all my dead skin really well. I'd say go for this!
Rayna Shah, Patna
I had very rough and flaky skin and this is the only body scrub that really removed every bit of my flakiness and gave me the smooth soft skin I was looking for! Thanks for this skinkraft!
Zehra Khan, Hyderabad
FAQs
How often should I use the Switch-On Glow Gentle Body Scrub?
For best results, it is recommended to use the scrub 1-2 times a week.
Will the scrub leave my skin feeling dry or tight?
No, this scrub is formulated to gently exfoliate without stripping the skin of its natural oils, leaving it feeling soft, smooth, and hydrated.
How long will the 200gm jar last?
The 200gm jar should last for approximately 1-2 months, depending on how frequently you use it.
Is the Switch-On Glow Gentle Body Scrub cruelty-free?
Yes, this scrub is cruelty-free.
Can I use the scrub on my body before shaving?
Yes, using the Switch-On Glow Gentle Body Scrub before shaving can help remove dead skin cells and prevent ingrown hairs.
Here's What Our Customers Say About Us
Used it on my cousin's recommendation. Must say, a very great scrub for dry skin like mine. No irritation or redness, nothing. Made my skin soft to touch.
OMG! It has Shea Butter, Almond Oil & Aloe Vera. Three of my all-time favorite ingredients for my skin. After scrubbing, my skin turns out to be very smooth. Totally amazing.
I'm in love with my glowing, smooth skin these days. Thanks to this amazing scrub from SkinKraft.
My skin tan looks less, skin feels so smooth to touch. Awesome results!
My dry skin doesn't look the same anymore. It has become smoother and feels so fresh!
Very nice scrub. It does cleaning very well. My skin feels very smooth these days.
Superb product. Worked amazingly well on my dry skin.
This scrub actually works. And it doesn not just make my skin dry and rough.