SkinKraft
Dry Skin Barrier Repair Cream For Men
45ml
10 reviews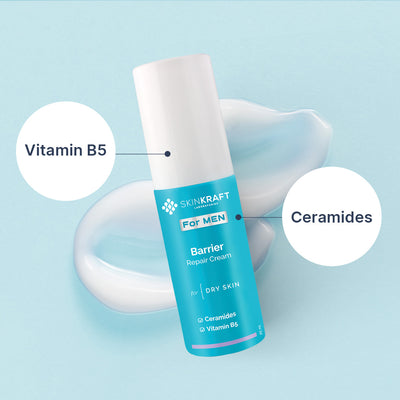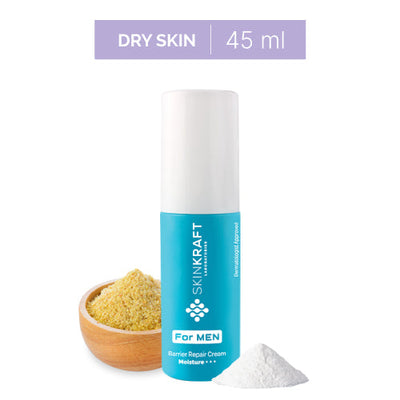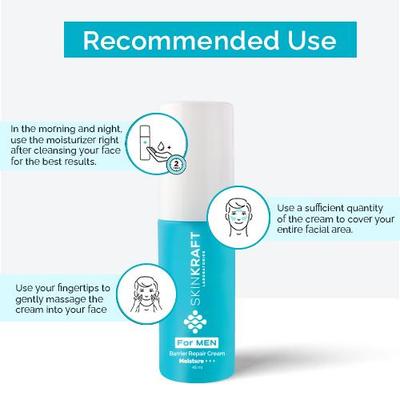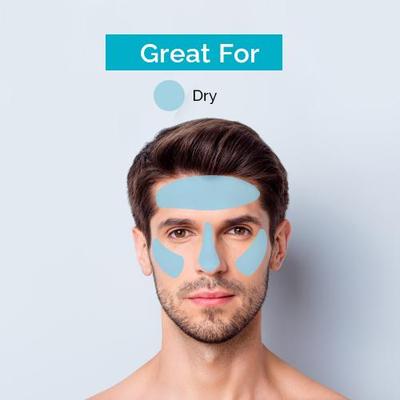 Dry Skin Barrier Repair Cream For Men
45ml
Free Of Parabens, Sulfates
Dermatologist Approved
pH Balancing
100% Safe & Effective
Free Shipping Offer Unlocked!
100% Satisfaction Guarantee! Eligible For A Refund If The Product Doesn't Meet Expectations.
Product Description
Deeply hydrate dry skin with the Barrier Repair Cream for Men. Formulated with powerful, dermatologically approved ingredients, this serum provides an instant boost of hydration and helps reduce any skin irritation while improving the skin's natural appearance.
What's inside ?
Here's What Your Moisturizer Is Made Of
Ceramide EOP
Helps to restore and strengthen the skin barrier.
Ceramide AP
Helps to retain moisture and improve the texture of the skin.
Phytosphingosine
A natural lipid that helps restore and maintain the skin's barrier function.
Recommended Use
In the morning and night, use the moisturizer right after cleansing your face for the best results.
Use a sufficient quantity of the cream to cover your entire facial area.
Use your fingertips to gently massage the cream into your face
Customer Testimonials
This is a great product by Skinkraft. I've been using it daily for a few weeks now and my dry patches have really gone down a lot. For people with dry skin, this is perfect!
Bhaskar Reddy, Chennai
Good product at this price point. Does what it says and is really gentle on the skin. I'll say go for this if you have dry or extreme skin.
Chetan Yadav, Kochi
Skinkraft really knows what they are doing! After trying many different brands, i've found what I wanted in this product. It is mild, gets easily absorbed in the skin and gives a long lasting hydration to my skin.
Dhruv Raj, Bangalore
FAQs
How often should I use the Barrier Repair Cream for Men?
You can use it twice daily, in the morning and at night.
Is the Barrier Repair Cream for Men suitable for all skin types?
The Barrier Repair Cream for Men is most suitable for dry and very dry skin types.
Will this cream clog my pores?
This is a non-comedogenic product and won't clog pores.
Is the Barrier Repair Cream for Men tested on animals?
No, it is cruelty-free and not tested on animals.
How long will one bottle of the Barrier Repair Cream for Men last?
The 45ml bottle should last approximately 1 month with twice-daily use.
Here's What Our Customers Say About Us
I'm happy with this moisturizer. It was delivered really fast and the packaging was good."
It has made my skin really smooth and shiny. Thanks skinkraft will get this cream again!"
It's a decent cream for dry skin. Worked well for me as it made my skin feel soft and smooth"
This cream really suited my skin well. I've been using it everyday and my skin has become softer than before"
Pretty good product. Was delivered very fast and the packaging was neat too."
It really keeps skin moisturized throughout the day. Applying it daily has really improved my skin"
It really gives skin deep moisturization that I like. Good product."
Been using this for almost 6 months now and my skin feels so smooth and soft now. Will continue to use this."
This cream is great for those who are looking for extra moisturization. It really helped me with my dry skin"