Meet Our Medical Reviewers
Our team of medical reviewers make sure the content maintains medical integrity and is fact checked. They add their inputs every now and then based on their vast experience in dermatology.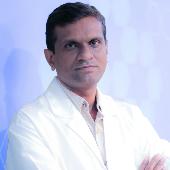 The chief dermatologist at SkinKraft, Dr. Harish Kumar is our skin encyclopedia with over a decade-long experience in medical and cosmetic dermatology. An accredited member of Indian Association of Dermatologists, Venereologists and Leprologists (IADVL) and Cosmetic Surgeons of India, Dr. Harish has served as principal investigator for several cosmetic skin care products in India. He has also undergone specialized training and certifications from Paris in techniques like dermal torquemete, skin tonicity, dreamscape and densiscore.
Our lead scientist and head of R & D at SkinKraft, Dr. Kaustav Guha is behind the brilliant formulations of our products. He has over 10 years of experience in major international cosmetic brands. An alumnus of IIT Kharagpur and Durham University, UK, Dr. Kaustav has been a lead member of multiple global networks of cosmetic formulators.
A senior product development executive at SkinKraft Laboratories, Lata leads our customized hair care formulations. She pays special attention to various scalp and hair types before developing groundbreaking hair care products. A doctorate in pharmaceutical science from Mumbai University, she has vast experience of developing personal care products for leading international brands.
Swetha comes from a background of biochemistry, microbiology, and nutrition which helps her understand physiology, gut health, immunity and bacteria, and how balanced meals play an important role in nourishment. She has worked with clients across the world, tackling weight worries and lifestyle management, all while consulting remotely out of the city of Mumbai.
A dual gold medalist in chemical technology from the University of Calcutta, Abhisikta has worked with several top personal care brands in the last four years, before joining SkinKraft R&D as a full-time research executive. She generates brilliant formulation ideas and has helped develop many of our skincare products in the SkinKraft laboratory.
Prutha is a product development executive at SkinKraft, with a Master's degree in Cosmetic technology from Amravati University. Prutha has been involved with major product innovation at the SkinKraft laboratories. She brings to the table, her extensive experience of working as an R&D personnel in the beauty industry.
A product development executive at SkinKraft, Nikita develops innovative skin care formulas in our lab. After completing her Master's in cosmetic technology from Nagpur University, Nikita worked with several cosmetic brands and has been instrumental in developing cutting edge make-up products.
After completing her cosmetics and perfumery management from Mumbai University, Priya went on to work with Loreal in their skincare department. During her stint there, she helped develop their professional salon kit range for different skin types and conditions. Priya also has a summer internship with Clariant India in her kitty, where she worked on sulfate and silicone-free shampoos. She has also done a project on water-less cosmetics formulation during her post-graduation studies. In her free time, she studies the chemistry of essential oils and aromatherapy. She also loves exploring new restaurants and cuisines.
Prajkta is a postgraduate in Cosmetic Technology from LAD College, RTMNU, Nagpur. She landed her first internship with Hindustan Unilever, Lakme. Later, Prajkta joined the R&D department of SkinKraft Laboratories and has been working on unique product formulations.
Sonal is passionate about researching and developing new & better hair care formulas in the SkinKraft laboratory. She has done her post graduation in cosmetic and perfumery technology from Mumbai University.Sonal works on a special product range for sensitive skin. She is also part of the hair care research and development team.
Meet Our Writers
Our team of writers are passionate skin care enthusiasts who love sharing their knowledge with the world. They hope everybody has a healthy and glowing skin with their little skin care advice.
Soumya is a skin care writer, covering beauty basics, serious dermatological issues, brand launches and upcoming trends. She earned her degree in Biotechnology from JNTU, besides pursuing 'Advanced Program in Clinical Research & Management' from Clini India. Soumya also completed a certification course in 'Dermatology: Trip To Skin' authorized by Novosibirsk State University, Russia. When she is not writing about skin care, she can be spotted doodling or catching up with friends.
Pound pursued her degree in Journalism from Mumbai University. She writes for SkinKraft, passionately covering diverse topics in skincare and beauty. If she's not at her desk, she's probably playing with strays or sweating it out at the gym.
Minal writes about various skin and hair related issues and latest beauty trends for SkinKraft. Originally from Mumbai, she has been the editor and beauty columnist of several leading publications, including an Australian newspaper, in the past. Having retired from mainstream media, she is now being mother to her four dogs, when she is not in front of her laptop.
Chayanika brings her understanding and background of biomedical sciences into her educational articles at SkinKraft. After spending over a decade in corporate communication, she started her career's second innings as an independent content writer and marketer. When not working, she is usually spending time with her daughter. Chayanika is based out of Bangalore.
Advaitaa loves learning about the latest skincare trends while researching for her blogs. What began as an accidental entry into the content world is now her full-time job! She loves writing about travel, lifestyle, beauty, fashion, health and wellness. When she is away from her desk, you will find her exploring various culinary cultures.
Swathy is a senior journalist and writer with more than five years of experience in the backdrop of bustling newsrooms at major English dailies. A postgraduate from the Asian College of Journalism with a flair for storytelling, she brings a fresh perspective into beauty writing. When not clacking away at her desk, she is usually binging on TV shows and curling up on the sofa with a good book.
After finishing her degree in mass communication, Sofia is now following her passion of being a skincare and haircare writer. She has a remarkable ability to feel the pulse of the readers and pen down beauty solutions with a creative touch. She describes herself as an avid reader, foodie, and wordsmith.
Life Sciences being her first love, Anaya has a Master's degree in Microbiology (Bangalore University) and Molecular Biology (Stockholm University). She did her Master's Thesis work on 'Inflammatory Skin Diseases' at the Karolinska Institute, Stockholm, and is co-author of a research article based on this study. With her scientific background, she aims to bring to the readers the latest developments in skin and hair-care. When she is not at work, you may find her reading, listening to music or spending quality time with her daughter.
Anu is a skincare writer, covering beauty basics, brand launches, and upcoming trends. She earned her Ph.D. Degree in Mass Communication from University of Rajasthan and Post Doctorate from ICSSR, New Delhi. Anu has 21+ years experience in content writing, Hindi journalism and has also been teaching students of Delhi University, IMS Noida and IIMT College of Management for the last 4 years. She has written two books on women's issues. In her free time, she enjoys practicing yoga and swimming.
Shilpa comes with a 9 year experience in the media industry, having worked with renowned media houses like Ndtv.com, HindustanTimes.com, Navbhart Times, etc. A seasoned Hindi writer, she has written on a vast variety of topics including health, fashion, food and relationships. Currently, Shilpa is covering important issues in skin care, hair care and nutrition for SkinKraft's hindi blogs.
Aviriti is a skincare writer, covering beauty basics, brand launches and upcoming trends. She has done M.A. in Mass Communication from Central University of South Bihar. Aviriti has more than 4 years of experience in Hindi journalism. She likes to write on a variety of health topics, including home remedies.
With 8+ years of experience in Hindi digital content creation, Arpita has been our editor & writer for various topics ranging from health, home remedies, lifestyle, and more. She has done her Bachelors in Mass Communication from Patna Women's College, Bihar. She is great at multitasking and pursues hobbies like blogging, photography and dancing during her free time.
Meet Our Editor
Our editor is obsessed with commas and hyphens. But this is why you are having a great user experience while reading our content.
Sharmistha is the cool-headed editor with 7+ years experience in lifestyle journalism. With her eye for detail, she ensures that all content on SkinKraft's website and product verticals, is made simple, crisp and error-free. In her free time, she is often spotted exploring various cuisines of the world and loves spending time with sweet animals.