Meet Our Medical Reviewers
Our team of medical reviewers make sure the content maintains medical integrity and is fact checked. They add their inputs every now and then based on their vast experience in dermatology.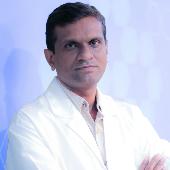 The chief dermatologist at SkinKraft, Dr. Harish Kumar is our skin encyclopedia with over a decade-long experience in medical and cosmetic dermatology. An accredited member of Indian Association of Dermatologists, Venereologists and Leprologists (IADVL) and Cosmetic Surgeons of India, Dr. Harish has served as principal investigator for several cosmetic skin care products in India. He has also undergone specialized training and certifications from Paris in techniques like dermal torquemete, skin tonicity, dreamscape and densiscore.
Our lead scientist and head of R & D at SkinKraft, Dr. Kaustav Guha is behind the brilliant formulations of our products. He has over 10 years of experience in major international cosmetic brands. An alumnus of IIT Kharagpur and Durham University, UK, Dr. Kaustav has been a lead member of multiple global networks of cosmetic formulators.
Meet Our Writers
Our team of writers are passionate skin care enthusiasts who love sharing their knowledge with the world. They hope everybody has a healthy and glowing skin with their little skin care advice.
Soumya is a skin care writer at SkinKraft covering skincare basics, brand launches and upcoming trends. She earned her degree in Biotechnology from JNTU. She pursued 'Advanced Program in Clinical Research & Management' from Clini India. When she is not writing about skin care, she can be spotted doodling or catching up with friends.
Pound pursued her degree in Journalism from Mumbai University. She writes for SkinKraft, passionately covering diverse topics in skincare and beauty. If she's not at her desk, she's probably playing with strays or sweating it out at the gym.
Minal writes about various skin and hair related issues and latest beauty trends for SkinKraft. Originally from Mumbai, she has been the editor and beauty columnist of several leading publications, including an Australian newspaper, in the past. Having retired from mainstream media, she is now being mother to her four dogs, when she is not in front of her laptop.
Meet Our Editor
Our editor is obsessed with commas and hyphens. But this is why you are having a great user experience while reading our content.
Sharmistha is the cool-headed editor with 7+ years experience in lifestyle journalism. With her eye for detail, she ensures that all content on SkinKraft's website and product verticals, is made simple, crisp and error-free. In her free time, she is often spotted exploring various cuisines of the world and loves spending time with sweet animals.