The Science Behind Healthy Skin What is Healthy Skin?
Healthy skin is characterized by a smooth and glowing skin. It has one even color, isn't blotchy, is well hydrated, doesn't feel flaky or tight, has a smooth texture, and is free of acne.
However, air pollution, UVA radiation, organic pollutants, PAH, smoke, soaps, etc. are constantly damaging your skin.
These aggressors cause most of the commonly seen skin issues, such as uneven skin-tone, dryness, pimples and many other skin ailments.
Why Is Healthy Skin Hard To Maintain?
Since your skin is unique, you need a skin care regimen that's tailored to your skin's unique characteristics. What's more, your skin's characteristics change with time and are themselves contingent on multiple factors.
The Weather
Where You Live
Your Daily Skin Care Routine
Your Age, etc.
As the above factors don't remain constant, neither does your skin and its unique requirements.

SkinKraft: Customised Skin Care
SkinKraft's Daily Skin Care Regimen is the result of years of scientific study, testing and clinical expertise. What's more:
The SkinID™ Skin Typing System Makes It Easy For You To Understand Your Skin's Needs
Regular SkinID™ Follow Ups Make Sure Your Regimen Is Always Accurate
Your Holistic Daily Care Evolves With Your Skin Ensuring The Effectiveness Of The Regimen
Clinically Tested Ingredients And Formulations Address Your Skin's Daily Needs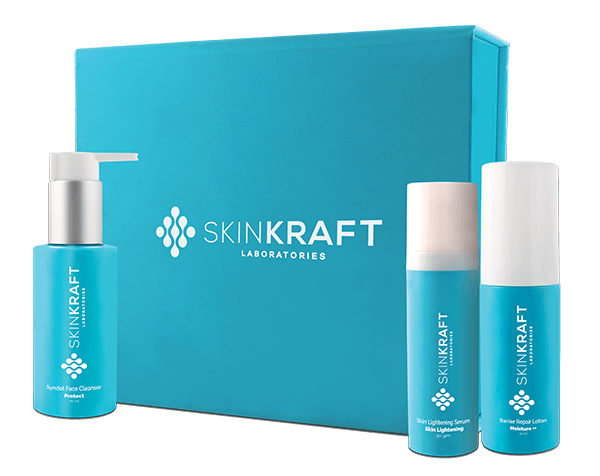 Ingredients That Are Pure, Safe, & Effective. Customized For You.
Powerful ingredients lie at the core of SkinKraft's customized skin care formulations.
Every ingredient is carefully chosen for being safe and effective in skin care over decades
All SkinKraft Facial Cleansers remove dirt, grime and oil without disturbing the skin's delicate pH balance
All SkinKraft Skin care products are soap free, thus safe for sensitive and sensitized skin
All SkinKraft Moisturizers Are Reinforced With Ceramides, Thus Healing Skin From Within Over Time
The Ideal Daily Care Regimen
Every SkinKraft Regimen Contains Everything You Need To Keep Your Skin Healthy & Glowing On A Daily Basis! This Includes:
Your Recommended Facial Cleanser
Your Recommended Hydrating Barrier Repair Complex
An Active To Address Any Existing Skin Concern
To get started on your customized skincare journey, simply take the SkinID™ questionnaire and get acquainted with your current skin profile.