SkinKraft
Sensitive Skin Barrier Restorative Lotion For Women
40ml
13 reviews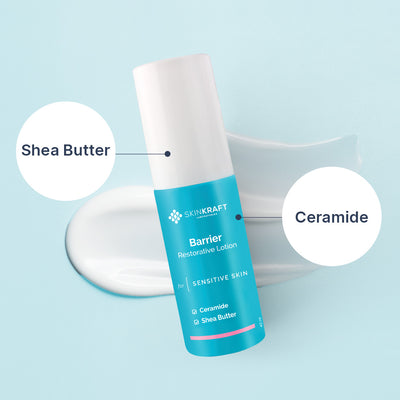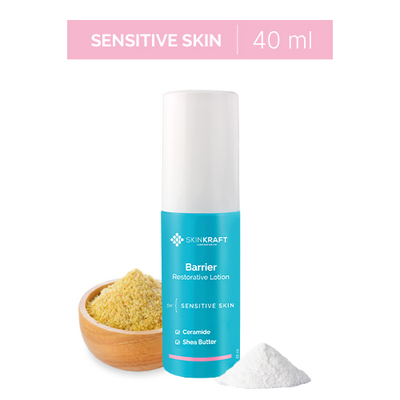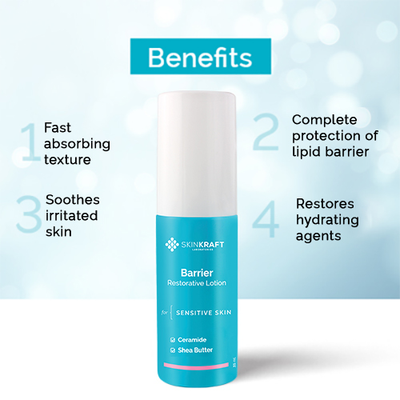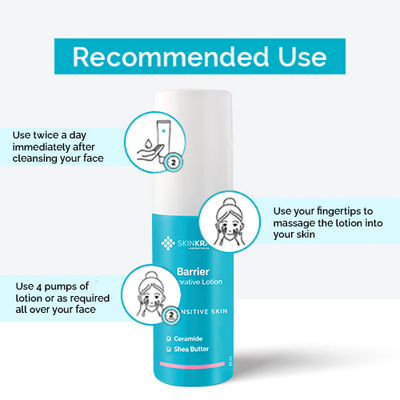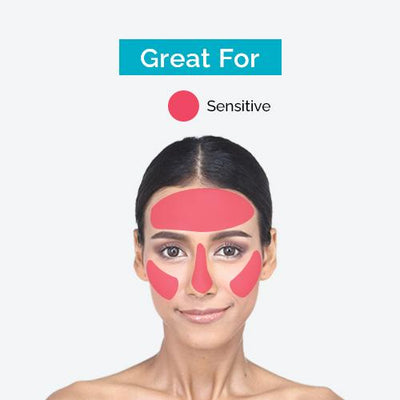 Sensitive Skin Barrier Restorative Lotion For Women
40ml
Free Of Parabens, Sulfates
Dermatologist Approved
pH Balancing
100% Safe & Effective
Free Shipping Offer Unlocked!
100% Satisfaction Guarantee! Eligible For A Refund If The Product Doesn't Meet Expectations.
Product Description
The Barrier Restorative Lotion helps prevent moisture loss and restore the skin's natural hydration levels. Its non-greasy formula is enriched with Shea Butter and Ceramides, which soothe irritated skin and restore its natural radiance.
What's inside ?
Here's What Your Moisturizer Is Made Of
Ceramide EOP
Helps repair the skin barrier and retain moisture.
Ceramide NP
Helps prevent moisture loss and improve the skin's texture.
Shea Butter
A natural emollient that helps keep the skin smooth and soft.
Recommended Use
Use SkinKraft's Barrier Restorative Lotion twice a day, immediately after cleansing your face
Use 4 pumps of lotion all over your face
Use your fingertips to massage the lotion into your face
Customer Testimonials
As someone who has super sensitive skin, I'm so glad I found this product by skinkraft. It really suited my skin 100%. I love that it makes my skin look soft and smooth.
Harpreet, Delhi
Best product by Skinkraft! It is so mild yet works so well on sensitive and irritated skin. I definitely recommend this product to those with sensitive skin.
Ishika Goel, Pune
I highly suggest everyone to try this product at least once! It is so gentle on the skin, and it gets easily absorbed in the skin too. I love it so much, I'm going to reorder mine soon!
Jameema, Agra
FAQs
What skin type is the Barrier Restorative Lotion suitable for?
The Barrier Restorative Lotion is suitable for sensitive skin.
How often should I use the Barrier Restorative Lotion?
It is recommended to use the lotion twice a day, immediately after cleansing your face.
How much product should I use for each application?
About 4 pumps of lotion should be enough to cover your full face.
Can I use the Barrier Restorative Lotion with other skincare products?
Yes, it is recommended to use the lotion along with your choice of SkinKraft Cleanser and Active serum
How long will one bottle of the Barrier Restorative Lotion last?
One bottle of the lotion should last approximately 4-6 weeks with regular use.
Here's What Our Customers Say About Us
Now a days I feel my very healthy and glowing.
Super product
A very good product
It improved my skin texture
I think every girl ko ek bar try karna chayiye 😘
Please proper test deke product mangana result 💯 aayega...if u r confuse the call skin craft agent they will definitely help you...
Also skin craft ko customer order karne ke bad personally talk karna chayiye to customer proper product buy kare
Kyuki most of girls 18-23 age ki hoti hai unko thoda confusion hota hai
Baki skin craft is very trusted love ❤️ you 😘
My skin feels different within 1 week of usage.. Great product
Vry softening i Like how my skin looks and feels
My skin is so well moisturized now. At the end of the day I apply this lotion before sleeping and it helps relax my skin so much.. I absolutely love it
Best customized product till date