SkinKraft
Hair Fall Superfood Oil For Hair Strengthening
10ml
12 reviews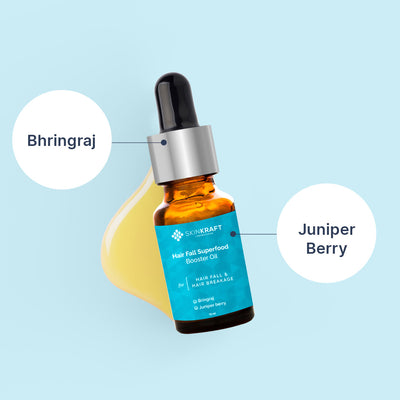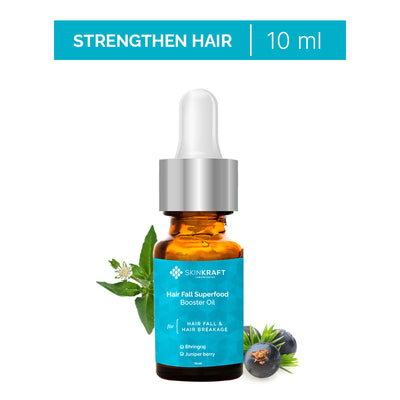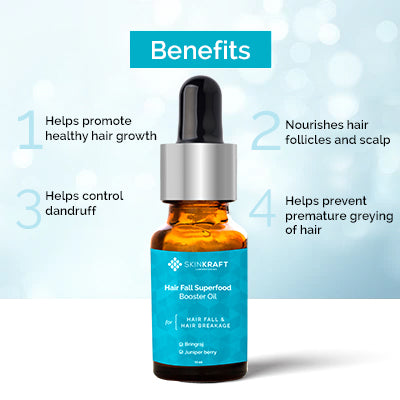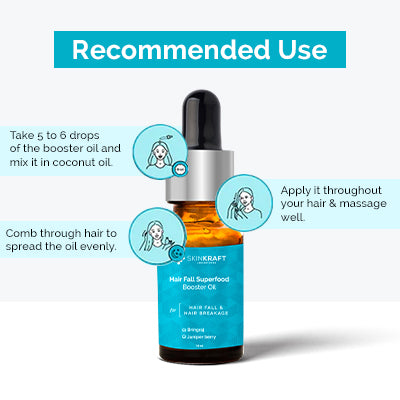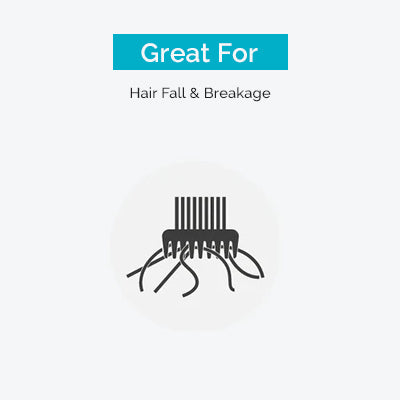 Hair Fall Superfood Oil For Hair Strengthening
10ml
Free Of Parabens, Sulfates
Dermatologist Approved
pH Balancing
100% Safe & Effective
Free Shipping Offer Unlocked!
100% Satisfaction Guarantee! Eligible For A Refund If The Product Doesn't Meet Expectations.
Product Description
The Hair Fall Superfood Booster Oil helps prevent hair fall caused by free radical damage and stimulates new hair follicles for growth. It deep conditions and nourishes the scalp leaving your hair looking healthy and strong.
What's inside ?
Here's What Your Booster Oil Is Made Of
Bhringraj
Helps prevent excessive dryness and significantly reduces thinning of hair.
Vitamin E & F
Helps improve overall scalp and hair health while adding shine to your hair strands.
Juniper Berry
Its astringent properties deeply cleanse the scalp and balance oil production to promote stronger hair growth.
Recommended Use
Take 5 to 6 drops of the product and mix it in coconut oil.
Apply it on your scalp and the length of your hair and massage well.
Follow up with your Customized Shampoo. Use once every week.
Customer Testimonials
Thanks for this skinkraft! I'm happy that I chose this booster oil when my hair became thin and started falling. After using this my hair looks stronger and shiner and hair fall almost stopped🤗
Anushka Aggarwal, Hyderabad
I recently got this hair oil from Skinkraft, and I am really satisfied with it. It has done wonders for my hair and has truly given me that smooth and luscious hair I always wanted!
Kanika Sengupta, Kolkata
This hair oil has been hands down the best hair product I've recently used. It really helps in gaining strength and adding shine. I am so in love! I highly recommend this to all!
Maha Laxmi, Kochi
FAQs
Can I use this oil on chemically treated hair?
Yes, this oil is suitable for all hair types including chemically treated hair.
How long should I leave the oil in my hair?
Leave the oil in your hair for at least an hour for maximum benefits. Overnight usage is also recommended.
Is this oil paraben-free?
Yes, this oil is free from parabens, sulfates(SLS, SLES), and 24 other red-listed ingredients.
Does this oil have a strong smell?
No, this oil has a mild yet pleasant fragrance.
Can this oil be used by both men and women?
Yes, this oil is suitable for both men and women.
Here's What Our Customers Say About Us
Recommended
This Oil really works, I purchase it for a Friend who is having Hair Fall & weak hair... He really love the product as his problem is reduced & his hair started grew well & strengthen as well.
Love this product. Makes my hair so shiny, smooth and healthy, highly recommend it.
Simply amazing! I have damaged and dry ends and this is a blessing for me. Works so well.
This booster oil is sooo good. It makes my hair look good and smooth.
Just love the results of this product. It is sooo good. I recommend you all to try it once.
Damage has been reduced so much. Thanks to this serum.
This skinkraft booster oil makes my hair look sooo good. I use it specially before going out. Love it!
I highly recommend this booster oil for those who have dry ends. Works superbly on damage.
Love this product, worth every penny!