SkinKraft
Sensitive Skin Barrier Restorative Lotion For Men
40ml
10 reviews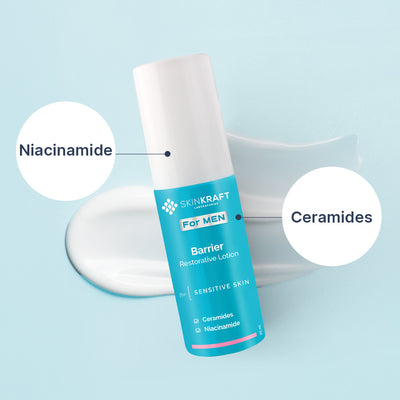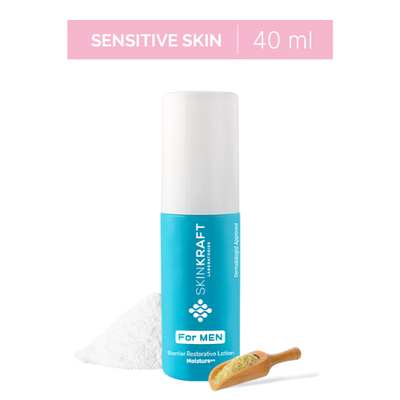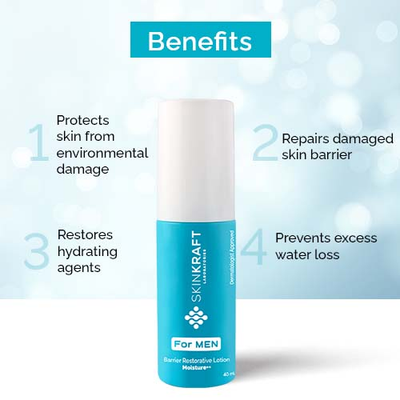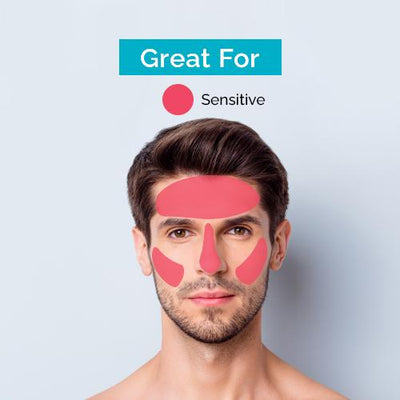 Sensitive Skin Barrier Restorative Lotion For Men
40ml
Free Of Parabens, Sulfates
Dermatologist Approved
pH Balancing
100% Safe & Effective
Free Shipping Offer Unlocked!
100% Satisfaction Guarantee! Eligible For A Refund If The Product Doesn't Meet Expectations.
Product Description
The Barrier Restorative Lotion for Men is perfect for restoring the skin's damaged barrier. It works really well in preventing excessive water loss while soothing dry and irritated skin.
What's inside ?
Here's What Your Moisturizer Is Made Of
Ceramide EOP
Helps to restore and strengthen the skin barrier.
Ceramide AP
Helps to retain moisture and improve the texture of the skin.
Niacinamide
Helps improve skin texture, reduce redness, and protect against environmental damage.
Recommended Use
Use SkinKraft's Barrier Revitalizing Lotion twice a day
Use 3 sprays of the lotion all over your face and gently massage into your skin with your fingertips
At night, use the lotion 30 minutes after using your active.
Customer Testimonials
I love that Skinkraft's moisturizer is so mild. It's great for people with sensitive skin or allergies. I've been using it for a few months and I know for a fact that this is going to be a regular in my daily routine for a long time!
Aditya T, Delhi
This moisturizer is a great value for the price. It's high-quality and really works. People with sensitive skin should definitely go for it!
Nikhil M, Kochi
I love how quickly this moisturizer absorbs into my skin. I can apply it and go without worrying about any residue. It really soothes my skin redness, which is one thing I appreciate a lot about this product. Going to buy this product again for sure!
Poorab L, Hyderabad
FAQs
When do I use the lotion?
Use twice a day, morning and night, after cleansing your face.
Can I use this lotion if I have sensitive skin?
Yes, the Barrier Restorative Lotion for Men is most suitable for sensitive skin.
Is this product cruelty-free?
Yes, SkinKraft products are cruelty-free and not tested on animals.
How long will one bottle of this product last?
One bottle of the moisturizer is 40ml and should last around 3-4 weeks with regular use.
Can this product be used with other skincare products?
Yes, it is recommended to use this moisturizer with your choice of SkinKraft cleanser and active serum.
Here's What Our Customers Say About Us
My skin was dull and very irritated. This lotion within 3 days reduced the irritation and redness and started making my skin hydrated. Now skin feels very smooth"
Perfectly suited my skin. One of the best product I have used."
Probably one of the only moisturizers that made my skin soft. Have been using it for 3 months, it's great."
At this price this moisturizer is pretty good. It actually makes the skin feel hydrated throughout the day."
Worked well for my skin. Delivery was also very fast."
Very good product. Smooth and gentle product for everyday use."
A nice product for dryness. I use it two times a day and my skin feels so soft and plump. In the morning my skin doesn't even look oily."
This lotion gets absorbed in the skin really well and keeps skin hydrated for long hours. I would recommend it to everyone."
It's really gentle on the skin, perfect for my sensitive skin."
Does not irritate skin which is a good moisturizer."