SkinKraft
Gleam On Facial Mask For Dull Skin
100gm
12 reviews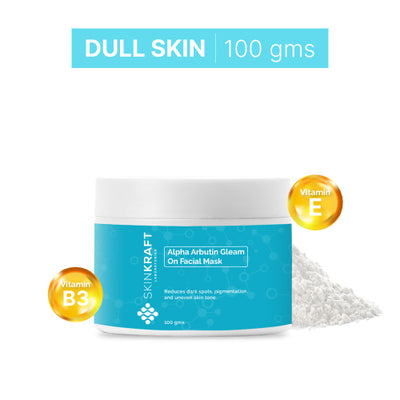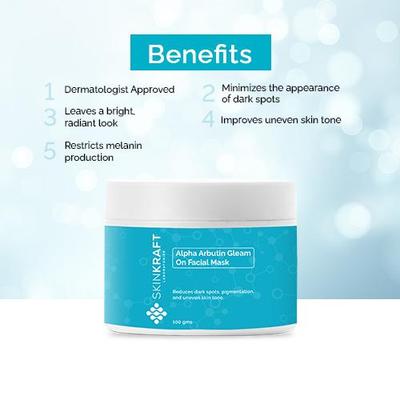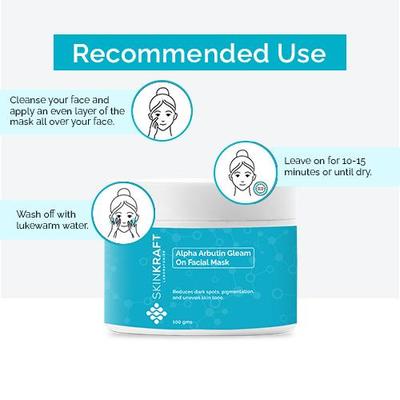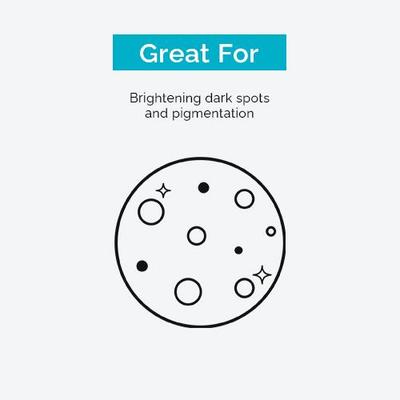 Gleam On Facial Mask For Dull Skin
100gm
Free Of Parabens, Sulfates
Dermatologist Approved
pH Balancing
100% Safe & Effective
Free Shipping Offer Unlocked!
100% Satisfaction Guarantee! Eligible For A Refund If The Product Doesn't Meet Expectations.
Product Description
The Alpha Arbutin Gleam On Facial Mask is the perfect formula to reduce the appearance of dark spots and improve skin tone. This Dermatologist Approved aids in restricting melanin production in the skin and provides even-toned, glowing skin.
What's inside ?
Here's What Your Face Mask Is Made Of
Alpha Arbutin
Helps reduce the appearance of dark spots and improves skin tone.
Vitamin E
Nourishes the skin and helps to promote healthy cell growth.
Glycolic Acid
Helps exfoliate dead skin cells and reduce hyperpigmentation.
Recommended Use
Cleanse your face and apply an even layer of the mask all over your face.
Leave on for 10-15 minutes or until dry.
Wash off with lukewarm water.
Customer Testimonials
I used to have dark spots for years and this mask has really helped me get that glowing skin I always wanted. It's gentle and doesn't irritate my sensitive skin. So this product gets a 10/10 from me!
Rachna Parek, Mumbai
After using this mask, my skin looks and feels so much smoother. It's become a staple in my weekly skincare routine now. Thanks for this Skinkraft!
Alka P, Agra
I was not sure if this mask would suit me. After using it a few times, I can really say that it has exceeded my expectations. It helped get a healthy glow on my skin. I highly recommend this product!
Koel Mathur, Pune
FAQs
How often should I use this mask?
It is recommended to use this mask once or twice a week.
Can I use this mask on my body?
This mask is formulated for use on the face only.
Does this mask contain parabens or sulfates?
No, this mask is free of parabens, sulfates, and 24 other red-listed ingredients.
Will this mask make my skin feel tight?
This mask is formulated to leave your skin feeling refreshed and radiant, without the tightness often associated with other masks.
Can this mask be used by men?
Yes, this mask can be used by both men and women.
Here's What Our Customers Say About Us
Perfect product for Skin
Skinkraft best for skin and growing self confidence
Dark spots and patches are no more a problem for me because this mask has reduced their appearance on my face.
I can't help but notice how effective this
face mask has been in reducing the appearance
of dark patches on my face.
I've tried many face masks for my dull, uneven skin tone but none of them worked as I expected. But this face mask gives me lasting brightening effects and works perfectly for my skin.
The best face mask I have tried so far. My skin is now several shades brighter than before.
Nothing works as effective as this face mask from Skinkraft. My dull skin is now way brighter than before and feels smooth too.
Regular trips on the bike caused severe tanning on my face. But this face mask has been so effective in reducing the tan on my face.
I've had a couple of dark spots that were so stubborn that no product worked for me. But adding this face mask to my routine has brightened the spots by a lot.
This face mask is just perfect for my skin. It brightens my skin and keeps is nice and soft after every use