SkinKraft
Anti Ageing & Antioxidant Booster For Men
30ml
10 reviews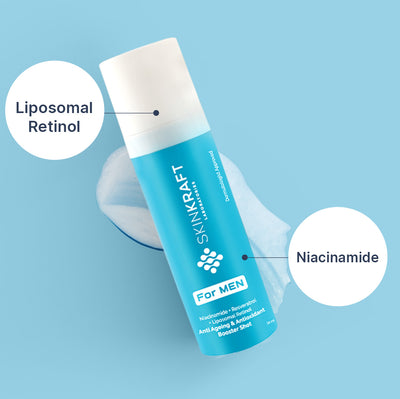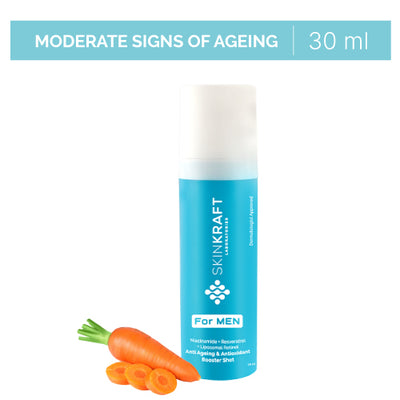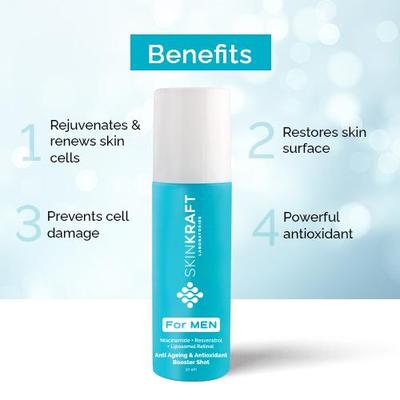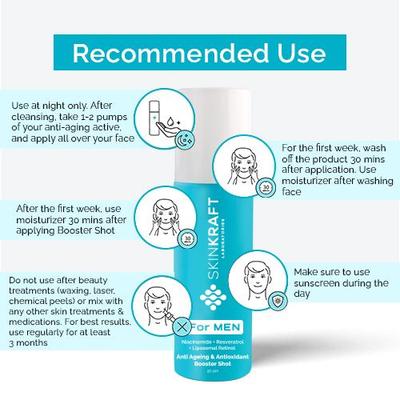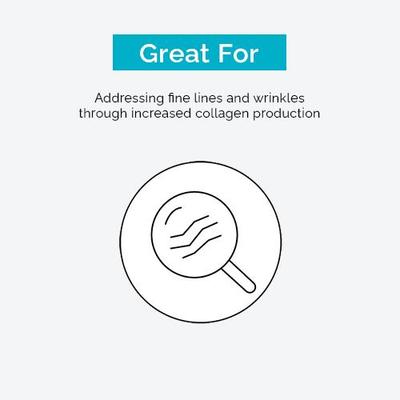 Anti Ageing & Antioxidant Booster For Men
30ml
Free Of Parabens, Sulfates
Dermatologist Approved
pH Balancing
100% Safe & Effective
Free Shipping Offer Unlocked!
100% Satisfaction Guarantee! Eligible For A Refund If The Product Doesn't Meet Expectations.
Product Description
Anti Ageing & Antioxidant Booster Shot is perfect for providing a rejuvenated appearance to the skin & renewing damaged skin cells. It is great for reducing the appearance of fine lines and wrinkles through increased collagen production.
What's inside ?
Here's What Your Serum Is Made Of
Liposomal Retinol
Helps boost collagen production and provides a firm, plump, and younger-looking skin.
Niacinamide
A form of vitamin B3 that helps improve skin texture and reduce the appearance of fine lines and wrinkles.
Resveratrol
A powerful antioxidant that helps to prevent cell damage and provides a clear, glowing skin
Recommended Use
Use at night only. After cleansing, take 1-2 pumps of your anti-aging active, and apply all over your face
For the first week, wash off the product 30 mins after application. Use moisturizer after washing face
After the first week, use moisturizer 30 mins after applying Booster Shot
Make sure to use sunscreen during the day
Do not use after beauty treatments (waxing, laser, chemical peels) or mix with any other skin treatments and medications. For best results, use regularly for at least 3 months
Customer Testimonials
I've been using this product for the past few months, and I've actually seen a significant improvement in my skin's texture and tone. Highly recommend it!
John Dhavan, Puducherry
This product really works. My skin looks and feels younger and smoother now. Great one bt Skinkraft.
Nithin L, Lucknow
I was skeptical about using a booster shot, but this one really made me pleasantly surprised. My skin looks brighter and healthier than ever before.
Osman P, Agra
FAQs
Can I use this product if I have oily skin?
Yes, this product is suitable for all skin types, including oily skin.
When is the best time to use this product?
This product is best used at night, after cleansing your face.
Can I use this product on my neck?
Yes, you can use this product on your neck.
Can I use this product with other skincare products?
It is best to use this product along with your choice of SkinKraft cleanser and SkinKraft moisturizer.
Does this product contain parabens?
No, this product is free from parabens, sulfates & 24 other red-listed ingredients.
Here's What Our Customers Say About Us
Awesome product. I'd say go for it"
Really good product for my skin. Makes my skin feel soft and plump.
Been using this for a few weeks now. I have seen my skin become smoother"
Been using it daily for over a month now, and I can see a change in my skin."
Awesome product! Gives a smooth feeling to my skin"
It's a really amazing serum. After using it for a few weeks, my skin has become softer and smoother."
Good product that makes skin feel soft. I'm happy with my purchase"
No irritation or itching or anything, my face feels smooth and bouncy. It feels like I don't need to even use a moisturizer."
Good product at this price. I'm very happy with this serum. "
Makes my skin look fresh throughout the day. Highly recommend this product"