SkinKraft
Dry Skin Barrier Repair Cream For Women
45ml
10 reviews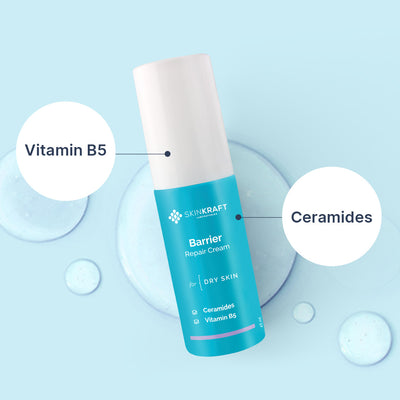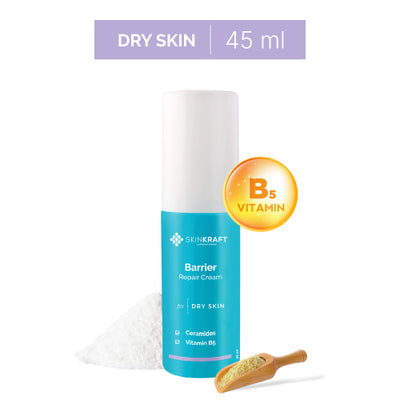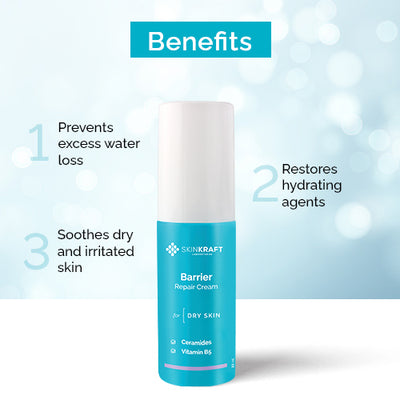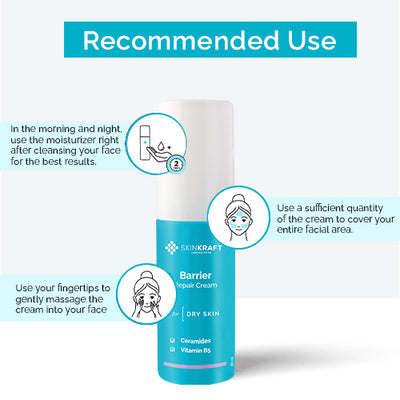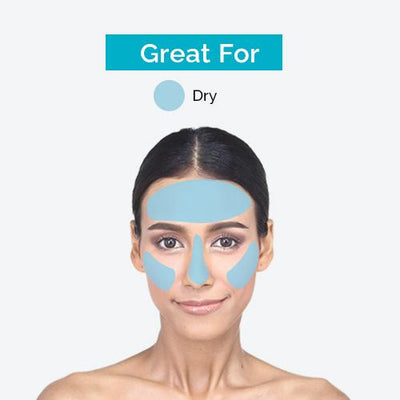 Dry Skin Barrier Repair Cream For Women
45ml
Free Of Parabens, Sulfates
Dermatologist Approved
pH Balancing
100% Safe & Effective
Free Shipping Offer Unlocked!
100% Satisfaction Guarantee! Eligible For A Refund If The Product Doesn't Meet Expectations.
Product Description
Say goodbye to dry, irritated skin with the Barrier Repair Cream for Women. This hydrating cream helps restore the natural moisture barrier of your skin, preventing water loss and leaving your skin feeling soft and smooth.
What's inside ?
Here's What Your Moisturizer Is Made Of
Ceramide EOP
Helps repair the skin barrier and retain moisture.
Ceramide NP
Helps prevent moisture loss and improve the skin's texture.
Vitamin B5
Helps hydrates and nourish the skin while enhancing skin elasticity.
Recommended Use
In the morning and night, use the moisturizer right after cleansing your face for the best results.
Use a sufficient quantity of the cream to cover your entire facial area.
Use your fingertips to gently massage the cream into your face
Customer Testimonials
This moisturizer is so lightweight and gentle, it's perfect for daily use. I highly suggest people with dry skin to go for this one!
Heeru Jaiveer, Lucknow
I love that Skinkraft's moisturizer is made from very mild yet helpful ingredients. It feels good to use a product that's safe and effective. Will definitely re order this one.
Irum Malik, Indore
My makeup goes on really smooth after using this moisturizer. I use it everyday before doing my makeup in the morning. It's perfect as it keeps my skin hydrated throughout the day.
Jayalalitha, Pune
FAQs
What skin types is this product suitable for?
This product is most suitable for dry skin types.
When should I use this product?
You can use the Barrier Repair Cream in the morning and at night, right after cleansing your face.
How much of the product should I use?
Use 2-3 pumps of the cream to cover your entire facial area.
Will this product make my skin oily?
No, this cream has a lightweight formula that is easily absorbed by the skin, leaving it feeling soft and non-greasy.
How long will this product last?
With regular use, the 45ml bottle should last you approximately 3-4 weeks.
Here's What Our Customers Say About Us
Perfect for my skin. Made my skin so smooth and soft"
Moisturizes my skin very well. My skin has not felt dry since I started using this product."
The perfect product for my dry skin. Keeps skin moisturized throughout the whole day."
There are 1000 diff moisturizers in the market but none like this ! It's the one that hydrates , moisturises and also is pocket friendly."
Using this product for sometime. Amazing moisturizer."
A great moisturizer for dry skin types. It is super hydrating and makes skin feel smooth and soft"
I love this cream for my skin. It really gives a glow to my face. I will definitely buy this one again"
Been using this cream for over 3 months now and I can really see that my skin dryness has gone down a lot. It's perfect if you are looking for a day/night time cream."
This cream is my new favorite as it has really made my skin so soft and glowing. Highly satisfied with my purchase"