SkinKraft
Skin Drench Night Serum For Dehydrated Skin
30ml
17 reviews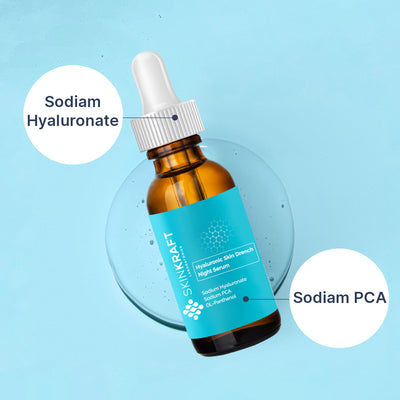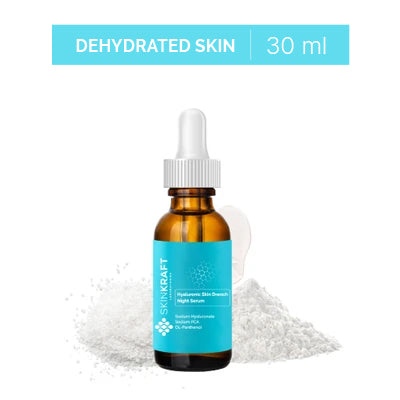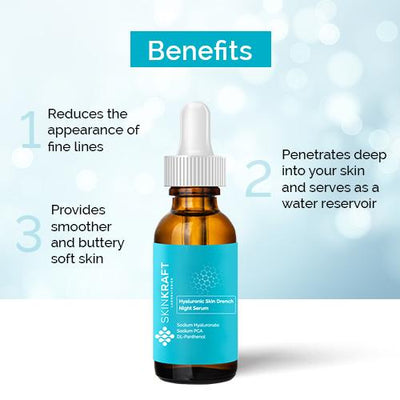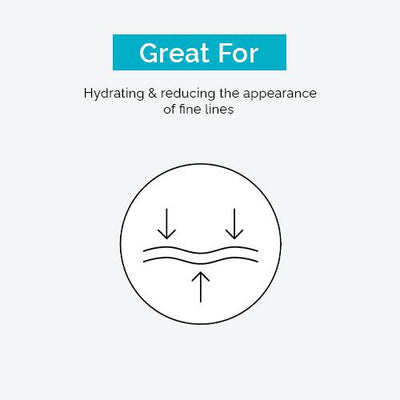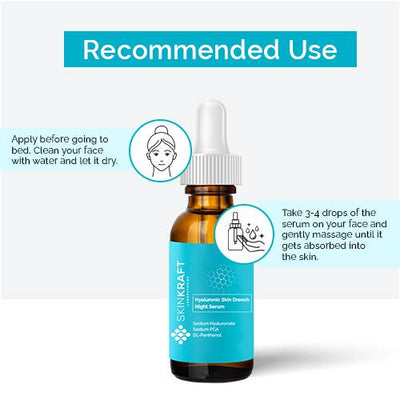 Skin Drench Night Serum For Dehydrated Skin
30ml
Free Of Parabens, Sulfates
Dermatologist Approved
pH Balancing
100% Safe & Effective
Free Shipping Offer Unlocked!
100% Satisfaction Guarantee! Eligible For A Refund If The Product Doesn't Meet Expectations.
Product Description
Get ready for deeply hydrated, glowing skin with the Hyaluronic Skin Drench Night Serum. This serum prevents moisture loss and restores a healthy skin barrier. Its anti-inflammatory properties make it the perfect addition to your nighttime skincare routine.
What's inside ?
Here's What Your Serum Is Made Of
Sodium Hyaluronate
A powerful humectant that attracts and retains moisture to hydrate the skin
Sodium PCA
A natural moisturizing factor that helps maintain the skin's moisture balance
Dl Panthenol
A form of Vitamin B5 that effectively soothes and moisturizes the skin
Recommended Use
Clean your face with water and let it dry
Apply 3-4 drops of the serum on your face
Gently massage until it gets absorbed into the skin
Apply before going to bed and follow up with moisturizer
Customer Testimonials
This serum from skinkraft is so GOOD! Its perfect for my dry skin as it really makes it plump and hydrated. Just what i needed in my skincare routine!
Waheeda Rehan, Kochi
10/10 for this serum from me! I just love that it makes my skin feel so soft and healthy. Worked wonders for me so now I recommend this to all!
Anika Nikki, Goa
I use this every single night without fail and I can truly say it is the reason my skin has been looking so smooth, healthy and bouncy these days! Thank you skinkraft for this serum!
Tanya Warren, Chennai
FAQs
How often should I use this serum?
You can use this serum every night as a part of your skincare routine.
Is this serum suitable for all skin types?
Yes, this serum is suitable for all skin types.
Will this serum make my skin greasy?
No, this serum has a buttery soft texture and does not leave a greasy residue on the skin.
How much serum should I use per application?
It is recommended to use 4-6 drops of the serum per application.
Can I use this serum on sensitive skin?
Yes, this serum is gentle and suitable for sensitive skin.
Here's What Our Customers Say About Us
It is good for glowing skin
My skin has always been dry and no moisturizing cream worked on it. This night serum works so well on my skin, it doesn't feel dry at all.
Very effective for dryness. My skin remains hydrated throughout the day.
I love this serum, it makes my skin feel smooth and moisturized all the time. It has become a permanent part of my skincare routine.
This serum is best for my dry skin. It doesn't feel dry and tight throughout the day.
This serum has become my favorite. It keeps my skin hydrated and prevents dryness. It works perfectly on my skin.
My dryness has visibly reduced after using this serum. It is so effective on my skin.