SkinKraft
UV Sun Protect Lotion Broad Spectrum SPF 40 PA +++ For Sensitive Skin
50ml
15 reviews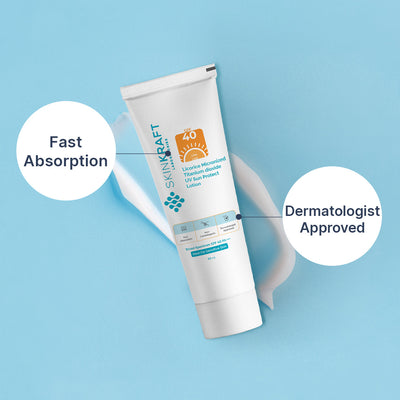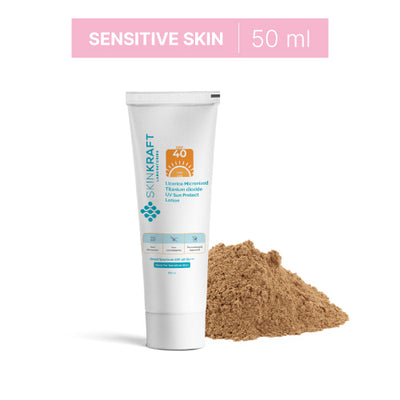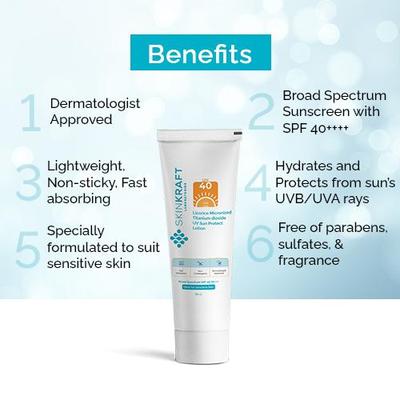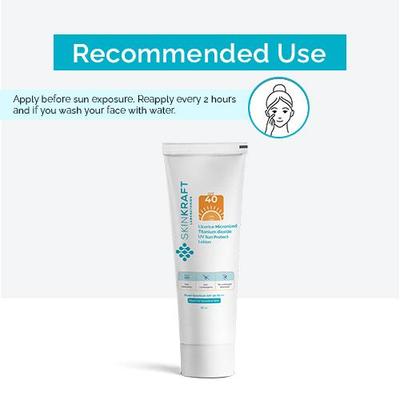 UV Sun Protect Lotion Broad Spectrum SPF 40 PA +++ For Sensitive Skin
50ml
Free Of Parabens, Sulfates
Dermatologist Approved
pH Balancing
100% Safe & Effective
Free Shipping Offer Unlocked!
100% Satisfaction Guarantee! Eligible For A Refund If The Product Doesn't Meet Expectations.
Product Description
Formulated for sensitive skin, this lightweight and non-sticky sunscreen provides broad-spectrum protection from UVA/UVB rays. It is a dermatologist-approved product that's free from parabens, sulfates, and fragrance
What's inside ?
Here's What Your Toner Is Made Of
Licorice
Helps to reduce redness and inflammation
Micronized Titanium Dioxide
Provides physical protection against UV rays
Recommended Use
Apply before sun exposure. Reapply every 2 hours and if you wash your face with water.
Customer Testimonials
I have sensitive skin and have struggled to find a sunscreen that doesn't cause irritation. This product is a game-changer for me. It's super gentle on my skin and provides great sun protection.
Aarthi Goel, Hyderabad
I've been using this sunscreen for a few weeks now, and I love it. It never leaves a white cast and doesn't make my skin feel greasy. It's perfect for everyday wear.
Mohit Chinta, Pune
I was hesitant to try this sunscreen on my sensitive skin but it's so worth it!! It provides excellent sun protection, and my skin feels smooth every time I use it.
Komal Chadha, Amritsar
FAQs
Is this product suitable for sensitive skin?
Yes, this product is specially formulated to suit sensitive skin.
Does this product leave a white cast?
No, this product does not leave a white cast on the skin.
Is this product cruelty-free?
Yes, this product is cruelty-free.
How long will this product last?
This sunscreen will last up to 2-4 weeks, with daily use.
How often should I reapply the Dry-Touch Sheer Creme SPF 45?
It is recommended to reapply sunscreen every 2 hours or immediately after swimming or sweating.
Here's What Our Customers Say About Us
Amazing
I recieved my skinkraft licorice sunscreen yesterday from Amazon... The thing I love about this is that it has so many varieties like if ur skin is oily or dry u r gonna have different sunscreen in the same brand u don't have to search here n ther mine is for sensitive skin n I feel safe while using this on my skin...
I had a really tough time looking for a sunscreen that suited my skin and I've had bad experiences with several products. And I'm so glad I found this customized sunscreen here on SkinKraft, it works perfectly for me
I've been using this sunscreen for a really long time and it is just amazing. I love the fact that it feels so non sticky and it is very absorbent
I have tried sunscreens that give off a very weird smell when applied, but not this one. I love this, leaves no smell and it feels great
I cannot think of any other brand that offers customized sunscreen that works perfectly for a person. Thank you so much SKinKraft
Best sunscreen ever. The way SkinKraft formulates this product is just amazing and it suits me without any problem