SkinKraft
Moisture Reload Body Wash For Normal To Dry Skin
250ml
10 reviews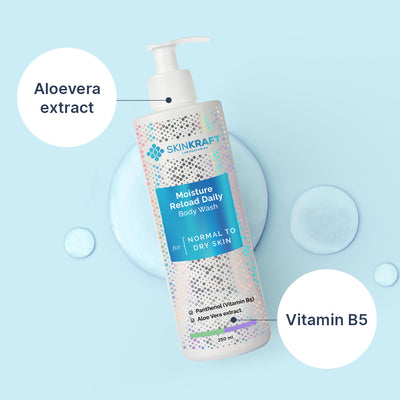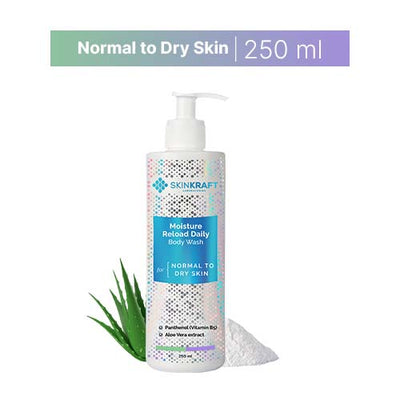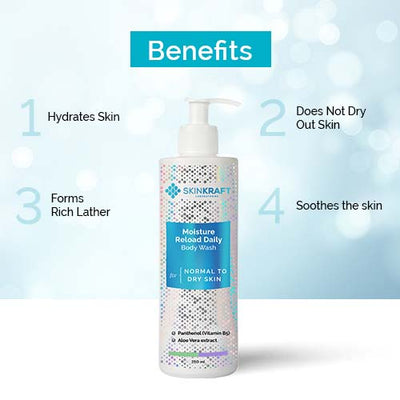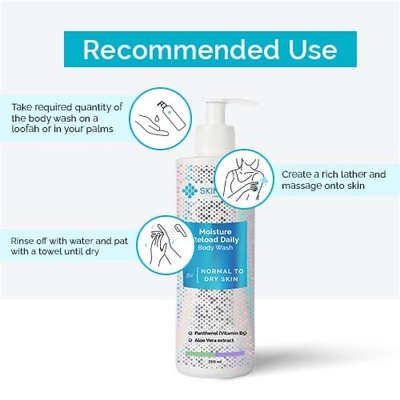 Moisture Reload Body Wash For Normal To Dry Skin
250ml
Free Of Parabens, Sulfates
Dermatologist Approved
pH Balancing
100% Safe & Effective
Free Shipping Offer Unlocked!
100% Satisfaction Guarantee! Eligible For A Refund If The Product Doesn't Meet Expectations.
Product Description
Feel refreshed with the Moisture Reload Daily Body Wash infused with gentle ingredients that thoroughly nourish and moisturize the skin while removing impurities. This formula maintains the skin's natural pH balance, leaving it feeling smooth and refreshed.
What's inside ?
Here's What Your Body Wash Is Made Of
Panthenol (vitamin B5)
Deeply moisturizes the skin and improves skin hydration.
Aloe Vera Extract
Helps calm irritated skin and effectively removes dead skin cells.
Sodium PCA
Helps to maintain the skin's natural moisture balance
Recommended Use
Take required quantity of the body wash on a loofah or in your palms
Create a rich lather and massage onto skin
Rinse off with water and pat with a towel until dry
Customer Testimonials
I have really dry skin and this body wash is gentle enough for me to use every day. It leaves my skin feeling soft and moisturized. Thanks for this skinkraft!
Zainab Azad, Agra
I love this mild body by skinkraft. It's perfect for a refreshing morning shower! I am definitely going to buy this again!
Komal K, Chennai
This body wash is a game-changer. It leaves my skin feeling smooth and refreshed every single time I use it! I highly recommend it to everyone!
Maria Shah, Mumbai
FAQs
Can I use this body wash every day?
Yes, this body wash is gentle enough for daily use.
Is this product cruelty-free?
Yes, our Moisture Reload Daily Body Wash is cruelty-free and not tested on animals.
Does this body wash contain parabens?
No, this body wash is free from parabens, sulfates, and 24 other red-listed chemicals.
Will this body wash dry out my skin?
No, the gentle formula is designed to nourish and moisturize the skin while cleansing it.
Is this body wash suitable for dry skin?
Yes, this body wash is most suitable for normal to dry skin.
Here's What Our Customers Say About Us
SkinKraft's body wash works superb and it has my favourite ingredient Aloe Vera, my skin feels soothing and smooth now.
What a wonderful product. Each wash feels amazing. Leaves my skin very smooth and hydrated.
Totally recommend this body wash to people. Really superb product that does both deep cleaning & moisturizing skin.
Finally found the perfect body wash. Such an amazing product. Makes my skin so smooth after each wash.
Great body wash for dry skin people.
Other body washes didn't give me a good experience. This one does the cleaning well and also makes my dry skin smooth.
Amazing thing - very gentle on my dry skin and unlike other body wash. Cleans my skin very nicely.
Skin doesn't feel dry and rough after wash. I don't apply moisturizer like before.
After-washing feels really good, smooth and clean. Very good body wash.
Nice body wash. Skin feels smooth and fresh after wash.