SkinKraft
De-Grease Mattifying Face Scrub For Oily & Aging Skin
100gm
9 reviews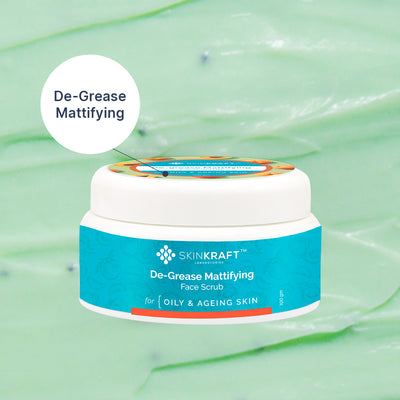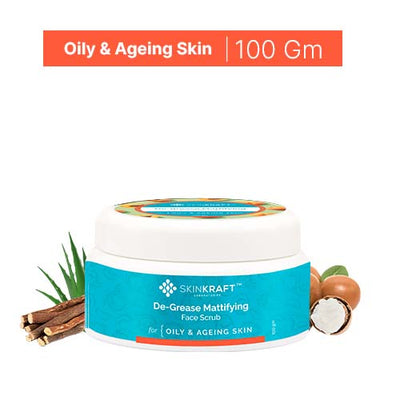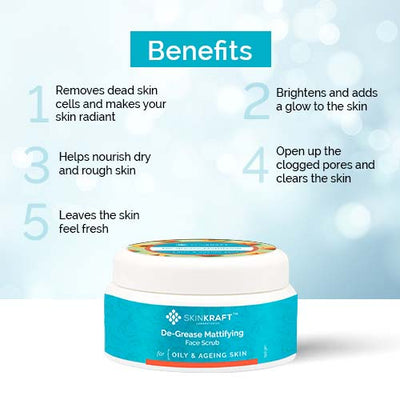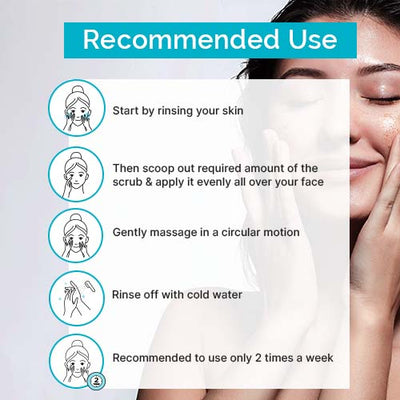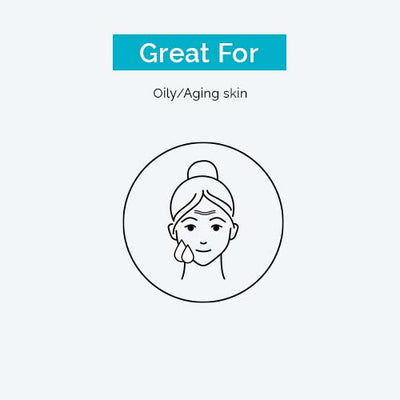 De-Grease Mattifying Face Scrub For Oily & Aging Skin
100gm
Free Of Parabens, Sulfates
Dermatologist Approved
pH Balancing
100% Safe & Effective
Free Shipping Offer Unlocked!
100% Satisfaction Guarantee! Eligible For A Refund If The Product Doesn't Meet Expectations.
Product Description
The De-Grease Mattifying Face Scrub effectively removes dead skin cells and impurities and leaves your skin feeling smooth and radiant. Enriched with nourishing ingredients this scrub helps balance oil production and unclog pores for a soft, shine-free finish.
What's inside ?
Here's What Your Face Scrub Is Made Of
Shea Butter
Deeply moisturizes and nourishes the skin
Licorice Extract
Helps regulate oil production in the skin and soothes inflammation.
Apricot Exfoliants
Gently removes dead skin cells and impurities without irritating the skin
Recommended Use
Start by rinsing your skin
Then scoop out required amount of the scrub & apply it evenly all over your face
Gently massage in a circular motion
Rinse off with cold water
Recommended to use only 2 times a week
Customer Testimonials
I love this face scrub! It helps control my oily skin and makes my skin feel very soft and smooth each time I use it. A 10/10 product by skinkraft!
Neela Mehta, Mumbai
This face scrub has become a staple in my skincare routine. It makes my skin look soft and glowing! I'm impressed! Highly recommend this to all!
Sarah Jabeen, Kolkata
This face scrub has worked exactly how i wanted!! It is the perfect addition to my skincare routine as I can really see my fine lines have faded a bit since I started using this! Go for it!
Jyothsnaa Reddy, Hyderabad
FAQs
Can I use this face scrub daily?
It's not recommended to use this face scrub daily, as over-exfoliating can damage the skin.
Is this face scrub cruelty-free?
Yes, this face scrub is cruelty-free and not tested on animals.
How long should I massage the face scrub onto my skin?
It's recommended to massage the face scrub onto your skin for 1-2 minutes before rinsing off.
Is this face scrub suitable for wrinkles and fine lines?
Yes, this face scrub helps minimize the appearance of signs of ageing.
Can this face scrub be used by men?
Yes, this face scrub is suitable for men and women.
Here's What Our Customers Say About Us
This is my favorite scrub now! It has really helped me get that bright glow I always wanted
This is the perfect scrub for me. It really made my face feel soft and smooth. Do try it once!
This is a really good scrub. I am using it for the first time and it really makes my skin feel so soft and smooth. Everyone should give this one a try.
I use this 1 or 2 times per week and i love how my skin is feeling these days. I will buy another one after I finish this one
A good scrub for oily skin. My skin feels very fresh after using this. Keep it up skinkraft
Awesome product! Made my skin very soft and bright. Really happy with my scrub.
It really removes dead skin from my face. After every use I can see that my skin looks very bright and smooth
A good facial scrub and the price and packing is nice too. Try it out if you have dull skin.
Finally I got a face scrub that makes my skin feel so soft and nice without being harsh. Will definitely buy this one again