SkinKraft
Deep Facial Cleanser For Oily Skin
60ml
3 reviews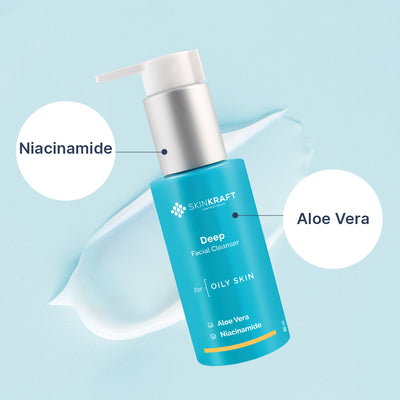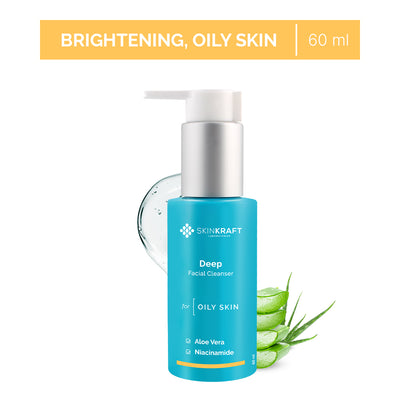 Deep Facial Cleanser For Oily Skin
60ml
Free Of Parabens, Sulfates
Dermatologist Approved
pH Balancing
100% Safe & Effective
Free Shipping Offer Unlocked!
100% Satisfaction Guarantee! Eligible For A Refund If The Product Doesn't Meet Expectations.
Product Description
A pH-balanced, deep-cleansing formula designed to cleanse and purify oily skin. This cleanser is infused with natural ingredients that help regulate excess sebum production and shine while minimizing the appearance of dark spots.
What's inside ?
Here's What Your Deep Facial Cleanser Is Made Of
Niacinamide
Helps regulate sebum production, controls pore-clogging, and reduces the effects of UV damage
Aloe Vera
Packed with vitamins and minerals, Aloe Vera helps soothe and hydrate oily skin, leaving it refreshed and revitalized.
Rose Peel Extract
Helps even out the skin tone and reduces the appearance of dark spots, giving you clear, glowing skin.
Recommended Use
Take 1-2 pumps of the cleanser into your palm & work it into a lather. Gently massage onto your face in circular motions
Wash it off with lukewarm water
Customer Testimonials
It worked so well for my oily face. I'm honestly impressed! I use this everyday without fail now.
Ananda Mathur, Delhi
I like how it worked for my oily skin. I could feel my skin get soft every time I used this. 10/10 product, I'll definitely buy it again
Babita T, Hyderabad
Great product! This cleanser is exactly what I need for my oily skin. It really gives a smooth glow every time I use it.
Chandni Kona, Agra
FAQs
Can the cleanser be used for dry skin?
No, this cleanser is best suited for extremely oily to normal-oily skin types.
What is this cleanser best used for?
The Deep Facial Cleanser is perfect for providing clear, glowing, and even-toned skin.
What is the pH balance of the product?
5.5-6 same as the skin's pH level, so this cleanser does not make the skin oily or shiny
Does it remove makeup?
No, the cleanser does not remove makeup.
Does it contain Paraben?
The cleanser is free of 24 toxic ingredients like Parabens, SLS, Formaldehyde, etc.,
Here's What Our Customers Say About Us
Amazing
I love this cleanser because this my skin type
Thanks for reviews
Such a beautiful products
Skin ka product
Skincraft product nice product personal experience very nice