SkinKraft
Oil Balance Moisturizer For Slightly Oily Skin
45ml
11 reviews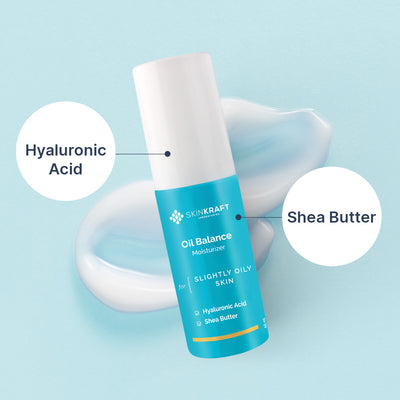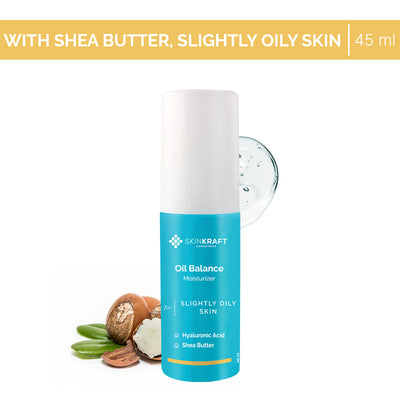 Oil Balance Moisturizer For Slightly Oily Skin
45ml
Free Of Parabens, Sulfates
Dermatologist Approved
pH Balancing
100% Safe & Effective
Free Shipping Offer Unlocked!
100% Satisfaction Guarantee! Eligible For A Refund If The Product Doesn't Meet Expectations.
Product Description
The Oil Balance Moisturizer is a lightweight, intensely hydrating moisturizer that deeply penetrates the skin without making it oily or adding shine. It also helps minimize the appearance of enlarged pores, leaving your skin looking and feeling smooth.
What's inside ?
Here's What Your Moisturizer Is Made Of
Hyaluronic Acid
Boosts the hydration levels of the skin, making it appear plump and fresh.
Shea Butter
A rich moisturizer that helps deeply nourish the skin.
Ceramide
Helps strengthen the skin barrier and prevent water loss.
Recommended Use
Use a sufficient quantity of moisturizer to cover your entire facial area
Use your fingertips to gently massage it into your face
At night, use it 30 minutes after using your active/issue cream
Customer Testimonials
I really like using this moisturizer on a daily basis because it is so lightweight and non greasy. Perfect for my skin. Will definitely recommend this to anyone with oily skin.
Henal Ahuja, Hyderabad
A mild yet super effective moisturizer by Skinkraft. It really gives a long lasting moisturization without making my skin feel sticky. I prefer this over any other moisturizer I've ever used.
Krutika Kona, Chennai
This is my favorite moisturizer right now! I love it because it gets absorbed into my skin really quickly and keeps it hydrated throughout the day! Will definitely be ordering this again!
Khushboo Singh, Delhi
FAQs
Can this moisturizer be used on oily skin?
Yes, this moisturizer is designed for slightly oily skin types and helps balance oil production.
Will this moisturizer clog my pores?
This moisturizer is non-comedogenic, meaning it will not clog your pores.
How often should I use this moisturizer?
It is recommended to use our moisturizer twice a day, in the morning and at night.
Will this moisturizer make my skin look greasy?
No, the Oil Balance Moisturizer is specifically formulated to provide intense hydration without leaving your skin feeling oily or shiny.
Can this moisturizer be used with other skincare products?
Yes, it is recommended to use this moisturizer with your choice of SkinKraft cleanser and active serum.
Here's What Our Customers Say About Us
Amazing product
Amazing product, suits very well to my oily skin.
It's perfect for my skin. Keeps skin hydrated without adding any extra shine. If you have oily skin, I'd suggest trying this one out."
Gives a soft feeling to the skin. Great for daily use."
Been using it for a few weeks now and I can say it is really moisturizing and makes skin bouncy and soft."
Happy with the fast delivery and cute packaging. Overall, i'm satisfied with this moisturizer."
Finally I found the perfect moisturizer for my skin. I love that it gets absorbed in my skin and does not look oily when I apply it. It's a 10/10 product according to me!"
A great moisturizer at an affordable price. Worked well for me. Would suggest everyone to give it a try."
Really makes skin feel soft and fresh throughout the day. Worked really well for my skin."
I'm on my 2nd bottle now and I can say this is my new skincare favorite. It has really made my skin soft and smooth"
This has been my go-to moisturizer for over four months. It has made my skin feel so smooth and soft. I'm in love with it!"