SkinKraft
Glow Getter Serum For Clear Glowing Skin
15ml
23 reviews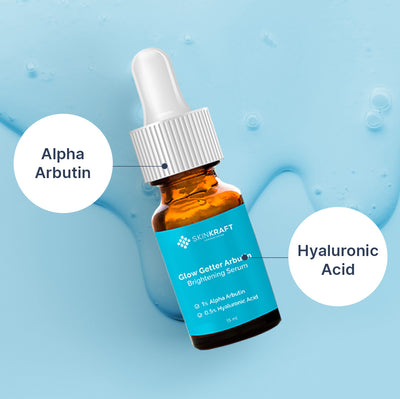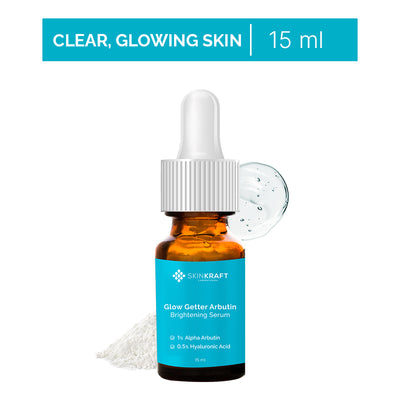 Glow Getter Serum For Clear Glowing Skin
15ml
Free Of Parabens, Sulfates
Dermatologist Approved
pH Balancing
100% Safe & Effective
Free Shipping Offer Unlocked!
100% Satisfaction Guarantee! Eligible For A Refund If The Product Doesn't Meet Expectations.
Product Description
Get clear and glowing skin with the Glow Getter Arbutin Brightening Serum. This serum reduces hyperpigmentation and sun damage while boosting collagen production to reduce signs of aging. Its hydrating formula keeps skin soft and smooth.
What's inside ?
Here's What Your Serum Is Made Of
Alpha Arbutin
Provides even-toned skin and makes it look nourished and glowing by fading the appearance of pigmentation.
Hyaluronic Acid
Hydrates and plumps up the skin, reducing the appearance of fine lines and wrinkles.
Propanediol
Acts as a humectant, helping to lock in moisture.
Recommended Use
After Cleansing your face, apply 2-3 drops of the serum on your skin
Massage in circular motions all over your face
Apply moisturizer after 1-2 minutes
Customer Testimonials
This serum by SKinkraft is wonderful! I've used it a few times and I really saw that my skin looked brighter and felt softer. Will continue to use it for my glowing skin!
Urvashi, Jaipur
The glow getter serum is one of my favorites by Skinkraft. It really makes the skin smooth as it gets absorbed quickly. It really give a glowing appearance to my skin!
Radhika, Kolkata
I like this facial serum. It worked for me as expected and did not irritate my skin like a lot of other products I've used did. I'd say go for this one!
Chetna, Hyderabad
FAQs
Is this serum suitable for sensitive skin?
Yes, this serum is suitable for all skin types, including sensitive skin.
Will this serum make my skin oily?
No, the lightweight formula is quickly absorbed into the skin and does not leave any oily residue.
Should I use this serum before or after moisturizer?
Use the serum before applying moisturizer.
Can I use this serum every day?
Yes, this serum can be used daily for best results.
Can I use this serum with other skincare products?
Yes, this serum works best in combination with your choice of SkinKraft cleanser and moisturizer for a complete skincare routine.
Here's What Our Customers Say About Us
This one works!
I loved using this serum. It didn't irritate my sensitive skin and made my face feel softer and glowing. I used it at night after cleansing and used a moisturizing cream after applying the serum.
I love this
How to use...day time or night time
Very Effective
I just loved it❣️ I tried everything from last 5-6 years but nothing worked. But this serum is just magic💕
Excellent product,ma shaa allah
Alhamdulilah very much satisfied 💖
Glow getter Arbutin serum
Love this serum,it is wonderful and and works so well. It makes my skin look so good.
Perfect serum love it
Love the product in this price range the serum is awesome.it perfectly work on fine lines n I see the result in 15 days .
Ma shaa allah, good product..
Good 👍 product, Alhamdulilah 💖 satisfied it has done great job
Glomy with skinkraft serum
I use this product from 2 month and I have a good result my skin is glowing and also very smooth I recommend others to use this serum for their skin and love the product
Glow Getter Arbutin Brightening Serum
Really good serum. It makes skin soft and bright. But the size is the issue it is a very small bottle. Also launch bigger bottles.