SkinKraft
BrightSide Toner For Dull & Uneven Skin
50ml
10 reviews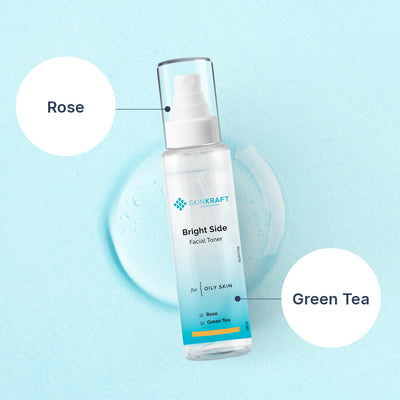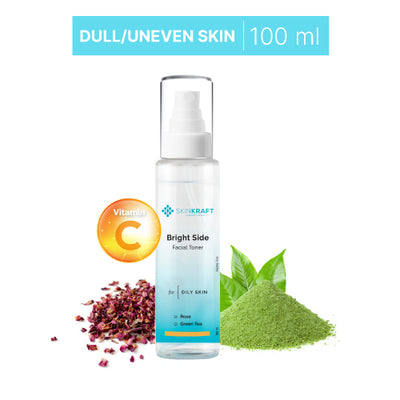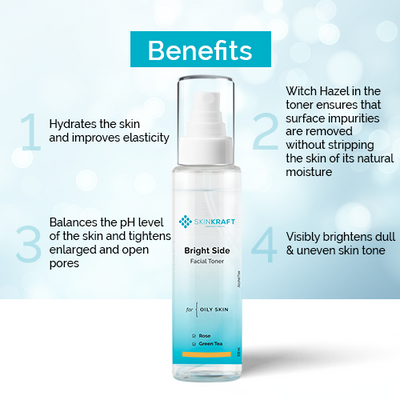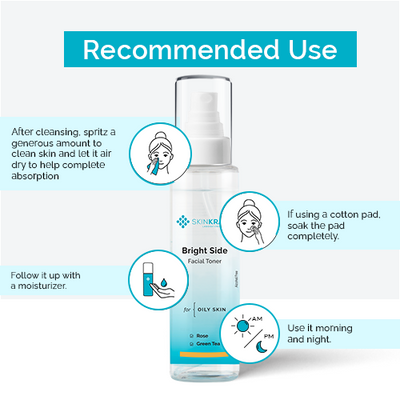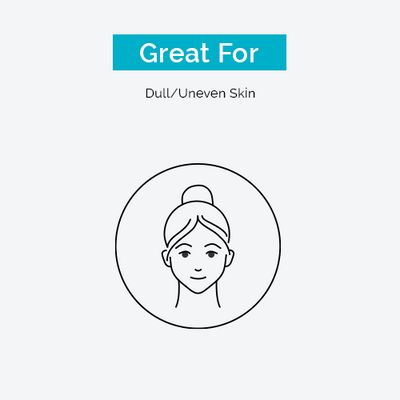 BrightSide Toner For Dull & Uneven Skin
50ml
Free Of Parabens, Sulfates
Dermatologist Approved
pH Balancing
100% Safe & Effective
Free Shipping Offer Unlocked!
100% Satisfaction Guarantee! Eligible For A Refund If The Product Doesn't Meet Expectations.
Product Description
The BrightSide Facial Toner hydrates the skin and removes surface impurities without stripping away its natural moisture. This toner evens out visible dullness and uneven skin tone while balancing the skin's pH level.
What's inside ?
Here's What Your Toner Is Made Of
Vitamin C
Helps provide even-toned skin & increases collagen production in the skin.
Rose
Helps maintain the pH balance of the skin while keeping it well hydrated.
Green Tea
Its antibacterial and anti-inflammatory properties reduce inflammation, giving you clearer, smoother skin.
Recommended Use
After cleansing, spritz a generous amount to clean skin and let it air dry to help complete absorption.
If using a cotton pad, soak the pad completely.
Follow it up with a moisturizer.
Use it morning and night.
Customer Testimonials
I've been using BrightSide Facial Toner for a month now and I can really say that it has helped my skin get brighter and smoother. This is a 10/10 product from skinkraft!
Samreenn Maha, Hyderabad
The BrightSide toner has been gentle and effective in balancing my skin's pH level. That's the reason I highly recommend everyone to try this one out!
Jenna Matthew, Chennai
I love the rose essence in this toner. It is super mild and gets easily absorbed into my skin. This toner has become a staple in my daily skincare now.
Suneeta T, Meerut
FAQs
Does BrightSide Facial Toner contain alcohol?
No, this toner is alcohol-free.
Does BrightSide Facial Toner have a strong fragrance?
No, it has a subtle and refreshing scent.
Can I use BrightSide Facial Toner to remove my makeup?
No, it is not recommended to use toner as a makeup remover.
How long will one bottle of BrightSide Facial Toner last?
It depends on usage, but one bottle should last approximately 3-4 weeks with regular use.
Is BrightSide Facial Toner cruelty-free?
Here's What Our Customers Say About Us
After using this toner for about 3 months, I can say that it has added a bounce and glow to my skin. Highly satisfied with this product by skinkraft!"
I never knew toner would be such an important part of skin care. With this toner my skin felt so smooth after face wash and after a few days, my skin had a glow."
This is my new favorite because it really makes my skin look fresh and smooth."
Every time I wash my face I tap this toner into my skin. And it has been very helpful in hydrating my skin."
A toner is a great product to give that natural glow to your face. If you are thinking of getting one, go for this one as it gets absorbed into the skin well and makes skin glow."
Gives a natural shine to the face which I really like."
One of the best toners I've used till date. It makes the skin glow. I use it everyday morning and night."
It's a superb toner! It has made my skin look smoother and brighter than before."
A great toner for skin care beginners. It is mild on the skin and makes the skin feel smooth and soft."
A good toner for people with dull or dry skin. It reduces the dry patches and gives a smooth feeling to the face."