SkinKraft
Antioxidant Face Mask For Dull & Aging Skin
100gm
10 reviews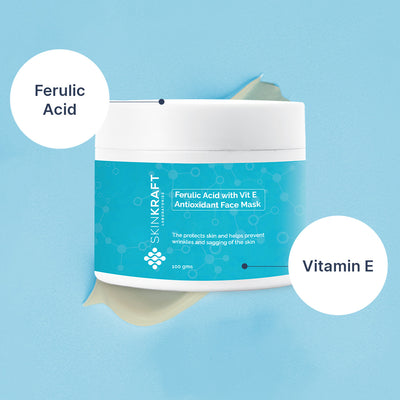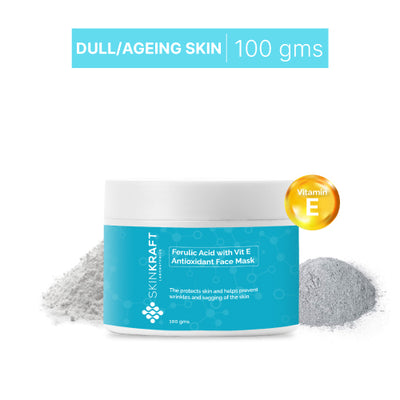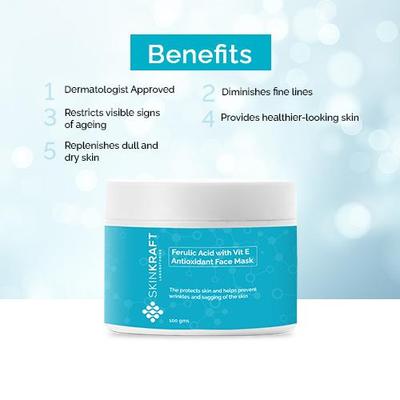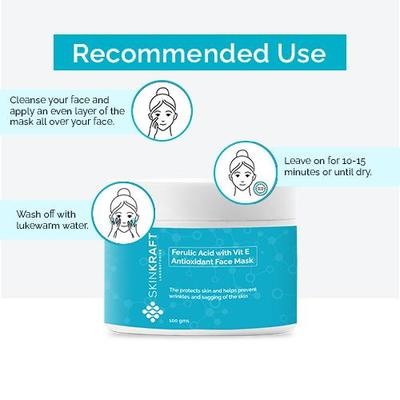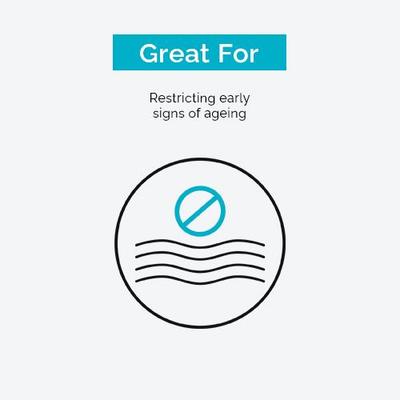 Antioxidant Face Mask For Dull & Aging Skin
100gm
Free Of Parabens, Sulfates
Dermatologist Approved
pH Balancing
100% Safe & Effective
Free Shipping Offer Unlocked!
100% Satisfaction Guarantee! Eligible For A Refund If The Product Doesn't Meet Expectations.
Product Description
Revitalize your skin with the Ferulic Acid with Vit E Antioxidant Face Mask. This mask helps reduce the appearance of fine lines and wrinkles while providing a healthy, youthful-looking glow to your skin.
What's inside ?
Here's What Your Face Mask Is Made Of
Zinc Oxide
Improves the healing abilities of the skin and helps to reduce inflammation.
Ferulic Acid
Helps reduce the appearance of dark spots and discoloration caused by sun exposure.
Vitamin E
Nourishes the skin and helps to promote healthy cell growth.
Recommended Use
Cleanse your face and apply an even layer of the mask all over your face.
Leave on for 10-15 minutes or until dry.
Wash off with lukewarm water.
Customer Testimonials
I really love this mask from skinkraft! It makes my skin feel very soft and smooth. I use it once a week and have noticed that my fine lines have gone down quite a bit.
Jayalaxmi, Chennai
Good going Sinkraft! I have been using this mask for a few months now and my skin has never looked better. It has a nice texture and doesn't irritate my skin.
Samantha Prabhu, Pune
This mask is amazing! I really love the way my skin feels so soft after every time I use it. I've already ordered this product again. Highly recommend it!
Mytli Sagar, Pune
FAQs
How often should I use this mask?
For best results, use it once or twice a week.
Can I use this mask on my neck and chest?
Yes, this mask can be used on the neck and chest as well.
Will this mask clog my pores?
No, this mask is formulated to unclog and cleanse pores.
Can this mask be used by men?
Yes, this mask can be used by both men and women.
How long will one jar of this mask last?
One jar of this mask should last approximately 1-2 months with weekly use.
Here's What Our Customers Say About Us
The best mask I have used till date. It keeps my skin feeling tight and firm.
My skin feels well nourished and smooth after every use. It also keeps severe fine lines from visibly showing on my face.
No other face mask has shown results like this one from skinkraft. The fine lines and age spots on my face have faded.
I am so glad I found this face mask because it is exactly what I wanted. Right after the first use I could notice smoothness and radiance on my face.
Not just an anti ageing mask but also a brightening one. It has reduced the age spots on my face and also improved my uneven skin complexion.
One of the best anti ageing face masks in the market. It does exactly what it promises and is also gentle on the face.
This mask has been my solution to the signs of ageing that show on my skin. I have never been happier with any other product.
Absolutely love this face mask. Keeps my face looking firm adds a nice glow to it.
Great face mask! It has faded the fine lines that show on my forehead and keep my skin moisturized and soft.
Love the after feel of this face mask. Keeps my skin hydrated and also brightens the skin tone.