SkinKraft
Hydra Balance Moisturizer For Slightly Dry Skin
45ml
10 reviews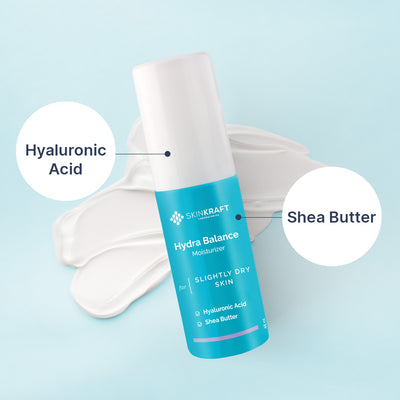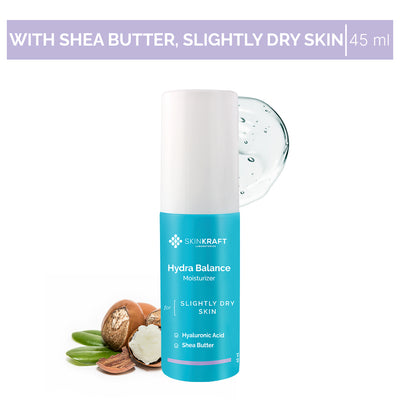 Hydra Balance Moisturizer For Slightly Dry Skin
45ml
Free Of Parabens, Sulfates
Dermatologist Approved
pH Balancing
100% Safe & Effective
Free Shipping Offer Unlocked!
100% Satisfaction Guarantee! Eligible For A Refund If The Product Doesn't Meet Expectations.
Product Description
The Hydra Balance Moisturizer is a nourishing and hydrating formula that is created with a unique blend of hyaluronic acid and ceramides. It provides long-lasting hydration and helps maintain your skin's natural moisture balance.
What's inside ?
Here's What Your Moisturizer Is Made Of
Hyaluronic Acid
Boosts the hydration levels of the skin, making it appear plump and fresh.
Ceramide EOP
Helps to restore and strengthen the skin barrier.
Ceramide AP
Helps to retain moisture and improve the texture of the skin.
Recommended Use
Use 3-4 pumps of the lotion all over your face
Use your fingertips to gently massage it into your face
At night, use it 30 minutes after using your active/issue cream
Customer Testimonials
I just love the long-lasting hydration and smoothness I get each and every time I use this moisturizer. I highly recommend it to everyone with dry skin.
Puneeta Singh, Amritsar
This is a good product by skinkraft at this price point. I used it for a couple of weeks and it really made my skin softer. Going to reorder this again!
Gouri Rai, Agra
This is a great moisturizer for dry to normal skin. I've been using it every day since I got it and i can really feel that my skin feels much softer now. My dry patches have also reduced quite a bit!
Minnie Chakroborty, Kolkata
FAQs
Can I use this moisturizer on oily skin?
This moisturizer is specifically designed for slightly dry skin. If you have oily skin, you may want to try SkinKraft's Oil Free Moisturizer.
Will this moisturizer clog my pores?
This moisturizer is non-comedogenic and will not clog your pores.
How often should I use this moisturizer?
It is recommended to use this moisturizer twice a day, once in the morning and once at night.
How long will one bottle of Hydra Balance Moisturizer last?
One bottle of the moisturizer is 45ml and should last around 3-4 weeks with regular use.
Can Hydra Balance Moisturizer be used with other skincare products?
Yes, it is recommended to use the moisturizer with your choice of SkinKraft cleanser and active serum.
Here's What Our Customers Say About Us
It cools my skin and makes it look so smooth. Doesn't make me look all greasy. Never have my dry skin looked this soft & plump. Thanks, SkinKraft!
My skin is now properly hydrated and smooth, like never before.
I recommend everyone with dry skin try out this amazing moisturizer. You'll love it too.
Such an amazing moisturizer. Keeps my skin soft and bouncy. Haven't seen skin dryness for a while now. Love it!
Nice product. Make my skin smooth, soft, and bouncy
Affordable product that works well for my skin.
Very hydrating & moisturizing. Good product.
This is the best moisturizer I have used for my dry skin.
Just 3 words for this amazing product - Love this moisturizer !