SkinKraft
Sensitive Skin ProSensitive Cleanser
60ml
12 reviews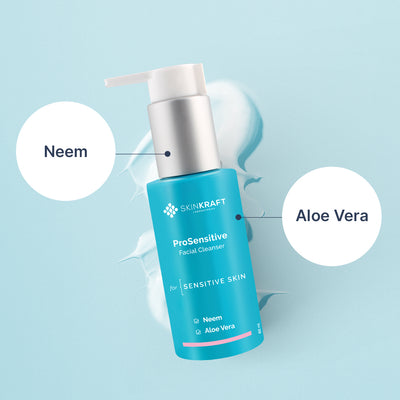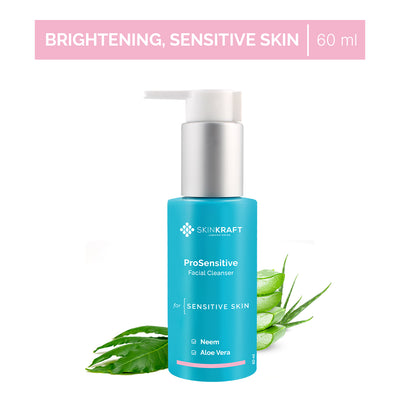 Sensitive Skin ProSensitive Cleanser
60ml
Free Of Parabens, Sulfates
Dermatologist Approved
pH Balancing
100% Safe & Effective
Free Shipping Offer Unlocked!
100% Satisfaction Guarantee! Eligible For A Refund If The Product Doesn't Meet Expectations.
Product Description
This pH-balanced facial cleanser is enriched with nourishing ingredients that help soothe, hydrate, and protect sensitive skin. This cleanser makes skin feel fresh and rejuvenated throughout the day.
What's inside ?
Here's What Your ProSensitive Facial Cleanser Is Made Of
Neem
Soothes sensitive skin by reducing redness and inflammation.
Aloe Vera
Helps effectively hydrate sensitive skin. It has antibacterial properties that help control and reduce acne-causing bacteria.
Olive Oil Glycerin
A humectant that helps retain moisture and prevent dryness, leaving the skin feeling smooth and hydrated.
Recommended Use
Take 1-2 pumps of the cleanser into your palm & work it into a lather
Gently massage onto your face in circular motions
Wash it off with lukewarm water
Customer Testimonials
I have super sensitive skin. So i'm always very particular of the products i use on my face. This cleanser is one of those rare few that worked perfectly for me. I'm glad I bought this.
Anahita Singh, Delhi
This is a great find. All those sensitive skin people out there, try this cleanser. I was just amazed by how mild yet effective it was. I'm definetly going to re order this one.
Farhana, Bangalore
Perfect product! This cleanser is exactly what I need for my skin redness. It really gives a smooth feel and doesn't irritate my skin like most products do.
Garima M, Mumbai
FAQs
Can the cleanser be used for sensitive skin?
Yes, this cleanser is best suited for sensitive skin.
What is this cleanser best used for?
This cleanser is perfect for providing a thorough cleansing to sensitive and irritated skin.
What is the pH balance of the product?
5.5-6 same as the skin's pH level, so this cleanser is perfectly mild for daily use.
Does it remove makeup?
No, the cleanser does not remove makeup.
Does it contain Paraben?
The cleanser is free of 24 toxic ingredients like Parabens, SLS, Formaldehyde, etc.,
Here's What Our Customers Say About Us
Fabulous 🥰
My skin is so so sensitive. I'm getting so much worried before using skinkraft product, but guys it works like a miracle. I'm extremely happy with my product. Thanks🌹
I use this SkinKraft cleanser two times a day. And I'm loving how my skin looks so smooth, clear & glowy.
I am in love with this cleanser. Who doesn't love smooth, clear and healthy skin? SkinKraft, thanks for this.
This product is perfect for my sensitive skin. Totally worth it.
My skin has become clear & it's texture has been improved a lot. Thank you SkinKraft!
I have been using this product for sometime now. Can see positive effects on my sensitive skin. No irritation. No dryness. Just an amazing product.
I have sensitive skin. My skin quickly reacts to any products used on it. But it didn't happen when I used SkinKraft. It worked wonderfully on my skin.
This is the best facial cleanser I have used so far. Love it!
I like how this cleanser soothes my sensitive skin unlike any other products in the market. This cleanser has never irritated my skin or made it dry.