SkinKraft
Ultra Matte Creme Gel - SPF 40 For Slightly Oily Skin
50ml
20 reviews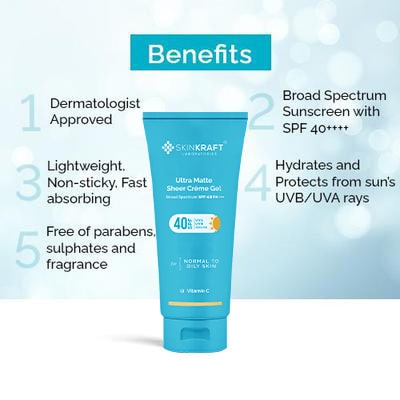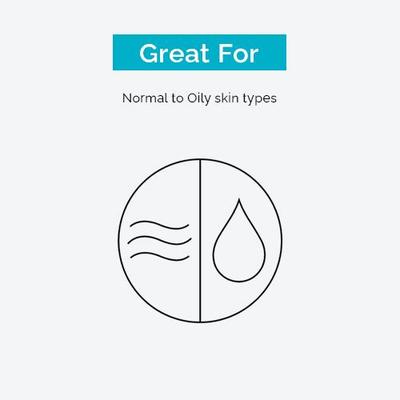 Ultra Matte Creme Gel - SPF 40 For Slightly Oily Skin
50ml
Free Of Parabens, Sulfates
Dermatologist Approved
pH Balancing
100% Safe & Effective
Free Shipping Offer Unlocked!
100% Satisfaction Guarantee! Eligible For A Refund If The Product Doesn't Meet Expectations.
Product Description
The dermatologist-approved Ultra Matte Sheer Creme Gel with SPF 40 is a lightweight, non-sticky, and fast-absorbing formula that hydrates and protects the skin from the sun's UVB/UVA rays. It leaves your skin feeling matte and fresh throughout the day.
What's inside ?
Here's What Your Sunscreen Is Made Of
Aloe Vera
Helps soothe and moisturize the skin.
Vitamin C
A powerful antioxidant that helps protect against sun damage and evens out skin tone.
Recommended Use
Apply 30 minutes prior to sun exposure. Reapply every 2 hours.
Customer Testimonials
I love that this sunscreen doesn't leave a greasy or oily residue on my skin. It is perfect for daily use. I'm glad I tried this from Skinkraft!
Shveta Mishra, Jaipur
This sunscreen is perfect for daily use. It's never leaves a white cast on my skin, and it provides great protection from the sun.
Reshma Bano, Agra
This sunscreen doesn't irritate my skin at all, making it my favorite choice during summers. It's great for everyday use, and I love that it does not have any strong smells.
Taraa Gupta, Kolkata
FAQs
How often should I reapply sunscreen?
You should reapply sunscreen every 2 hours, or immediately after swimming or sweating.
Will this sunscreen leave a white cast on my skin?
No, this sunscreen is sheer and will not leave a white cast on your skin.
Can I use this sunscreen on my body as well?
Yes, you can use this sunscreen on your body as well.
Is this sunscreen safe to use?
Yes, this sunscreen is safe to use as it is free of parabens, sulfates, fragrances, and over 24 other red-listed ingredients.
Can I use this sunscreen if I have oily skin?
Yes, this sunscreen is lightweight and leaves a matte finish, making it most suitable for oily skin.
Here's What Our Customers Say About Us
Best sunscreen in best price
my skin is very sensitive and no sunsceen suits my skin. But skinkraft sunscreen is the best and no side effects.
Perfect sunscreen
I have tried a lot of sunscreen and this is the best suited for my skin
Never regretted buying it again and again
Perfect for my skin type
So far the best sunscreen for my skin. The texture is smooth and does it feel heavy on my skin which is generally not the case with sunscreen. The formula is just perfect. Thank you
Excellent
Excellent product must try
Ultra Matte Sheer Sunscreen
This superbly customised sunscreen works wonderfully protecting my skin. I am very happy with the skinkraft products,😊👍👍
Have blind faith on these products
I am big fan of skinkraft products. They have changes my skin totally. From my teenage I was suffering from acne and their spots but once I saw skinkraft add on Instagram . I ordered them according to my skin in may 2019 . Since till the time i am only user of this. Thanks you so much skinkraft for taking care of my skin.
I'm happy after using vit c serum
Amazing Sunscreen
The texture is love 😍
Doesn't cause much sweat (as compared to cream and lotions)
No white cast 👌🏻