SkinKraft
Restorative Freshwater Body Wash For All Skin Types
200ml
10 reviews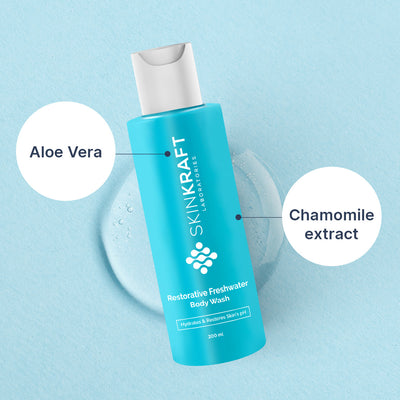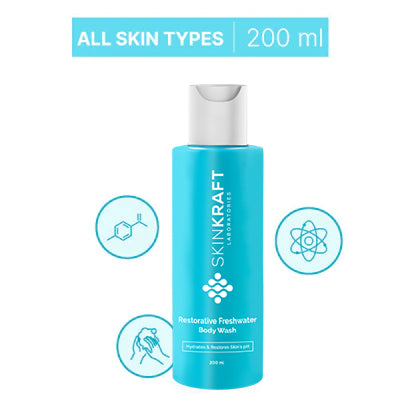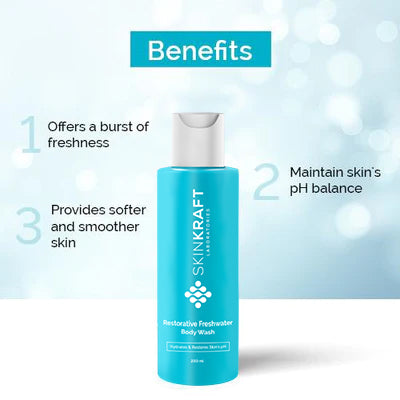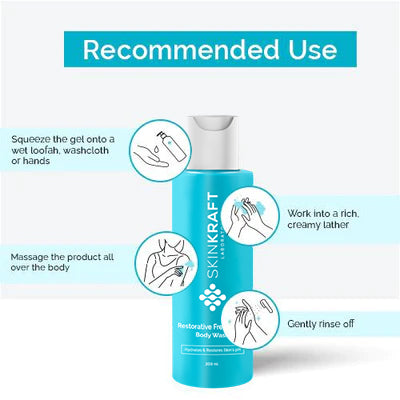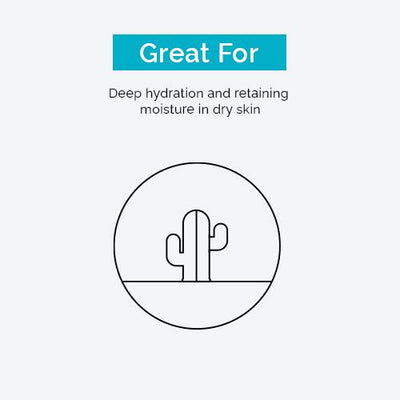 Restorative Freshwater Body Wash For All Skin Types
200ml
Free Of Parabens, Sulfates
Dermatologist Approved
pH Balancing
100% Safe & Effective
Free Shipping Offer Unlocked!
100% Satisfaction Guarantee! Eligible For A Refund If The Product Doesn't Meet Expectations.
Product Description
The Restorative Freshwater Body Wash balances the skin's pH and provides complete hydration to your skin during every shower. Its special formulation cleanses the skin thoroughly without drying it out, leaving it soft, smooth, and refreshed.
What's inside ?
Here's What Your Body Wash Is Made Of
Aloe Vera extract
Effectively moisturizes dry skin and helps even out the skin tone.
Chamomile extract
Has anti-inflammatory properties that help soothe irritated skin.
Sodium Laureth Sulfate
A gentle cleansing agent that effectively removes dirt and oil from the skin without causing dryness
Recommended Use
Squeeze the gel onto a wet loofah, washcloth or hands
Work into a rich, creamy lather
Massage the product all over the body
Gently rinse off
Customer Testimonials
This body wash is so moisturizing, i really love it! Each time I use it, my skin feels super smooth and soft. Thanks for this Skinkraft, will be buying it again without thinking twice!!
Maimoona Shah, Bangalore
This is the perfect body wash for me because it feels light and fresh and does not have that after use stickiness like a lot of others I've tried. It's totally worth it!
Ananya Rao, Kochi
A great product by Skinkraft. I just love the fact that this body wash is mild on my skin and does not dry up my skin. It's a total value for money and I highly recommend it!
Poorab Raj, Hyderabad
FAQs
Is this body wash suitable for all skin types?
Yes, the Restorative Freshwater Body Wash is formulated for all skin types.
Does this body wash contain any harsh chemicals?
No, this body wash is free of parabens, sulfates, and 24 other red-listed toxins.
Is the body wash tested on animals?
No, this product is cruelty-free and not tested on animals.
Does this body wash leave a residue on the skin after rinsing?
No, this body wash rinses off completely and leaves no residue on the skin.
Does this body wash help with dry skin?
Yes, the Restorative Freshwater Body Wash is formulated to provide hydration to the skin and prevent dryness.
Here's What Our Customers Say About Us
Refreshing Body wash
An excellent body wash with a refreshing fragrance. Loved it!
It's a great body wash for my dry skin. My skin feels soft and hydrated for a long time after using it
Very hydrating for the skin. Smells really nice too
Really great body wash by skinkraft. Makes skin soft and moisturized. Go for it!
Best body wash I 've used so far. It does not make skin feel tight or rough which i really love!
My favorite body wash to use in summers. Has a long lasting freshness and scent.
Amazing product! It is so rich and hydrating. Really makes my skin feel amazing and soft. Must-try product!
This body wash is my all time favorite! Been using it for 6 months now and my skin has become so healthy and smooth now I just love it!
It's a good one by skinkraft. Has a pleasant scent and is gentle on skin.
Really amazing product! It made my skin so soft and smooth plus it has such a long lasting fragrance on skin. Will definitely but this body wash again.