SkinKraft
Sensitive Skin Ultra Smooth Cleanser For Men
60ml
11 reviews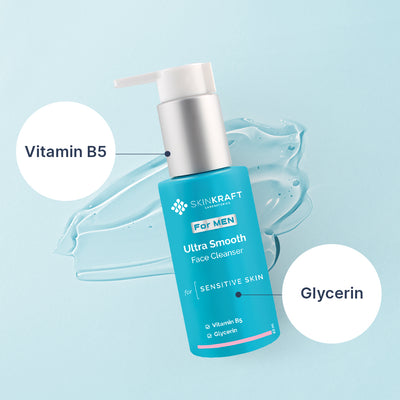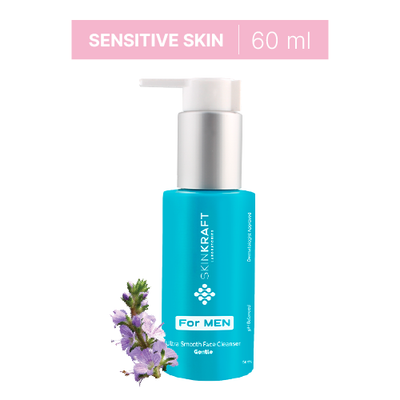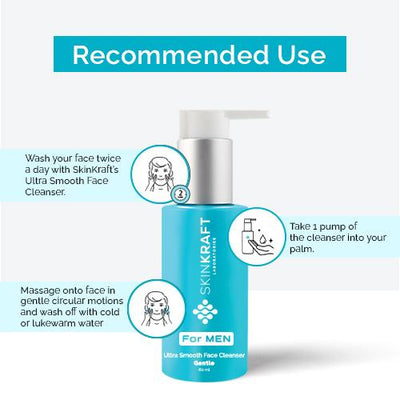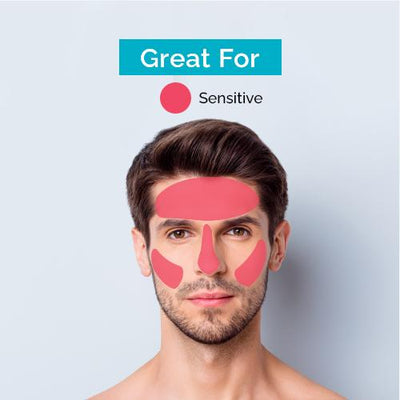 Sensitive Skin Ultra Smooth Cleanser For Men
60ml
Free Of Parabens, Sulfates
Dermatologist Approved
pH Balancing
100% Safe & Effective
Free Shipping Offer Unlocked!
100% Satisfaction Guarantee! Eligible For A Refund If The Product Doesn't Meet Expectations.
Product Description
As a deeply hydrating formula, the Ultra Smooth Face Cleanser is perfect for sensitive skin. The cleanser soothes the skin and prevents any irritation or sensitivity to the skin.
What's inside ?
Here's What Your Ultra Smooth Face Cleanser Is Made Of
Olive Oil
moisturizes and hydrates your skin while also fighting bacteria
Chamomile Extract
Helps soothe and calm irritated skin
Vitamin B5
Has anti-inflammatory effects that help heal the skin
Glycerin
A humectant that not only allows to retain moisture but also increases skin hydration and relieves dryness
Recommended Use
Wash your face twice a day with SkinKraft's Ultra Smooth Face Cleanser.
Take 1 pump of the cleanser into your palm and work into a lather.
Massage onto face in gentle circular motions and wash off with cold or lukewarm water
Customer Testimonials
This cleanser is my most favorite! It is very mild on my skin and the best part is it never ever makes my skin feel irritated after use. Go for this sensitive skin people!!
Ali Khan, Bengaluru
This product worked amazingly for my skin. I sensitive skin so my skin always becomes red with everytime I use some new products. But this is the only cleanser that actually worked really well for me!
Srikar Reddy, Noida
This cleanser worked perfectly for me. Been using for a month and my skin really feels so soft now. Im going to get this one again for sure.
Govind Raja, Kolkata
FAQs
Is this cleanser helpful for acne?
The Ultra Smooth Face Cleanser is formulated specifically for sensitive skin. This cleanser can be used if you have acne with a sensitive skin type.
Can this cleanser be used every day?
Yes, this formula is mild enough for daily cleansing, morning and night.
Does the product cause irritation?
This cleanser is specially made to soothe and calm irritated skin and help reduce any redness. It will not cause any side effects to the skin.
Does it remove makeup?
No, the cleanser does not remove makeup.
Does it contain Paraben?
The cleanser is free of 24 toxic ingredients like Parabens, SLS, Formaldehyde, etc.
Here's What Our Customers Say About Us
Amazing Product
Perfect Cleanser.. made my skin feels softer and smoother
Wanted to try a Skinkraft product for a long time so I ordered this cleanser. And I'm so happy with my choice. It has worked perfectly for my skin"
Perfect cleanser for sensitive skin. Does not irritate the skin at all."
This face wash has really helped with my sensitive skin. It does not make it red or irritated. Very satisfied with my product."
Skin redness has reduced after I started using this cleanser. It makes my skin soft to touch."
Perfect for sensitive skin."
Skin feels soft and smooth! Will continue using it for sure"
Trying this product was the best chooice. Really works well and makes my skin feel very soft"
Sensitive and dry skin is no more a problem for me, thanks to SkinKraft!"
I have been using this for the past few months and I am so happy because it has helped with redness and dryness on my face"