SkinKraft
Moisture Magnet Serum For Intense Hydration
20ml
17 reviews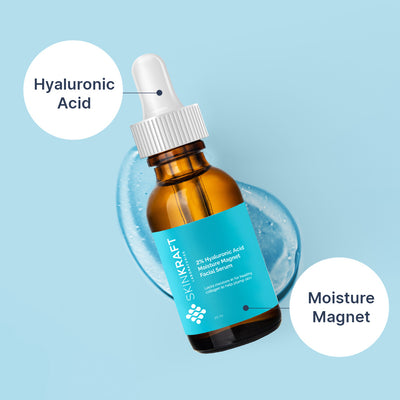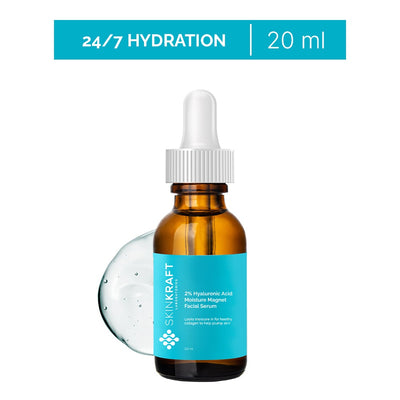 Moisture Magnet Serum For Intense Hydration
20ml
Free Of Parabens, Sulfates
Dermatologist Approved
pH Balancing
100% Safe & Effective
Free Shipping Offer Unlocked!
100% Satisfaction Guarantee! Eligible For A Refund If The Product Doesn't Meet Expectations.
Product Description
This 2% Hyaluronic Acid Moisture Magnet Facial Serum is formulated with a lightweight, non-sticky formula that quickly penetrates the skin. It deeply hydrates and moisturizes, leaving the skin healthy and radiant.
What's inside ?
Here's What Your Serum Is Made Of
Hyaluronic Acid
Hydrates and plumps up the skin, reducing the appearance of fine lines and wrinkles.
Glycerin
Helps to retain moisture in the skin, keeping it hydrated and supple.
Propanediol
A moisturizing and skin conditioning agent that helps to improve the texture of the skin.
Recommended Use
Apply 3-4 drops of serum after cleansing your face
Gently massage until it gets absorbed
At night, follow up with a moisturizer
Customer Testimonials
This serum is amazing! It really helps to hydrate my skin, it feels so soft and smooth after use. I love it
Prerna Arora, Jaipur
I've been using this serum for a few weeks now and I can say my dryness has gone down by a lot. My skin feels so much smoother and looks more bouncy now.
Rachel Kamila, Puducherry
I'm so glad I tried this serum from Skinkraft. It has really helped me with my dry skin and overall appearance of my skin.
Samiha Malik, Hyderabad
FAQs
What is the recommended usage for this serum?
Apply a few drops of serum all over your face after cleansing.
How often should I use this serum?
You can use this serum daily, morning and/or night.
What skin type is this serum suitable for?
This serum is suitable for all skin types, especially dry and dehydrated skin.
Can I use this serum under makeup?
Yes, this serum is lightweight and non-greasy, making it suitable to use under makeup.
Will this serum clog my pores?
No, this serum is non-comedogenic and does not clog pores.
Here's What Our Customers Say About Us
Awsm product this use very affective on dry skin for shiny and glow
Awesome
After using this product…I feel best in terms of glow ,shine and freshness
Best
It is suitable for my skin.
Manyata
Best product ever, smoothen my skin and I feel fresh using it
It was awesome on my skin…My skin is so sensitive but this product work on me so well …..thankyou…I used only 15 days but results is very good….
This product is sooo good, specially during the winters. It keeps my face moisturized all day long.
My skin is really dry. I use this product along with my customized skinkraft products and the results are so good. My skin has become glowing, moisturized and pretty healthy.
Just love the results of this product. It is sooo good. I recommend you all to try it once.