SkinKraft
Acne Exfoliating Cream For Women
30ml
18 reviews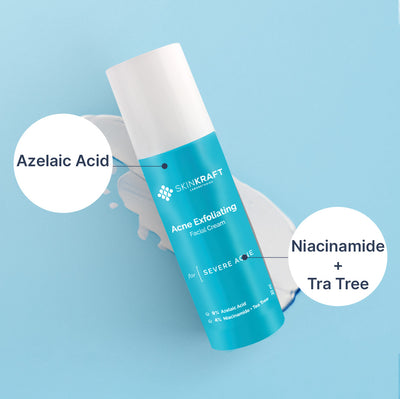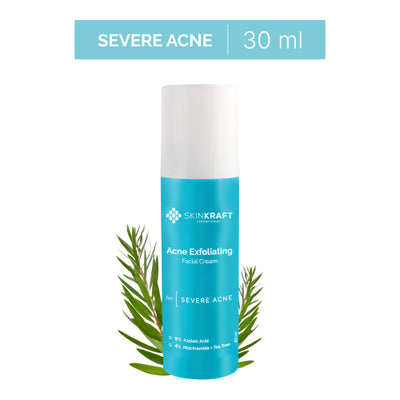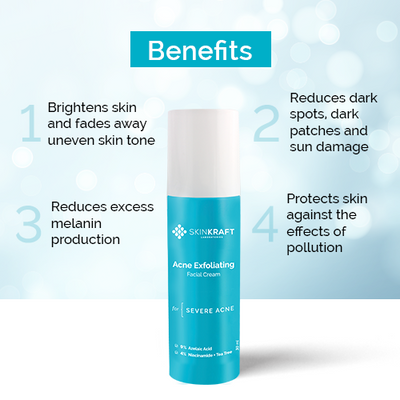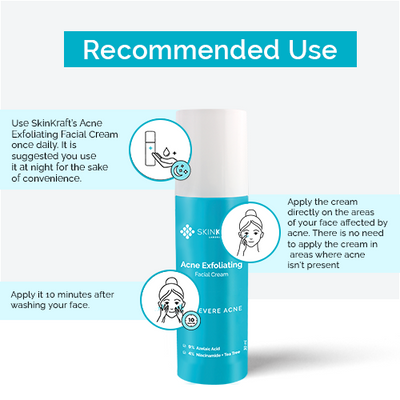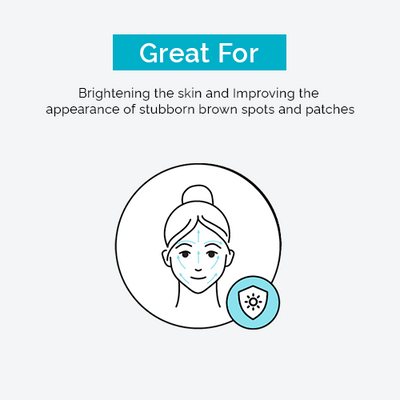 Acne Exfoliating Cream For Women
30ml
Free Of Parabens, Sulfates
Dermatologist Approved
pH Balancing
100% Safe & Effective
Free Shipping Offer Unlocked!
100% Satisfaction Guarantee! Eligible For A Refund If The Product Doesn't Meet Expectations.
Product Description
Specifically formulated to diminish the appearance of moderate to severe acne through gentle exfoliation. The cream thoroughly clears your skin, leaving behind fresh and radiant skin. It effectively reduces bacteria causing breakouts and prevents acne scarring.
What's inside ?
Here's What Your Serum Is Made Of
Niacinamide
Helps improve skin texture and reduce the appearance of acne scars and hyperpigmentation
Tea Tree Oil
A natural antibacterial and anti-inflammatory, tea tree oil helps soothe and clear up acne-prone skin.
Recommended Use
Use SkinKraft's Acne Exfoliating Facial Cream once daily. It is suggested you use it at night for the sake of convenience.
Apply 10 minutes after washing your face.
Apply the cream directly on the areas of your face affected by acne. There is no need to apply the cream in areas where acne isn't present
Customer Testimonials
This cream has been a game-changer for my skin! I had moderate acne and scars, and this cream has visibly reduced them within weeks.
Fareeha Rana, Jaipur
I love that this cream is gentle on my sensitive skin, worked really well for my my pimples
Geeta Reddy, Hyderabad
I've tried countless products for my pimples, and this cream is the only one that has given me noticeable results. Highly recommend!
Hymavathi Y, Chennai
FAQs
How often should I use this cream?
You can use this cream once daily, it is recommended to use it at night for the sake of convenience.
Can this cream be used on sensitive skin?
Yes, this cream is formulated to be gentle on sensitive skin. However, we recommend doing a patch test before use.
Will this cream dry out my skin?
No, this cream is specifically formulated to prevent over-drying of the skin, keeping it hydrated and moisturized.
Is this serum cruelty-free?
Yes, this product is not tested on animals and is cruelty-free.
Here's What Our Customers Say About Us
Wonderful cream to acne and pimples
I hd severe acne on my cheeks it worked so good I loved d product
Product is very good
Product is Vry useful for my skin
Skin get smooth
My skin become smooth after using this cream
Acne Exfoliating face cream
This is the only cream that worked on pimple scars."
I was so tired of acne on my face. But this cream really helped me in reducing acne. It has made my skin clear again"
Very impressed with how this product worked on my skin. Did not even make my skin dry or rough."
I recommended this cream to all my friends who have acne and scars. Amazing product!"