SkinKraft
Acne Total Clear Solution For Men
30ml
10 reviews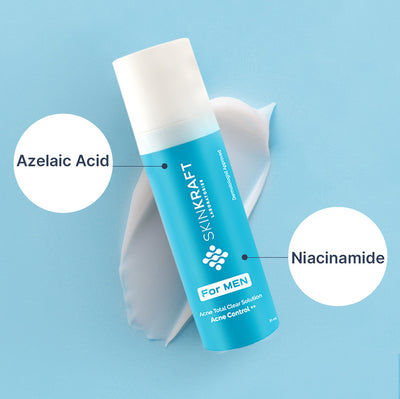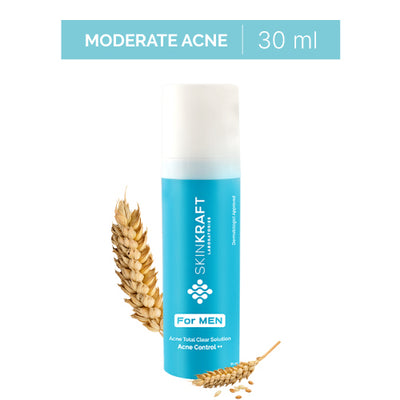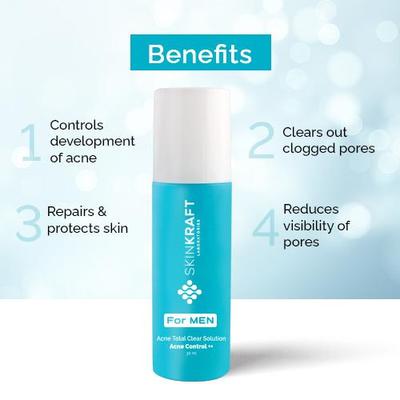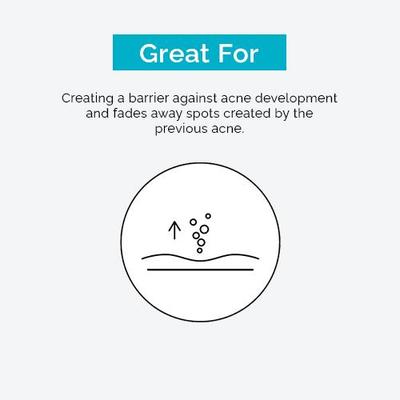 Acne Total Clear Solution For Men
30ml
Free Of Parabens, Sulfates
Dermatologist Approved
pH Balancing
100% Safe & Effective
Free Shipping Offer Unlocked!
100% Satisfaction Guarantee! Eligible For A Refund If The Product Doesn't Meet Expectations.
Product Description
The Acne Total Clear Solution helps control the development of acne by effectively clearing out clogged pores and providing a smoother, clearer skin.
What's inside ?
Here's What Your Serum Is Made Of
Azelaic Acid
Controls the development of acne by reducing the production of keratin, which can clog pores and cause acne.
Niacinamide
Repairs and protects the skin by improving its barrier function, reducing inflammation, and regulating sebum production.
Recommended Use
Use SkinKraft's Acne Total Clear Solution once daily. It is suggested you use it at night for the sake of convenience.
Apply 10 minutes after washing your face.
Apply the cream directly on the areas of your face affected by acne. There is no need to apply the cream in areas where acne isn't present
Customer Testimonials
This is by far the best acne product I've tried from Skinkraft. It has cleared up my acne and has prevented new breakouts from forming. Highly recommend it!
Paritosh, Kochi
I had a few pimples and i tried many different products, but this one has worked the best for me. It's gentle on my skin and has cleared up my pimples without causing any irritation.
Rama Rao, Chennai
I was hesitant to try this product at first, but I'm glad I did. It has reduced the appearance of my acne scars and has prevented new breakouts from forming. My skin looks and feels healthier overall.
Satish Jah, Pune
FAQs
How often should I use Acne Total Clear Solution?
Use once daily, at night for best results.
Is this product suitable for sensitive skin?
Yes, it is suitable for sensitive skin. However, it is always recommended to do a patch test before applying to the entire face.
Will this product clog pores?
This product is non-comedogenic and will not clog pores.
How long does a bottle of Acne Total Clear Solution last?
A 30ml bottle typically lasts 1 month with regular use.
Here's What Our Customers Say About Us
My skin is looking much better since I started using this product. 10/10 Id say go for it!
Hey Thanks for the wonderful product, using since lat two months and seeing the difference straight away. Skin tone has been changed though dark spots are still there but there is improvment. Defenitly recommended
I've tried many acne products for my pimple and pimple scars, but this is the only one that really works.
This product has really helped me feel more confident about my skin. My acne has actually reduced a lot since using it.
I've recommended this product to all my friends. It's really amazing. Good one Skinkraft!
This product is a game-changer for people with acne. Highly recommend it to everyone.
I'm really impressed with the quality of this product for the price. Good product by skinkraft
Great product! My skin feels smoother and looks brighter with this.
I use this daily at night before sleeping. It has actually helped a lot with my pimples
Finally an acne product that is specially created for men. I really liked using this one from Skinkraft.