SkinKraft
Normal-Dry Skin Barrier Repair Moisturizing Gel For Women
40ml
13 reviews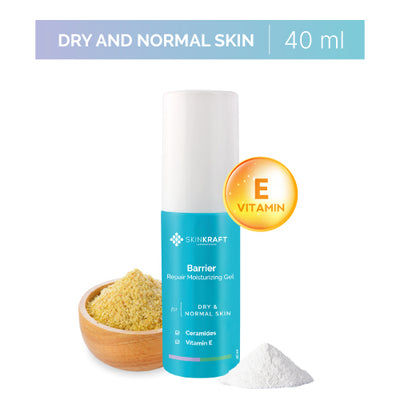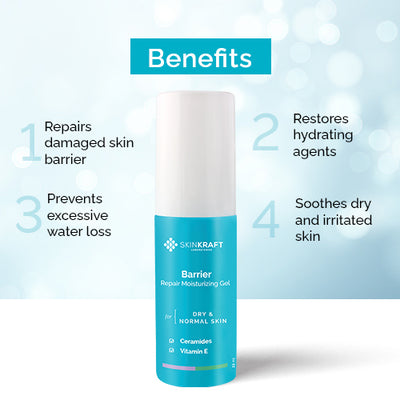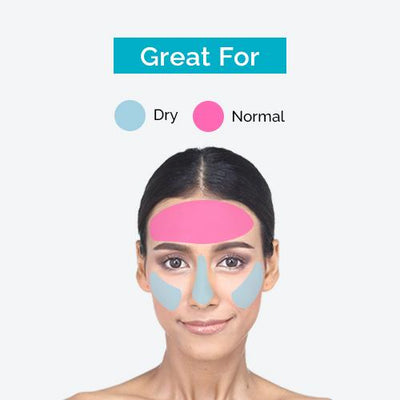 Normal-Dry Skin Barrier Repair Moisturizing Gel For Women
40ml
Free Of Parabens, Sulfates
Dermatologist Approved
pH Balancing
100% Safe & Effective
Free Shipping Offer Unlocked!
100% Satisfaction Guarantee! Eligible For A Refund If The Product Doesn't Meet Expectations.
Product Description
The Barrier Repair Moisturizing Gel repairs your skin's damaged barrier and restores its natural hydration, preventing excessive water loss in dry skin. It also helps alleviate dryness and irritation, leaving your skin soft, supple, and healthy-looking.
What's inside ?
Here's What Your Moisturizer Is Made Of
Ceramide EOP
Helps repair the skin barrier and retain moisture.
Ceramide NP
Helps prevent moisture loss and improve the skin's texture.
Vitamin E
An antioxidant that helps protect the skin from damage caused by UV rays and pollution. Helps soothe dry, irritated skin.
Recommended Use
Take sufficient quantity of product into your palm.
Use your fingertips to massage the gel into your face.
Use twice daily
Customer Testimonials
This moisturizer absorbs quickly and doesn't leave any residue. It's perfect for busy mornings when I'm in a rush. Good one by Skinkraft!
Bhavana Reddy, Chennai
My skin feels so hydrated and moisturized after using this product. I'll definitely be repurchasing!
Churnika Thakur, Delhi
Been using this product from skinkraft for a few days now, it is perfect for summer. It's lightweight and doesn't make me feel sticky or sweaty. Will definitely recommend this to all!
Dahlia Hegde, Kolkata
FAQs
How often should I use the Barrier Repair Moisturizing Gel?
Use it twice daily, in the morning and at night.
How much product should I use per application?
Use a small amount of product, about the size of a pea, to cover your entire face.
Can I use this moisturizer in combination with other skincare products?
Yes, you can use this moisturizer in combination with other SkinKraft products.
How long will the moisturizer last?
With regular use, the 40ml container should last approximately 1 month.
Is this moisturizer tested on animals?
No, SkinKraft products are not tested on animals.
Here's What Our Customers Say About Us
It's an Awesome Product 🥰Just Loved it
Makes my skin so smooth. I love this product!
I apply it once in the morning and that's it! I don't need to reapply again the whole day! Love it
I like this product a lot. I am definitely recommending it to everyone I know!
Healed my uneven skin tone. Best serum
I thought I'll just give it a try and now I'm addicted to this. Best product to add in your skincare
Customized to meet the exact needs of my skincare. I would definitely recommend it to everyone
This face gel is the perfect solution for people with oily skin.