SkinKraft
Oily Skin Barrier Revitalizing Lotion For Men
40ml
10 reviews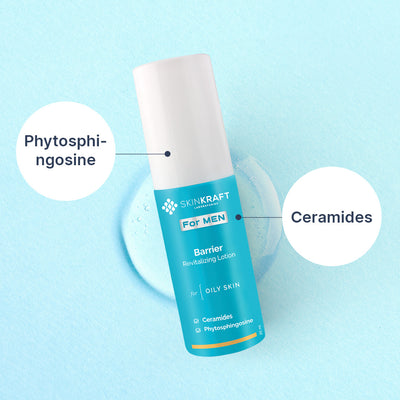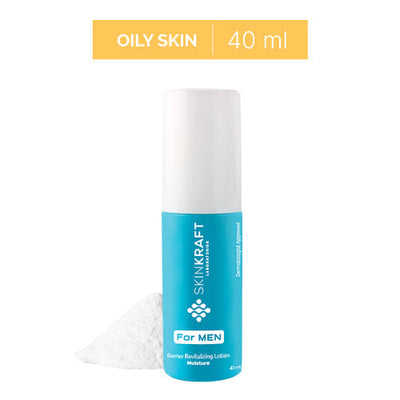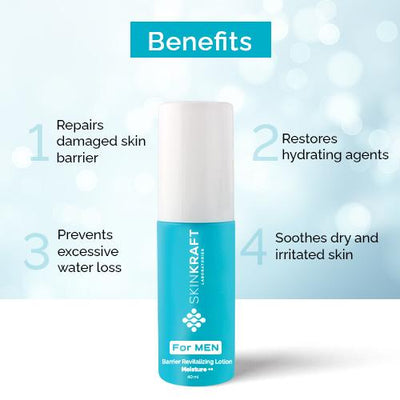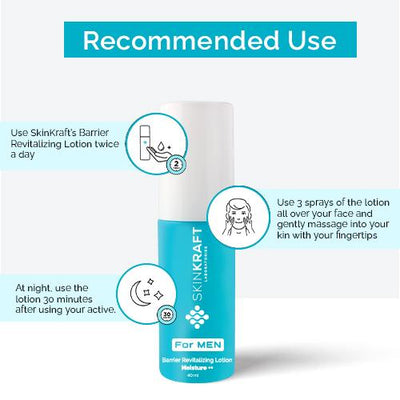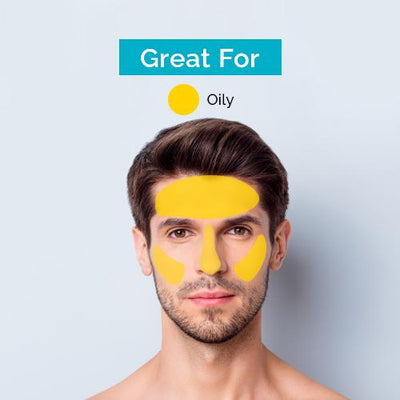 Oily Skin Barrier Revitalizing Lotion For Men
40ml
Free Of Parabens, Sulfates
Dermatologist Approved
pH Balancing
100% Safe & Effective
Free Shipping Offer Unlocked!
100% Satisfaction Guarantee! Eligible For A Refund If The Product Doesn't Meet Expectations.
Product Description
The Barrier Revitalizing Lotion helps restore the skin's natural barrier by preventing excessive water loss and soothing dry, irritated skin. It also helps the skin recover from environmental damage, leaving it refreshed and revitalized.
What's inside ?
Here's What Your Moisturizer Is Made Of
Ceramide EOP
Helps to retain moisture and improve the overall appearance of the skin.
Phytosphingosine
Helps to soothe and calm irritated skin, reducing redness and inflammation.
Niacinamide
A powerful antioxidant that protects the skin against environmental damage and helps to reduce the appearance of fine lines and wrinkles.
Recommended Use
Use SkinKraft's Barrier Revitalizing Lotion twice a day
Use 3 sprays of the lotion all over your face and gently massage into your skin with your fingertips
At night, use the lotion 30 minutes after using your active.
Customer Testimonials
I have really oily skin and this cream has been my favorite to use lately. It gets absorbed easily and does not leave a shine on my face. Will buy this one again for sure.
Hemath, Amritsar
This is an awesome product from SKinkraft! I've been using it for few weeks now and I really like that it keeps my skin hydrated and fresh throughout the day.
Ishaan Khanna, Mumbai
Good product at this price. I like that it is mild enough to use two times every day. Does not feel heavy or sticky on the face. Will buy this again once mine is done.
Jaideep Bhatia, Ludhiana
FAQs
How often should I use this lotion?
Use the SkinKraft Barrier Revitalizing Lotion twice a day, at morning and at night.
Can this lotion be used by people with oily skin?
Yes, this lotion is most suitable for people with oily skin.
Does this lotion contain any harmful chemicals?
No, this lotion is free from harmful chemicals such as parabens, sulfates, phthalates, and 24 other red-listed toxins.
Can this lotion cause breakouts?
No, this lotion is non-comedogenic, which means it does not clog pores and is unlikely to cause breakouts.
How should I apply this lotion?
Spray 3 pumps of the lotion all over your face and gently massage it into your skin with your fingertips.
Here's What Our Customers Say About Us
It's a good product to keep skin moisturized when working outdoors. Does not make the skin oily and shiny."
It really keeps my skin moisturized for the whole day. I'm impressed, will definitely buy it again"
Perfect for dull and oily skin. I used it for a few weeks and it made my skin soft and smooth."
I finally found a product that actually helps hydrate my skin. It also doesn't feel heavy on the skin, it's a light-weight moisturizer !"
Good product for oily and damaged skin."
I use this twice everyday and I like how it is changing my skin. It feels softer and less oily than before."
It is perfect for my oily skin. Will get this again once I complete my bottle."
I like that it has made my skin very smooth. I use it daily for sure."
The lotion gets absorbed very easily into the skin. And also makes my skin very smooth and soft!
Been using it for over 6 months now. I really like how it makes my skin soft and keeps it hydrated. Go for this product guys.