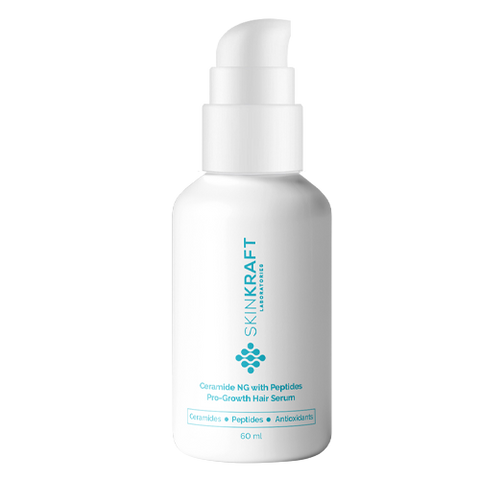 Ceramide NG with Peptides Pro-Growth Hair Serum
SkinKraft
Ceramide NG with Peptides Pro-Growth Hair Serum
What It Does
The Pro-Growth Hair Serum is infused with anti-hair fall ingredients. The ultra-modern serum is mild on the scalp but goes deep to rejuvenate and strengthen the hair follicles- preventing hair fall.
Simultaneously, it also stimulates the follicles for new hair growth and slows down hair greying.
In the serum, the ceramides act as a conditioning agent, that lock in the nutrients and strengthen each hair strand. It helps restore the natural appearance of the hair.
Peptides are proteins that when applied to the hair stimulate natural hair growth, and are also known to improve hair color.
The Antioxidants promote healthy hair growth by protecting the strands and follicles against cell damage. They also act as a catalyst to hair growth by increasing the blood and nutrient supply to the scalp.
The Caffeine in the serum stimulates hair growth by increasing blood circulation to the hair follicles. This also make the hair stronger, fuller and thicker.
How To Use
Apply 4-5 drops on the scalp and massage it in. Use twice a week before shampooing. For best results, apply at night for even absorption.
Quantity: 60 ml
Formulated For: 60 days of usage