SkinKraft
CocoCap Frizz Ease Leave-in Conditioner For Dry & Frizzy Hair
50ml
10 reviews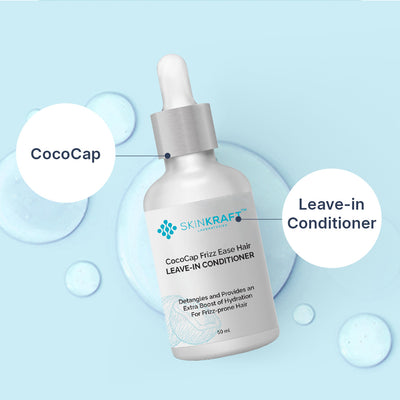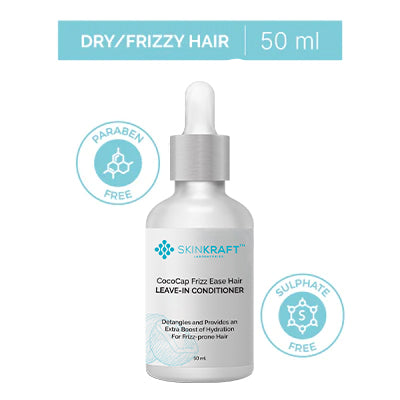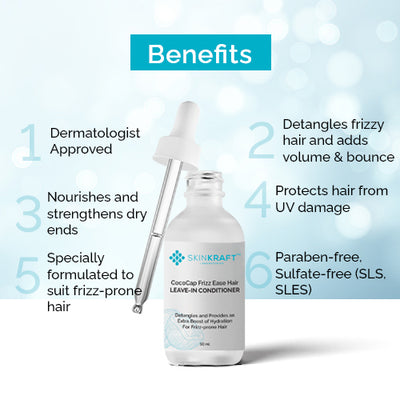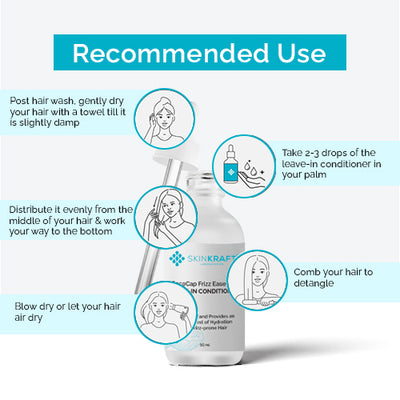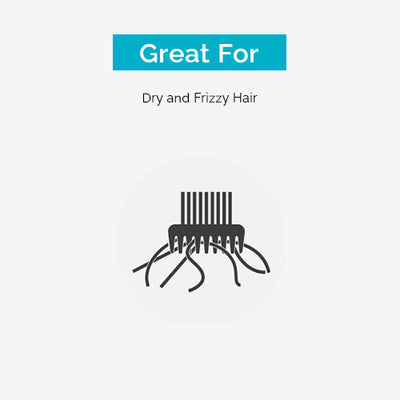 CocoCap Frizz Ease Leave-in Conditioner For Dry & Frizzy Hair
50ml
Free Of Parabens, Sulfates
Dermatologist Approved
pH Balancing
100% Safe & Effective
Free Shipping Offer Unlocked!
100% Satisfaction Guarantee! Eligible For A Refund If The Product Doesn't Meet Expectations.
Product Description
The CocoCap Frizz Ease Leave-In Conditioner is formulated to nourish and strengthen dry ends. This leave-in conditioner detangles frizzy hair, adds volume and bounce, and protects hair from UV damage.
What's inside ?
Here's What Your Moisturizer Is Made Of
Coconut oil
Nourishes and strengthens hair, making it less prone to breakage.
18-MEA
Helps control the amount of water absorbed by each hair strand to prevent excessive dryness.
Arginine
An amino acid that helps to strengthen and nourish hair follicles to promote healthy hair growth.
Recommended Use
Post hair wash, gently dry your hair with a towel till it is slightly damp
Take 2-3 drops of the leave-in conditioner in your palm
Distribute it evenly from the middle of your hair and work your way to the bottom
Comb your hair to detangle
Blow dry or let your hair air dry
Customer Testimonials
This is what I was searching for a long time!! Thanks for this skinkraft, now my hair finally feels well nourished, frizz free, soft and super smooth!😊 Go for this product!
Reshma Razi, Mumbai
Just a few drops of this product is more than enough to spread on all of my damp hair. It really works.. My hair looks shiny and feels really healthy. Will definitely buy this again!
Jaspreet Chadha, Amritsar
A very good product from skinkraft… it works like a charm on the hair by giving it a silky smooth look. I'm in love with my hair now!! Thanks for this skinkraft!
Twinkle Anuja, Pune
FAQs
Is this leave-in conditioner suitable for all hair types?
This leave-in conditioner is specially formulated to suit frizz-prone hair, but it is safe to use on all hair types.
Will this leave-in conditioner make my hair greasy?
No, this leave-in conditioner is lightweight and will not make your hair greasy.
Do I need to rinse out the leave-in conditioner?
No, you don't need to rinse out the leave-in conditioner.
Can I use this leave-in conditioner as a heat protectant?
While this leave-in conditioner provides some protection against UV damage, it is not specifically formulated as a heat protectant.
Is this product paraben-free and sulfate-free?
Yes, this product is free from parabens and sulfates(SLS, SLES) and 24 other red-listed ingredients.
Here's What Our Customers Say About Us
I liked the fast delivery and packaging too. Overall I'm happy with this serum
This actually makes my hair look so naturally smooth and silky! Am definetly gonna re-buy this one!!
Good leave in at this price point. I'd say go for it for dry hair types
This leave- in is perfect for my super dry hair. Must recommend
I use this right after shower everytime. it really makes my hair shiny and soft
Good product. I m happy with this purchase
I seriously love using this leave in! it smells so good and makes my hair soo super shiney! got for thiss!!
this is a good leave in for me. will get this one again surely..
The best leave in conditioner I've found in a longggg time! and trust me I've tried many. And at this price, this has gotta be the best one I tried yet!
Worth buying and best products ever to use and for gift
I used these skinkraft products for the first time and it works really from the first day.. I am so happy to use them
.😊