SkinKraft
Dark Spot Control Serum For Men
30ml
10 reviews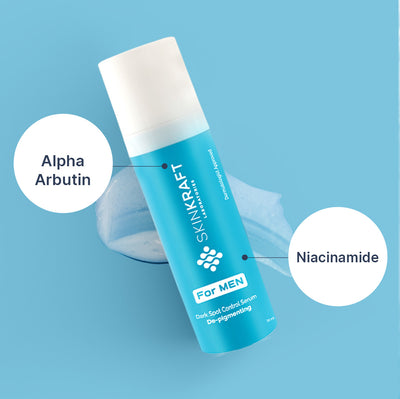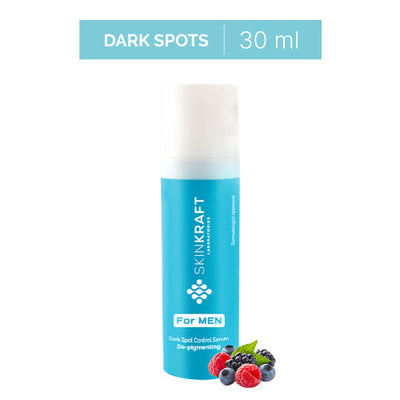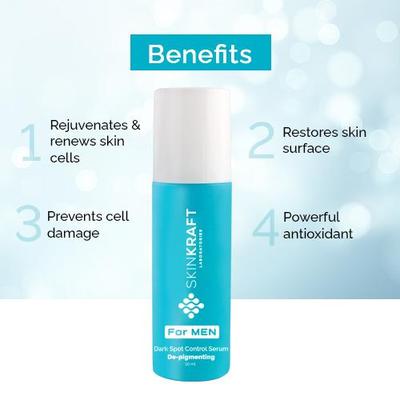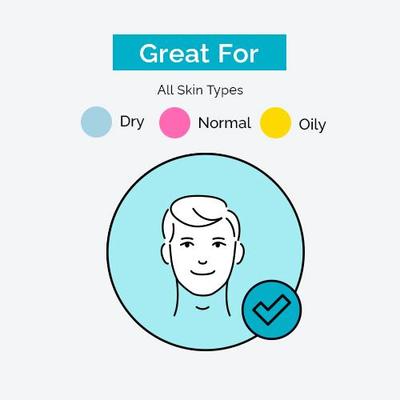 Dark Spot Control Serum For Men
30ml
Free Of Parabens, Sulfates
Dermatologist Approved
pH Balancing
100% Safe & Effective
Free Shipping Offer Unlocked!
100% Satisfaction Guarantee! Eligible For A Refund If The Product Doesn't Meet Expectations.
Product Description
The Dark Spot Control Serum is specially formulated to control the production of skin pigment and reduce the appearance of dark spots and patches. It rejuvenates and renews skin cells, while hydrating and reducing skin sensitivity.
What's inside ?
Here's What Your Serum Is Made Of
Alpha Arbutin
Helps provide an even-toned skin by reducing the appearance of dark spots and hyperpigmentation.
Niacinamide
Provides a softer and smoother skin by clearing out clogged pores.
Kojic Dipalmitate
Helps fade the appearance of existing dark spots and patches
Recommended Use
Use the Dark Spot Control Serum once daily. It is suggested you use your Dark Spot Control Serum at night for the sake of convenience.
Apply your Spot Control Serum 10 minutes after washing your face.
Apply the serum only where the dark spots are present
Customer Testimonials
This serum has helped me very much with the dark spots on my face. I use it everyday and have noticed my skin becoming clearer and better.
Ankit Raichand, Delhi
This is a great product by Skinkraft. Itt doesn't cause any irritation and has really helped with my dark spots.
Sunil Bagga, Lucknow
I could actually see my skin get clearer. I've been regularly using this serum for 3 months now. I really liked how it made my skin clearer.
David R, Puducherry
FAQs
How often should I use this serum?
It is recommended to use the serum once a day, preferably at night, for best results.
Can this serum be used on sensitive skin?
Yes, this serum contains Propanediol, which helps to hydrate the skin and reduce sensitivity.
Does this serum contain any harmful chemicals?
No, this serum is free from harmful chemicals such as parabens, sulfates, and phthalates.
Is this serum suitable for all skin types?
Yes, this serum is formulated to work for all skin types, including dry, oily, and combination skin.
Here's What Our Customers Say About Us
My skin became clear and smooth. Dark spots are fading after using this serum."
I had a few dark spots on my forehead so I bought this to see if it could help. I'm impressed by how well it has made my skin clear."
This serum has made my skin soft and clear."
My skin has a lot of dark patches. This serum is a great product as it has helped me get clear skin."
I started using this serum a few weeks ago and I can see that my skin is getting clear. Really satisfied with this product."
After using this serum for a few weeks, I am I'm going to reorder this. My skin has never looked so fresh and clear before"
Perfect for pigmentation. I use this daily for the patches and I can see they getting light."
Tried a serum for my skin for the first time, and I'm happy with it. Makes my skin look bright and smooth"
My skin looks bright and it also feels really soft after using this serum. Recommend this to anyone with dull or uneven skin"
Been using this serum for a while and my skin feels soft and looks bright. My dark spots have also become quite light after using this."