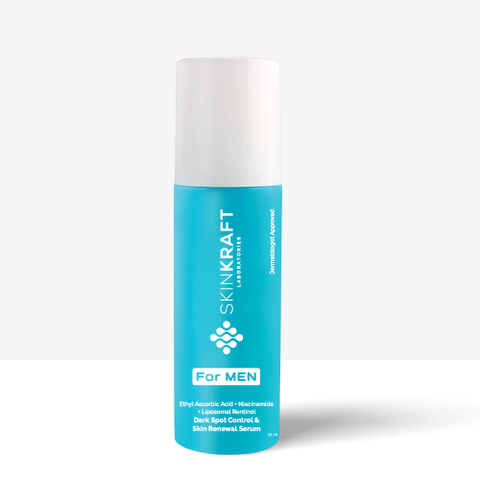 Dark Spot Control & Skin Renewal Serum For Men
Skin Identity
Dark Spot Control & Skin Renewal Serum
The last step in your recommended skin care regimen is addressing your dark spots. This step addresses the damage caused to the skin by constant exposure to the sun.
Your ideal dark spot control serum is a vitamin C derived anti-ageing powerhouse and collagen booster serum that improves moisture barrier and repairs photodamage for ageing skin.
Dark Spot Control & Skin Renewal Serum is recommended for your skin as it
Brightens & Evens Skin Tone with Ethyl Ascorbic Acid, a powerhouse antioxidant for an even skin tone that shields skin from the visible impact of pollution, significantly improving hydration, and keeping your skin looking younger, longer.
Improves Skin's Barrier with Niacinamide, a water-soluble vitamin proven to improve skin's barrier while also repairing signs of past damage. It also helps renew the surface of the skin against moisture loss and dehydration by improving the skin's natural production of ceramides
Stimulates Collagen & Elastin with Liposomal Retinol, a best known ingredient to fight skin ageing. This stimulates collagen production, prevents wrinkles and smoothens existing fine lines and wrinkles
Quantity: 30 ml
Formulated For: 30 days
How To Use: At night cleanse your face thoroughly, take a small amount of serum and spot apply it only on the dark spots or dark patches. Follow it up with the barrier repair moisturizer approximately 20-30 minutes later.
Ingredients: Ethyl Ascorbic Acid, Niacinamide, Liposomal Retinol