SkinKraft
Dry Scalp Treatment & Anti-dandruff Shampoo
200ml
139 reviews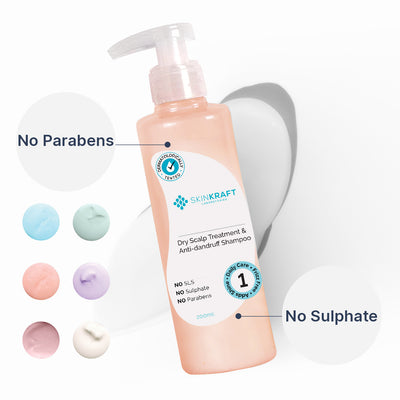 Scalp Treatment & Anti-dandruff Shampoo For Dry Hair
200ml
Select Other Hair/Scalp Type
Type Preferred Name On Your Shampoo
(Your name cannot exceed more than 9 characters)
's
Choose Fragrance
Apple Blossom
Floral Rush
Sweet Jasmine
Sea Breeze
Aqua Burst
Free Of Parabens, Sulfates
Dermatologist Approved
pH Balancing
100% Safe & Effective
Free Shipping Offer Unlocked!
100% Satisfaction Guarantee! Eligible For A Refund If The Product Doesn't Meet Expectations.
Product Description
This shampoo effectively addresses the root cause of dandruff by reducing itchiness, dryness, and inflammation. It deeply moisturizes and strengthens hair and offers color protection. It also repairs hair that has been damaged by constant heat styling and hair dye.
What's inside ?
Here's What Your Shampoo Is Made Of
Salicylic acid
Helps to exfoliate the scalp and reduces dandruff and flakes.
Piroctone Olamine
It has antifungal properties that help to combat the yeast that can cause dandruff.
Hydrolyzed Keratin
Strengthens damaged hair by improving its texture and overall health.
Recommended Use
Take 2-3 pumps of the shampoo and apply on wet hair.
Massage into the hair thoroughly and rinse off. Repeat if required.
Follow up with the SkinKraft conditioner
Customer Testimonials
I have tried multiple anti-dandruff shampoos, but none of them worked until I tried this one. It is the most perfect shampoo for my itchy scalp!
Maneesha S, Jaipur
Very helpful in reducing dandruff. Tried a lot of stuff in the past but it worked well for me. Have been using this one from Skinkraft for over 3 weeks now and yes I highly recommend it.
Ananda Verma, Kochi
I used to have a massive dandruff problem. But this skinrkaft shampoo has changed all my hair related issues within a few washes!! I still wonder how easily my issue was resolved.. Thank you skinkraft!!
Daniya Siddique, Agra
FAQs
Is this shampoo safe for colored hair?
Yes, the Amino Acid Blend in the shampoo offers color protection, making it safe for colored hair.
Will this shampoo help with an itchy and dry scalp?
Yes, this shampoo is formulated to address itchiness, dryness, and inflammation, providing relief to a dry scalp.
Does this shampoo contain parabens or sulfates?
No, this shampoo is paraben-free and sulfate-free (SLS, SLES).
Is this shampoo tested on animals?
No, this shampoo is not tested on animals.
Is this shampoo suitable for dry hair?
Yes, this shampoo is most suitable for dry hair types.
Here's What Our Customers Say About Us
Excellent shampoo
Leaves your hair smooth and soft
Awesom Product
I loved this product using from last one year.
my dandruff gone,hairs soft and shiny
good product ,hairs become silky and shiny
This shampoo is great. Cleans hair well and does not feel damaging. Been using it for a few weeks now and I can see that my dandruff has reduced a lot.