SkinKraft
Dry-Touch Sheer Creme - SPF 45 For Slightly Dry Skin
50ml
15 reviews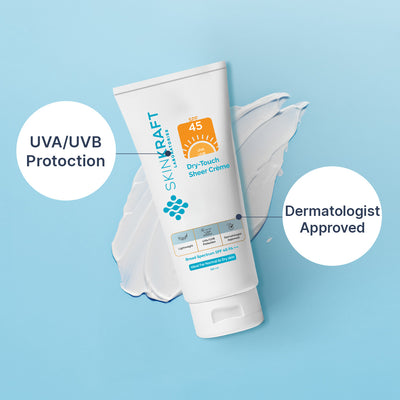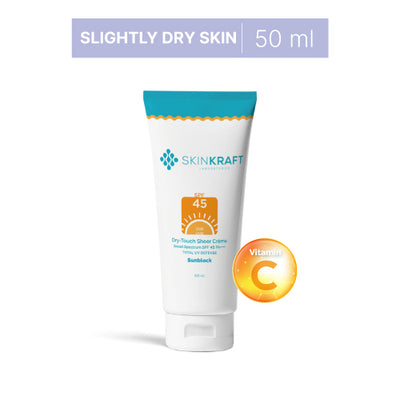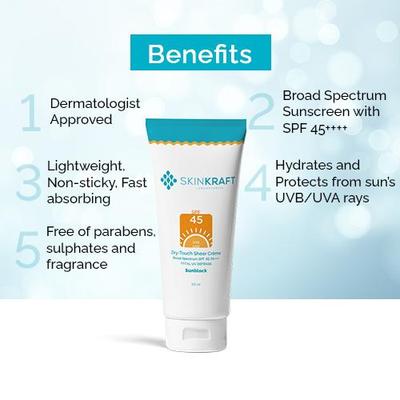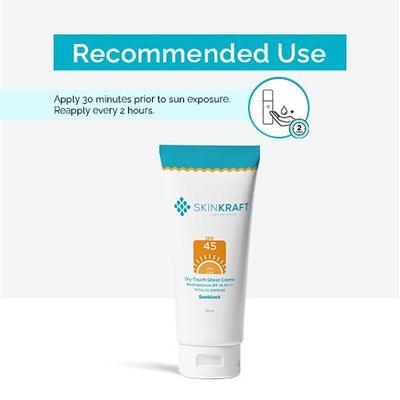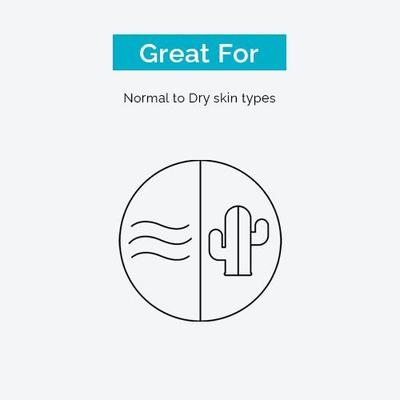 Dry-Touch Sheer Creme - SPF 45 For Slightly Dry Skin
50ml
Free Of Parabens, Sulfates
Dermatologist Approved
pH Balancing
100% Safe & Effective
Free Shipping Offer Unlocked!
100% Satisfaction Guarantee! Eligible For A Refund If The Product Doesn't Meet Expectations.
Product Description
The Dry-Touch Sheer Creme SPF 45 is a dermatologist-approved sunscreen that provides broad-spectrum protection from harmful UVB/UVA rays. Its lightweight and fast-absorbing formula makes it non-sticky and comfortable to wear on a daily basis.
What's inside ?
Here's What Your Toner Is Made Of
Vitamin C
A powerful antioxidant that helps protect against sun damage and evens out skin tone.
Recommended Use
Apply 30 minutes prior to sun exposure. Reapply every 2 hours.
Customer Testimonials
I love this sunscreen! It doesn't leave a greasy residue like other sunscreens I've tried. It also doesn't break me out. It's the best Skinkraft product i've used recently!
Jenny Grace, Puducherry
I've been using this sunscreen for a few months now and I'm really happy with it. It's not too heavy and doesn't make my skin look oily, plus it offers great protection from the sun.
Ajeet M, Mumbai
This is the first sunscreen that doesn't irritate my skin. It goes on smoothly and doesn't leave a white cast like other sunscreens I've tried.
Sujatha Gongula, Chennai
FAQs
How often should I reapply the Dry-Touch Sheer Creme SPF 45?
It is recommended to reapply sunscreen every 2 hours or immediately after swimming or sweating.
Will this sunscreen leave a white cast on my skin?
No, this sunscreen is formulated to be sheer and non-greasy, leaving no white residue on your skin.
Is this sunscreen cruelty-free?
Yes, this sunscreen is not tested on animals.
Is this sunscreen suitable for dry skin?
Yes, the Dry-Touch Sheer Creme SPF 45 is formulated to be lightweight and non-greasy, making it suitable for normal to dry skin types.
How long will this product last?
This sunscreen will last up to 2-4 weeks, with daily use.
Here's What Our Customers Say About Us
One of the best skin care product I have ever seen.really beneficial product in affordable price.i am fall in love with the products..skinkraft really doing a great job..
😍😍😍😍😍
Thank you skinkraft,I completed 7 month to using products,I feel products provide me...best version of my skin....
I recommended to my family members to use skinkraft products. Some of them started to using it....🤗🤗🤗
Amazing products thank you skinkraft..
boon for skin
I have been using it for about two weeks. I found it works out on my skin. it's a good product for the skin and boon for the skin issues
Magical product
Really happy by using skinkraft. After completing 1 week of usage I can feel the difference. I highly recommend it to all the ladies. Thank you so much skinkraft.
Excellent product. Loved it
Skinkraft Products are really customised regimen. Awesome product suits on my skin & seriously there is no make up on my face now, after seeing me using my sister is also planning to use your products.I recommend skinkraft to everyone, and could feel the difference within a week. Excellent product loved it bcz I can see the changes on my skin, which makes me even more happier & feel good, fresh.I thank skinkraft for this. I think more changes would come after using skinkraft for months. I strongly suggest skinkraft to everyone. Once again I thank skinkraft for making me believe I can face people with a lot of confidence without any makeup on my face. Thank You.
Great product really!
I have been trying a lot of products since my skin started breaking out 2 years ago. Since then I have tried many many products but did not really work until I tried skinkraft! 15days since I am using this looking for more amazing results. Thank you skinkraft :)
Get a better version of ur skin
I have been using skinkraft for the past three month. Within a month, it gives me a clear skin. Now everyone is asking about my flawless skin. I was here for uneven skin tone, but now it has completely gone, thank u skinkraft☺.