SkinKraft
Age-Lock Serum For Dull, Aging Skin
15ml
19 reviews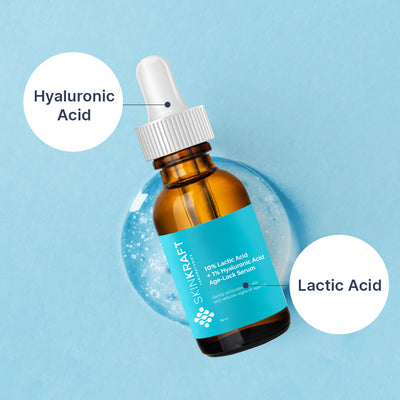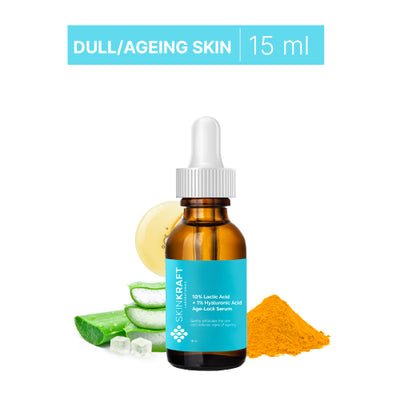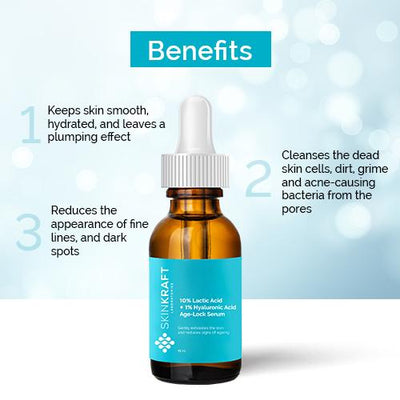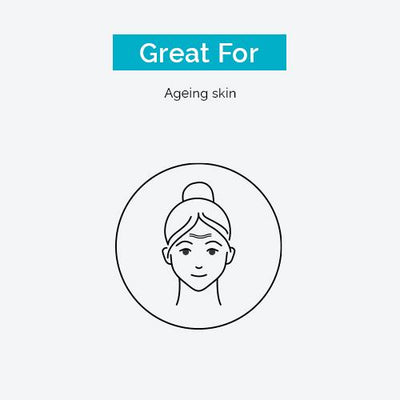 Age-Lock Serum For Dull, Aging Skin
15ml
Free Of Parabens, Sulfates
Dermatologist Approved
pH Balancing
100% Safe & Effective
Free Shipping Offer Unlocked!
100% Satisfaction Guarantee! Eligible For A Refund If The Product Doesn't Meet Expectations.
Product Description
Get glowing, even-toned skin with Lactic + Hyaluronic Acid Age-Lock Serum. The serum exfoliates dead skin cells, dirt, grime, and acne-causing bacteria from pores. It deeply hydrates the skin making it look smooth and plump.
What's inside ?
Here's What Your Serum Is Made Of
Aloe Vera
Soothes and hydrates skin while promoting cell regeneration.
Hyaluronic Acid
Hydrates and plumps up the skin, reducing the appearance of fine lines and wrinkles.
Lactic Acid
Exfoliates dead skin cells, dirt, and acne-causing bacteria from pores, revealing brighter and smoother skin
Turmeric
Brightens and evens out skin tone, reducing the appearance of dark spots and blemishes
Recommended Use
Cleanse your face properly
Take a small amount of serum & spread it across your face
Use the serum preferably at night
Make sure to apply sunscreen during the day
Customer Testimonials
I really like using this serum daily. It does not feel oily on my skin and absorbs really well. Best part is that I can really feel my skin get firm and soft ever since I started using this serum!
Farheen, Agra
This is a great serum from Skinkraft. Since I started using it, i can really see a glow on my skin now. I will definitely be buying this product again!
Sanjana Mathur, Mumbai
My skin really feels so smooth and bouncy now! I have been using this serum for over 3 months now and I know that i'll continue to use it for much longer!
Ruchika Thakur, Jaipur
FAQs
What skin type is the Lactic + Hyaluronic Acid Age-Lock Serum suitable for?
This serum is suitable for all skin types.
How often should I use this serum?
You can use this serum once daily for best results.
Can I use this serum with other skincare products?
Yes, this serum works best in combination with your choice of SkinKraft cleanser and moisturizer for a complete skincare routine.
Does this serum contain any harmful chemicals?
No, this serum does not contain any harmful chemicals like parabens, sulfates, or phthalates.
Should I use a moisturizer after using this serum?
Yes, it is recommended to follow up with a moisturizer 15 to 30 minutes after using this serum.
Here's What Our Customers Say About Us
Very good product
ये प्रोडक्ट बहुत अच्छे हैं इससे मेरे चेहरे के दाग बहुत कम हो गए हैं।सिर्फ 10 दिन में ही इससे फर्क महसूस होने लगता है।मुझे बहुत अच्छे लगे।बहुत बहुत धन्यवाद skinkraft ka
Best night repair serum
This works really well. I had very stubborn dark spots and pigmentation post my delivery. It gives you result within 5 days after using. No second thought just buy it
I have using the product for last few months and the results are amazing. Skin looks more healthy, glowing and firm. Thank you Skinkraft. You are the best.
I have used Skincraft Skin care products for a couple of months and seen a visible change in my skin tone. But due to my busy schedule, couldn't continue it further. But it really suited my skin.
Satisfying product
I can see the changes after using it !! Amazing product
I started noticing fine lines on my forehead from the past few months. With this serum, they have actually started fading away. It is sooo good.
This age lock serum works better than any anti ageing cream. It is non-sticky and suits so well on my skin.
This is the first time i used a serum after my wife recommended it to me. I am so glad i listened to her and bought this. Love the product.
Beautiful product..just loved it!!