SkinKraft
Monsoon Bundle for Acne Concern - Sensitive Skin
Sensitive Skin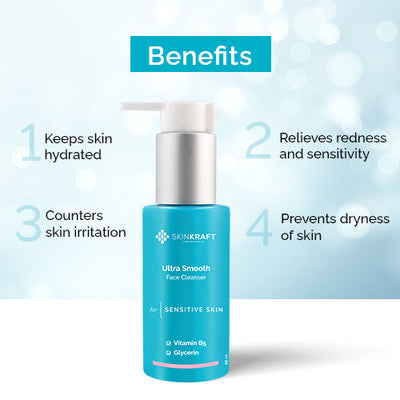 Monsoon Bundle for Acne Concern - Sensitive Skin
Your Current Combo Contains:
Ultra Smooth Cleanser
Anti-Acne Face Mask
UV Sun Protect Lotion Broad Spectrum SPF 40 PA +++
Free Of Parabens, Sulfates
Dermatologist Approved
pH Balancing
100% Safe & Effective
Free Shipping Offer Unlocked!
Product Description
As a deeply hydrating formula, the Ultra Smooth Face Cleanser is perfect for sensitive skin. The cleanser soothes the skin and prevents any irritation or sensitivity to the skin.
What's inside ?
Here's What Your Ultra Smooth Face Cleanser Is Made Of
Olive Oil
moisturizes and hydrates your skin while also fighting bacteria
Chamomile Extract
Helps soothe and calm irritated skin
Vitamin B5
Has anti-inflammatory effects that help heal the skin
Glycerin
A humectant that not only allows to retain moisture but also increases skin hydration and relieves dryness
Recommended Use
Wash your face twice a day with SkinKraft's Ultra Smooth Face Cleanser.
Take 1 pump of the cleanser into your palm.
Massage onto face in gentle circular motions and wash off with cold or lukewarm water
Customer Testimonials
This is the only face wash I trust for my skin. It is very gentle on my skin and makes it soft. Sensitive skin people should really go for this one
S. Indumati, Bhopal
I got this one seeing the price.. But after using it i can say i will re buy because it worked so well for me! Seriously love this cleanser.
Hymavathi Srikar, Noida
Been using this product for 3 months now and it is just perfect for my skin.. This cleanser is great for everyday use as it does not irritate my skin at all!!. Highly recommend this!
Fatima Nazeer, Kolkata
FAQs
Is this cleanser helpful for acne?
The Ultra Smooth Face Cleanser is formulated specifically for sensitive skin. This cleanser can be used if you have acne with a sensitive skin type.
Can this cleanser be used every day?
Yes, this formula is mild enough for daily cleansing, morning and night.
Does the product cause irritation?
This cleanser is specially made to soothe and calm irritated skin and help reduce any redness. It will not cause any side effects to the skin.
Does it remove makeup?
No, the cleanser does not remove makeup.
Does it contain Paraben?
The cleanser is free of 24 toxic ingredients like Parabens, SLS, Formaldehyde, etc.
Product Description
Formulated for sensitive skin, this lightweight and non-sticky sunscreen provides broad-spectrum protection from UVA/UVB rays. It is a dermatologist-approved product that's free from parabens, sulfates, and fragrance
What's inside ?
Here's What Your Toner Is Made Of
Licorice
Helps to reduce redness and inflammation
Micronized Titanium Dioxide
Provides physical protection against UV rays
Recommended Use
Apply before sun exposure. Reapply every 2 hours and if you wash your face with water.
Customer Testimonials
I have sensitive skin and have struggled to find a sunscreen that doesn't cause irritation. This product is a game-changer for me. It's super gentle on my skin and provides great sun protection.
Aarthi Goel, Hyderabad
I've been using this sunscreen for a few weeks now, and I love it. It never leaves a white cast and doesn't make my skin feel greasy. It's perfect for everyday wear.
Mohit Chinta, Pune
I was hesitant to try this sunscreen on my sensitive skin but it's so worth it!! It provides excellent sun protection, and my skin feels smooth every time I use it.
Komal Chadha, Amritsar
FAQs
Is this product suitable for sensitive skin?
Yes, this product is specially formulated to suit sensitive skin.
Does this product leave a white cast?
No, this product does not leave a white cast on the skin.
Is this product cruelty-free?
Yes, this product is cruelty-free.
How long will this product last?
This sunscreen will last up to 2-4 weeks, with daily use.
How often should I reapply the Dry-Touch Sheer Creme SPF 45?
It is recommended to reapply sunscreen every 2 hours or immediately after swimming or sweating.
Product Description
The Salicylic Acid And Niacinamide Anti-Acne Face Mask is packed with nourishing ingredients that are gentle yet effective. This mask exfoliates dead skin cells, unclogs pores, and leaves your skin feeling soft and smooth.
What's inside ?
Here's What Your Face Mask Is Made Of
Salicylic Acid
Helps to exfoliate and unclog pores, preventing acne formation.
Niacinamide
Reduces inflammation and redness associated with acne, while also helping to regulate sebum production.
Vitamin E
A powerful antioxidant that helps promote skin healing.
Recommended Use
Cleanse your face and apply an even layer of the mask all over your face.
Leave on for 10-15 minutes or until dry.
Wash off with lukewarm water.
Customer Testimonials
I've struggled with acne for years, but this mask has made a big difference in my skin. My skin looks clearer than ever now. Thanks Skinkraft!
Hemalata, Chennai
I was hesitant to try this mask because I have sensitive skin, but it's been great. My skin feels really clean and soft every time I use it. I highly recommend this to people with acne scars.
Shanaya K, Bangalore
I love this mask! It's really helped me with my acne. I use it every week and I'm happy with how my skin looks now. I'm definitely going to order this one again!
Alia Nanda, Pune
FAQs
How often should I use this mask?
You can use this mask up to two times a week.
Will this mask dry out my skin?
No, this mask is formulated with nourishing ingredients like Vitamin E to prevent dryness.
How long should I leave the mask on?
You should leave the mask on for 10-15 minutes or until it is dry.
Is this mask cruelty-free?
Yes, this mask is cruelty-free.
How long will one jar of this mask last?
One jar of this mask should last approximately 1-2 months with regular use.