SkinKraft
Peptide Anti-Ageing Face Mask
100gm
10 reviews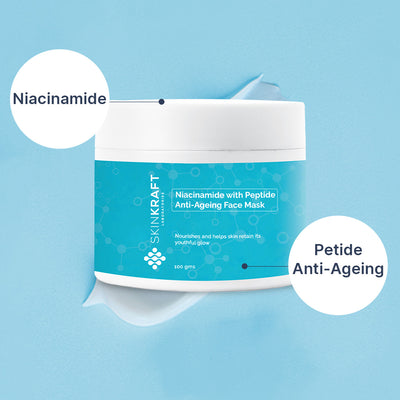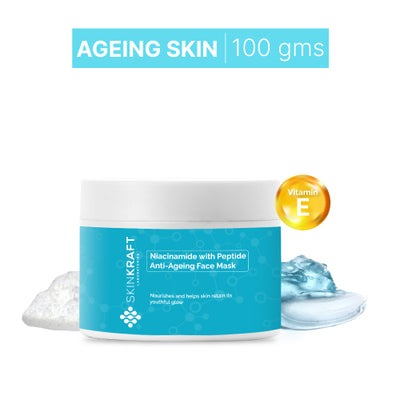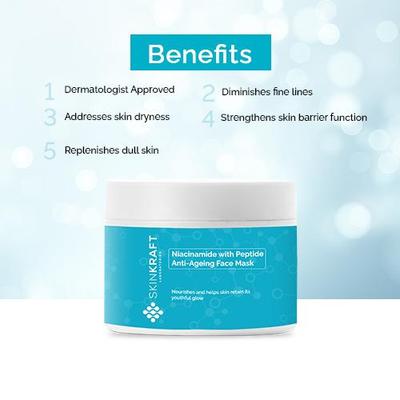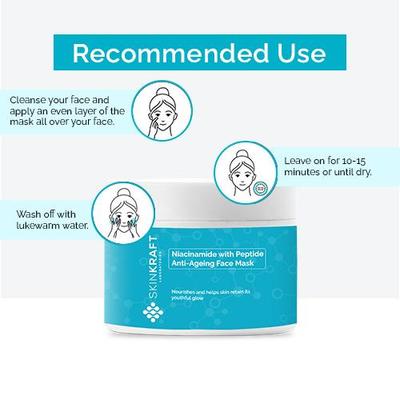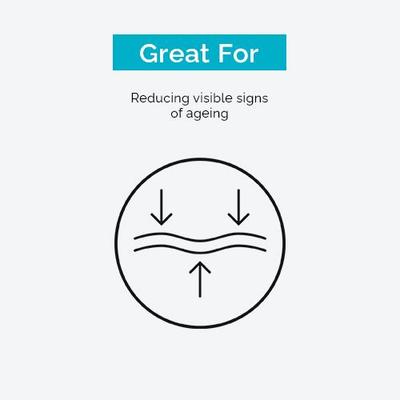 Peptide Anti-Ageing Face Mask
100gm
Free Of Parabens, Sulfates
Dermatologist Approved
pH Balancing
100% Safe & Effective
Free Shipping Offer Unlocked!
100% Satisfaction Guarantee! Eligible For A Refund If The Product Doesn't Meet Expectations.
Product Description
Nourish and revitalize your skin with the Niacinamide With Peptide Anti-Ageing Face Mask. This mask is formulated to refresh dull and ageing skin. It provides a fresh glow while minimizing the appearance of fine lines and wrinkles.
What's inside ?
Here's What Your Face Mask Is Made Of
Vitamin E
An antioxidant that helps protect the skin from environmental stressors and keeps skin hydrated.
Copper Tripeptide
A powerful peptide that helps boost collagen production and improve skin elasticity.
Niacinamide
A form of Vitamin B3 that helps reduce inflammation, minimize pore size, and even out skin tone.
Recommended Use
Cleanse your face and apply an even layer of the mask all over your face.
Leave on for 10-15 minutes or until dry.
Wash off with lukewarm water.
Customer Testimonials
This mask is amazing! Every time I use it, my skin feels smoother, brighter, and more hydrated. One of the best face masks I've used!
Jyoti Shree, Chennai
This is a great product by skinkraft. I used it only a couple of times, but I can surely see that my skin feels plumpy and smoother than before. I'm going to buy this mask again for sure!
Shailaja Khanna, Pune
I love that this mask didn't irritate my skin at all. In fact, It left my skin feeling soft and supple with each use, so I'm glad I tried it. Keep it up skinkraft! I highly recommend this to everyone now!.
Renu Mukherjee, Kolkata
FAQs
How often should I use this mask?
It is recommended to use the mask once or twice a week for best results.
Is this product tested on animals?
No, our products are cruelty-free and not tested on animals.
Is this mask free of parabens and sulfates?
Yes, this mask is free of parabens, sulfates, and other harmful chemicals.
Can this mask be used by men?
Yes, this mask can be used by both men and women.
How long will one jar of this mask last?
A 100 gm jar of this mask should last approximately 1-2 months with regular use.
Here's What Our Customers Say About Us
My skin looks and feels so much smoother after using this mask. Im definitely going to buy it again!
A good product from skinkraft. I use it once a week and I like how my skin feels after using this.
I love how hydrating this mask is. Now I use this every weekend for my self-care routine!
I've noticed that my skin feels much more plumpy and refreshed after using this skinkraft mask.
My skin feels really soft and fresh every time I use this mask.
This is a great face mask at this price point. Highly suggest it to everyone
This product is a perfect product for those concerned about fine lines and wrinkles.
This is the best anti-ageing mask Ive used so far. Thanks for this skinkraft! Will surely order again
Just go for this! It's so good for getting a bouncy and fresh look. I always use this before any special functions. Thanks for this skinkraft!
This skinkraft face mask is just amazing for my dull skin. I really like the look it gives after each use.