SkinKraft
Pore-Free Serum For Dull and Uneven Skin
30ml
12 reviews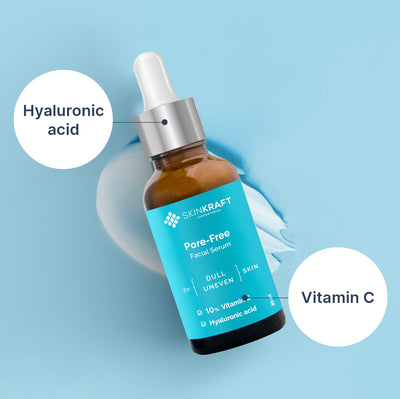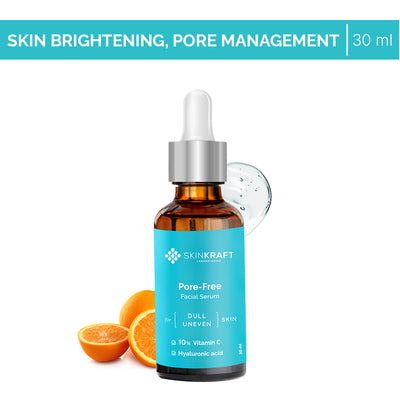 Pore-Free Serum For Dull and Uneven Skin
30ml
Free Of Parabens, Sulfates
Dermatologist Approved
pH Balancing
100% Safe & Effective
Free Shipping Offer Unlocked!
100% Satisfaction Guarantee! Eligible For A Refund If The Product Doesn't Meet Expectations.
Product Description
This light-weight facial serum helps even out dull skin and reduce dark spots. It also helps reduce the effects of sun damage while providing intense hydration. Its formula stimulates collagen production to keep the skin firm and tight.
What's inside ?
Here's What Your Serum Is Made Of
Vitamin C
A potent antioxidant that evens out skin tone and stimulates collagen production.
Hyaluronic Acid
Boosts the hydration levels of the skin, making it appear plump and fresh.
Grapeseed
Helps reduce the effects of damage caused by sun exposure.
Recommended Use
Use at night only. After cleansing, take a small amount of the serum, and apply all over your face
Use moisturizer 30 mins after applying the serum
Make sure to use sunscreen during the day
Customer Testimonials
After using this serum, I can confidently say that I see a difference in my skin's texture and tone. My skin feels soft and looks brighter.
Govind Verma, Agra
This serum is my new favorite because it's gentle and effective, and I love that it makes my skin really smooth and soft with each use.
Hemant, Surat
I have been struggling with dark spots for a while now, and this serum has really given me the clear and smooth skin I wanted. I highly recommend it.
Mohit Ahuja, Hyderabad
FAQs
How often should I use this serum?
Use it once a day at night, after cleansing your face.
Can I use this serum on sensitive skin?
Yes, this serum is suitable for all skin types.
Will this serum clog my pores?
No, the Pore-Free Facial Serum has a light-weight formula that gets easily absorbed into the skin without clogging pores.
Can I apply moisturizer immediately after using the serum?
No, it is recommended to wait for 20-30 minutes before applying your moisturizer.
Here's What Our Customers Say About Us
Wonderful
Excellent product!!! It gives d result after d first use f it on d skin
No more dull skin. It doesn't look uneven anymore. My skin looks so clear, smooth and glowing with this serum.
This is perfect for my dry skin. No dry patches, my blemishes are reducing and my skin looks so clear and smooth!
Just amazing how hydrated my skin feels. This serum and my customized moisturizer is the best skin care combo!
This serum makes my skin feel bright and glowing! After a while, my skin started to feel bouncy too. Just like I wanted.
This is the best serum! My skin looks so bright and feels so good.
Must buy Serum from SkinKraft. Trust me it is a great product. Made skin look so smooth and even-toned.
SkinKraft, what an amazing product! Such a powerful serum. Makes the skin so smooth and glowing.
It soothes my irritated skin and add an instant glow to it. It literally wakes my skin up!