SkinKraft
Dull and Uneven Skin Re-Texturizing Serum
30ml
11 reviews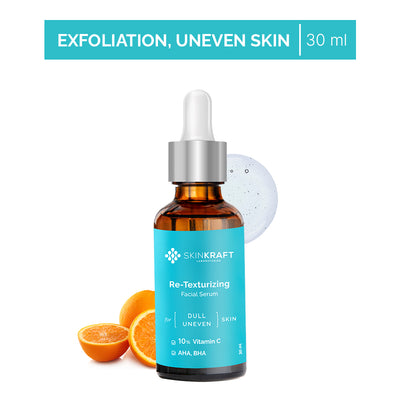 Dull and Uneven Skin Re-Texturizing Serum
30ml
Free Of Parabens, Sulfates
Dermatologist Approved
pH Balancing
100% Safe & Effective
Free Shipping Offer Unlocked!
100% Satisfaction Guarantee! Eligible For A Refund If The Product Doesn't Meet Expectations.
Product Description
This serum gently exfoliates the skin, removes dead skin cells, and helps improve the skin's texture and overall appearance. It provides even-toned, plump, and smooth-looking skin.
What's inside ?
Here's What Your Serum Is Made Of
Vitamin C
Helps brightens skin and reduce the appearance of dark spots
Glycolic Acid [AHA]
Exfoliates the skin and improves its texture
Salicylic Acid [BHA]
Helps unclog pores and reduce inflammation
Recommended Use
Use the serum at night after cleansing your face
Take a small amount of serum & apply it all over your face
Follow it up with your SkinKraft Moisturizer after 20-30 minutes
Customer Testimonials
This serum was great for my skin! It suited me well and really made my skin smoother than before. I'm definitely going to reorder this one!
Nikata Ahuja, Jaipur
I liked using this product from Skinkraft. It really absorbs well into the skin and doesn't feel too heavy. Been using it for a while and I can definitely see a difference in my skin.
Kanika Rani, Chennai
I liked this product by skinkraft a lot. Ever since I started using it, each time I touch my face, I like the smoothness I feel. Go for this one, I highly recommend it.
Shilpa Yadav, Pune
FAQs
How often should I use this serum?
This serum can be used every night.
Can I use this serum with other skincare products?
Yes, it's recommended to use it along with your SkinKraft cleanser and moisturizer.
Is this serum cruelty-free?
Yes, this serum is cruelty-free.
How much serum should I use?
Take a few drops of this product and apply it all over your face, avoiding the eye area.
How long will one bottle of serum last?
One bottle of serum will last approximately 1 month.
Here's What Our Customers Say About Us
Awesome
I am really amazed to observe that my skin tone actually got lighter and it brightened as well after the use of this serum.
My skin is looking so plump and smooth. Never have I seen it looking like this. Have taken the right decision of switching to SkinKraft!
The Serum is perfect for my dull skin. SkinKraft, I am in love with this product. Vitamin C works amazingly for my skin.
My skin looks so clean & clear. I can't tell you how smooth my skin feels even in the morning.
My skin feels tight and smooth. The serum also makes my skin glowing!
Perfect product for my skin. It literally works so well. My pigmentation also has reduced
Amazed to see a product working 100% well on my skin. So glad to use this product.
Vitamin C is so needed for smooth and brightening skin. My skin used to look very dull back in the day, but not anymore. All because of this amazing SkinKraft Serum.
Trust me this is the product you need for an instant glow. I have been using SkinKraft products for a few months and am very happy with the visible changes.
Amazing serum. It makes my skin so glowing and clear. My pigmentation has also reduced.