SkinKraft
Pro-Growth Hair Serum For Hair Growth
30ml
19 reviews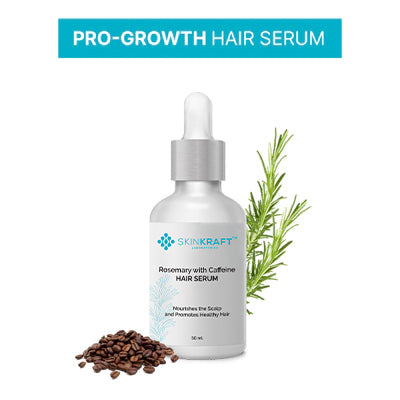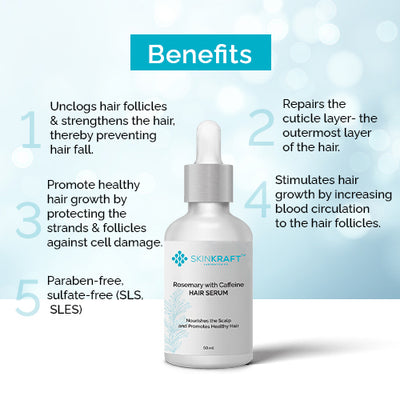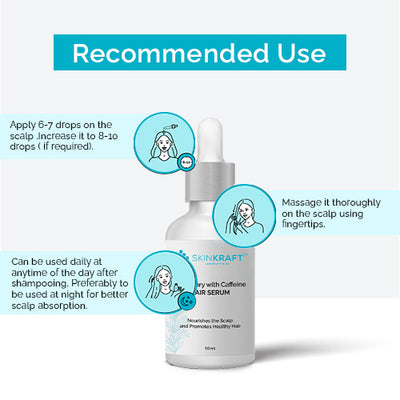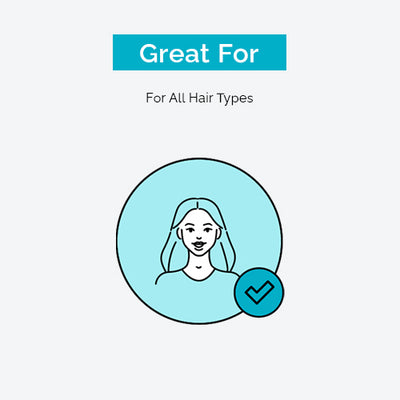 Pro-Growth Hair Serum For Hair Growth
30ml
Free Of Parabens, Sulfates
Dermatologist Approved
pH Balancing
100% Safe & Effective
Free Shipping Offer Unlocked!
100% Satisfaction Guarantee! Eligible For A Refund If The Product Doesn't Meet Expectations.
Product Description
This hair serum is formulated to prevent hair fall and promote healthy hair growth. It unclogs hair follicles, strengthens the hair, and helps restore the cuticle layer to moisturize and nourish the hair while controlling frizz.
What's inside ?
Here's What Your Pro-Growth Hair Serum Is Made Of
Rosemary
Stimulates hair growth and increases blood circulation to the scalp.
Caffeine
Helps your hair retain moisture and provides a natural shine.
Recommended Use
Apply 6-7 drops on the scalp .Increase it to 8-10 drops ( if required).
Massage it thoroughly on the scalp using fingertips.
Can be used daily at anytime of the day after shampooing. Preferably to be used at night for better scalp absorption.
Customer Testimonials
I've been using this serum for almost a month now and I am so surprised by it! Like I can really feel my hair has become more voluminous and bouncy than before. I'm totally going to buy it again!
Cauvery G, Delhi
I love this!! The serum has completely transformed my hair! I can honestly say this is the secret for my long and shiny hair! Thanks for this brilliant product skinkraft!
Pooja Dhillon, Patna
Perfect hair serum for my damaged hair! I've been getting tons of compliments on my long and healthy hair ever since i started using this serum. It's my all-time favorite! I highly recommend it to all!
Aleena K, Agra
FAQs
Is this serum suitable for all hair types?
Yes, it is suitable for all hair types.
Can this serum be used by men?
Yes, this serum is suitable for both men and women.
How long should I leave the serum on my hair?
You can leave it on for as long as you want.
Will this serum make my hair oily?
No, it is a lightweight formula that will not make your hair oily.
Is this product paraben-free and sulfate-free?
Yes, this product is free from parabens and sulfates(SLS, SLES) and 24 other red-listed ingredients.
Here's What Our Customers Say About Us
Great product!
I have been using this for more than a year now. There is a huge difference in my hair texture, earlier it was thin and dry, and now the hair strands have become thicker and there is a shine in my hair. Even my hair stylist has mentioned that my hair look healthy now at my age (40+ 😳)
Relief from major hair fall
I am suffering major hair fall but skinkraft hair serum control hair fall Soo I give 5 🌟
Great Serum
I have seen the changes in my hair. It feels great. Baby hair's growing all over my head.
Saviour
I've been so many products lately but the amount of satisfaction skinkraft gave me is unmatchable.In love with skinkraft
In love with the product. Very good serum. I feel like it reduced my hair fall.
Amazimg product
Am amazing serum
Proper serum for hair growth
I use this serum 2 times a week. It's making my hair strong and washes off easily also and doesn't make scalp oily.
Using this serum for a while. No fragrance and my hair fall also has reduced.
I am using this since 10 days, I can see the change in my hair. It's very soft and hair fall has also reduced.